With today's launch, TopHash now offers an even wider cloud mining plans tailored to meet users' investment goals and preferences.
LAS VEGAS, UNITED STATES, Oct. 02, 2023 (GLOBE NEWSWIRE) -- NEVADABLOCKCHAIN.US LLC doing business as TopHash (https://tophash.net/), one of the oldest providers of cryptocurrency cloud mining, today announced a significant expansion of its cloud mining portfolio to offer enhanced income opportunities for cryptocurrency enthusiasts.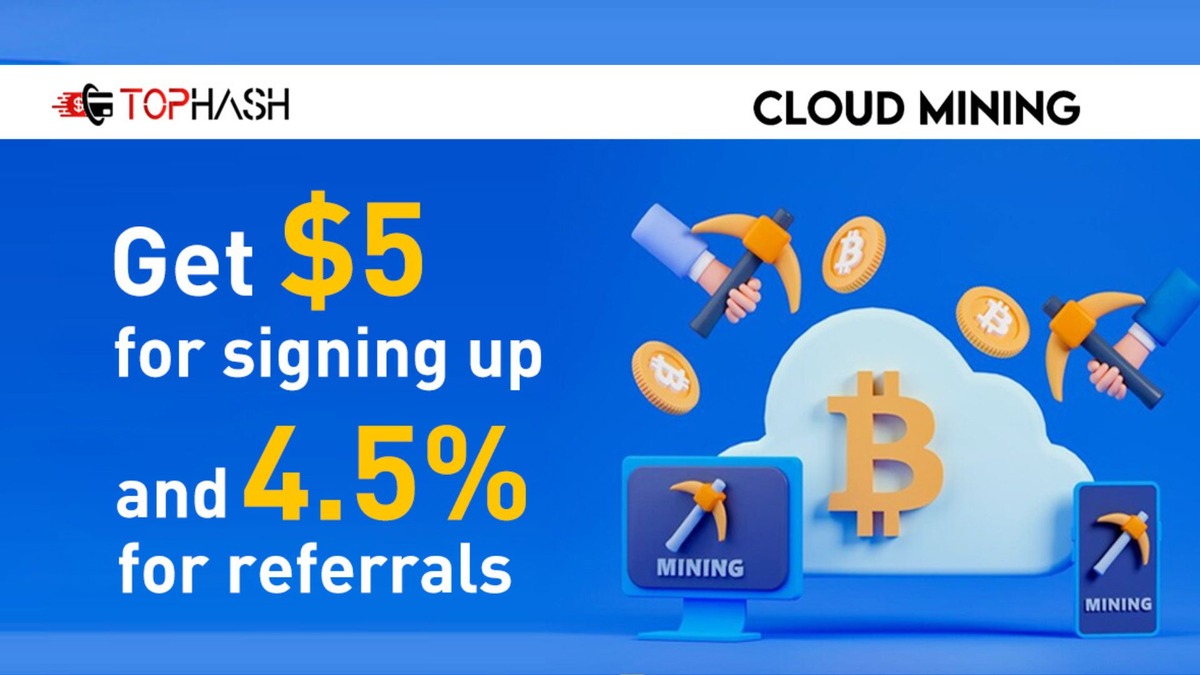 Odin Johnson, Media Representative of TopHash, said: "In a world where securing secondary income sources is increasingly vital, cloud mining provides a streamlined solution for individuals to enter the cryptocurrency landscape and earn additional income without the need for substantial initial investments in hardware, software, or infrastructure."
What is Cloud Mining?
Cloud mining is an innovative approach that allows users to participate in cryptocurrency mining remotely, eliminating the traditional challenges associated with mining setup and maintenance. TopHash, as a reputable cloud mining platform, offers a user-friendly interface and a fully operational, 24/7 mining system, ensuring stability and ease of use for individuals embarking on their cloud mining journey.
TopHash as a gateway to cloud mining
Understanding the growing prominence of cryptocurrencies such as Bitcoin, Ethereum, Litecoin, and more, TopHash has strategically positioned itself as a gateway to cloud mining. With TopHash, users have the flexibility to mine various cryptocurrencies, diversifying their holdings efficiently and securely within a single platform.
After signing up on TopHash, users will have access to a range of features fit for everyone including its user-friendly interface and fully operational, 24/7 system for mining - which ensures stability so that your connection amidst productivity never fails.
TopHash New Cloud Mining Portfolio:
With today's launch, TopHash now offers an even wider cloud mining plans tailored to meet users' investment goals and preferences, providing lucrative returns over different contract periods. 
1. Project Cloud Mining – This cloud mining plan offers a great value package of just $50 for one day's mining with a daily return of $1.0.
2. ETH Cloud Mining – A low cost and short-term contract that offers high returns with ETH cloud mining! For only $200, users can get a 3-day contract with $3.60 back every day. 
3. LTC Cloud Mining – For $600, users can subscribe for LTC mining for 5 days with an expected return of $11.70 dollars per day, and a combined total fixed return of $658.50.
4. DOGE Cloud Mining – With this 7-day contract priced at $1200, users can subscribe for DOGE mining and receive daily returns of up to $24.
5. BTC Cloud Mining - This 15-day contract of BTC mining priced at $3600 offers daily returns of up to $79.20, with a cumulative final fixed return of $4788. 
6. BCH Cloud Mining – This 18-days package of BCH Cloud mining is set at $8000, offering users with daily returns of up to $188 per day, the total fixed return comes up to $11384.
7. Bitcoin Cloud Mining Pro – The contractual period offered on this Bitcoin cloud mining package is a total of 20 days for $15800, offering users with a daily return rate of up to $410.8.
Key Benefits of TopHash Cloud Mining:
Low Start-up Cost: TopHash significantly lowers the entry barrier for individuals interested in cloud mining, allowing them to commence their mining journey with a minimal initial investment.
No Technical Experience Required: TopHash simplifies the cloud mining process, eliminating the need for specialized technical knowledge. Users can focus on mining activities without the complexity of setting up and maintaining mining equipment.
Diverse Cryptocurrency Options: TopHash offers a range of cryptocurrency options, enabling users to mine multiple currencies conveniently within a single platform.
Affiliate Program: TopHash introduces a rewarding affiliate program, allowing users to earn commissions by referring others to the platform.
Maximizing Earnings with TopHash's Affiliate Program 
This program enables users of TopHash to get rewarded for their loyalty! Through this engaging bonus structure, users can gain another lucrative stream of income on top of their already generous mining return. 
Joining the Affiliate Program
To join Affiliate Program, register for TopHash platform, and log onto the website and sign up to obtain your unique referral link. 
Earning Commissions
The commission structure makes it even more rewarding. For every individual purchase from someone that was referred with your link, you will receive a commission of 4.5%. 
The Limitless Potential of Affiliate Earnings
The TopHash affiliate program is unlike any other. There's no limit to how much you can earn with this income opportunity. As your network of referred users grows and develops, more passive income streams unlock.
Getting Started with TopHash
Getting started with TopHash is easy and straightforward. Here's how to:
1. Registering an Account
Beginning your cloud mining journey with TopHash doesn't have to be a difficult process. All you need to do is register an account on their user-friendly platform to get started. This requires just the basic information like your name and email address. 
2. Choosing the Right Plan
The next step on your cloud mining journey is choosing the right plan from TopHash's range of options. Consider what goals you have for any potential return, the contract time period, and how much risk you are willing to take. Different plans available come with different prices and daily returns, so make sure to research further what works best for you and your needs!
Frequently Asked Questions
#1. Is TopHash Secure? 
Wondering if your data is safe with TopHash? Rest assured; at TopHash everything is handled with care. Our experienced blockchain professionals use the latest security protocols and software to safeguard your data. We employ EV SSL encryption as well as shield the servers against DDoS attacks to limit any risks, protecting your data from third parties. 
#2. Do I Need to Invest to Start Earning?
You have the chance to earn income even without having to risk anything. How? By simply joining our referral program you can start seeing potential earnings without spending a cent. With TopHash's referral program, you are setup for success and every sale made by someone who entered through your referral links earns you extra reward!
#3. What's the Minimum Deposit and Withdrawal Amount?
TopHash has an incredibly low minimum threshold for both deposits and withdrawals starting from as low as $50! Making cloud mining easier than ever, all you need now is simply create an account on our website and explore its child's play interface. Join us today to kickstart your earning journey with zero investment and maximum gain!
About TopHash 
Founded in 2018, NEVADABLOCKCHAIN.US LLC doing business as TopHash has been a leading global platform for cryptocurrency cloud mining. We've simplified the process and made it more accessible by creating a marketplace where you can quickly obtain the hash power you require. This has made cryptocurrency cloud mining understandable and usable for everyone. https://tophash.net

TopHash Contact
Odin Johnson
Media Representative
Email: support@tophash.net

Disclaimer: The information provided in this press release is not a solicitation for investment, or intended as investment advice, financial advice, or trading advice. It is strongly recommended that you practice due diligence (including consultation with a professional financial advisor) before investing in or trading securities and cryptocurrency.
CONTACT: Aditya
aditya at alexablockchain.com