The crypto market is never short of tokens, and trading platforms that provide rich trading pairs, emerging asset support, and trading opportunity discovery will always be scarce.
Singapore, Aug. 05, 2023 (GLOBE NEWSWIRE) -- In August 2023, the multi-chain trading platform UXUY will release the first version of its mobile application (APP). The team has published an open letter on the official blog titled 'They Create Tokens, We Build UXUY,' which elaborates on UXUY's vision and perspective on the current industry landscape. The letter includes a quote from an email sent by Satoshi Nakamoto in 2009, prompting a reevaluation of the current opportunities in the cryptocurrency industry and conveying UXUY's mission.Below is the full text of the open letter.

They Create Tokens, We Build UXUY!

On CoinMarketcap, there are already 1.80 million + tokens listed, and this number is increasing at a rate of more than 10,000 tokens per week. All blockchain entrepreneurs love to design Token Economics, Staking mechanisms, unlock schemes, IEO channels, community building… Dextools' hot lists have new faces every day. From birth to death, a token's life cycle is compressed rapidly, but even so, builders are still keen on creating new tokens. Traders are also keen to chase new narratives, new hotspots, and new consensus.

Where would the most important value in the crypto world lie?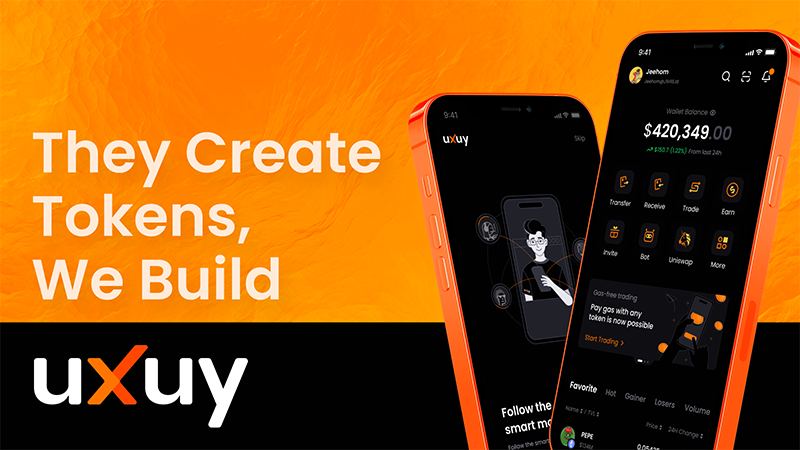 We know: More important than creating tokens is creating trading platforms, and the evolution of trading platforms has never stopped.
Mt. Gox was founded in 2010 and closed in 2014
Coinbase was founded in June 2012
BitFinex was founded in 2012
Binance was founded in 2017
Uniswap was founded in 2018
FTX was founded in 2019 and closed in 2022
With UXUY, what we have built is a next-generation decentralized multi-chain trading platform, dedicated to establishing a new DEX for any token in any chain. UXUY is not only limited to Bitcoin and Ethereum ecology, but also actively advocates encryption fairness, pays attention to emerging assets, and provides trading services for edge public chains. Because we at UXUY believe that trading is the only weapon to break down barriers.
The crypto market is never short of tokens, and trading platforms that provide rich trading pairs, emerging asset support, and trading opportunity discovery will always be scarce.
Reconnecting Trader and Token
Bitcoin has become the hottest encrypted asset today. As of the time of writing, the price of a Bitcoin was as high as 30,000 US dollars. Institutional investors have entered the market. Holding a Bitcoin has become a symbol of wealth. However, when Bitcoin was created, the situation was very different. Mr. Satoshi Nakamoto, the founder of Bitcoin, once wrote in an email group to promote Bitcoin v0.1 :
"It might make sense to get some in case it becomes popular. If enough people think the same way, it becomes a self-fulfilling prophecy." (January 2009) — Satoshi Nakamoto
Any great innovation is inconspicuous in the beginning, if you can't predict the magnificent market of Bitcoin in the next 14 years, do you think this is just a classic "MLM narrative"?
A more realistic question is: Where is the next "Bitcoin", and can we find it?
On the basis of supporting any Token in the whole chain, UXUY adheres to the concept of Following smart money to provide traders with social trading services. Introducing social mechanisms, as the most important part of the UXUY trading platform, not only optimizes the path for traders to discover hidden assets but also completely changes the relationship between Trader and Token.
Capturing the Value of Crypto's "Post-Open" Era
UXUY has built a liquidity pool with stablecoins as the core, which greatly reduces the threshold for the use of DEX; and through the built-in "Gas-free" function, traders can achieve on-chain transactions without the need for main chain coins. The " multi-chain pipeline " concept proposed by UXUY will maximize and encourage users to hold native assets, reduce the use of wrapped assets in the DeFi protocol, and help users stay away from systemic leverage risk.
The encryption industry is entering a "post-open" era
Binance builds side chain BNB Chain (BSC)
Coinbase Build Layer 2 Bas
Bybit Mantle Layer 2 Mantle
Metamask Build Layer 2 Linea
All centralized trading platforms are trying to build their own standards, their own protocols, and their own ecosystems. UXUY still believes in encryption and openness; This is not only the value of the next generation of DEXes, but also the historical opportunity for UXUY in the "post-open" era.
Tokens are not scarce, what is scarce is liquidity, trader size, and real income. Only by capturing these values can tokens have value. This process is long, exploratory, and unstructured. The connected tokens may not be as popular as Bitcoin, but this process is meaningful.
We build UXUY to capture the value of crypto transactions. The value of the trading platform will ultimately be reflected in the value of the "UXUY Token".
About UXUY:
UXUY is the next-gen decentralized multi-chain trading platform that provides users with a CEX-like trading experience by establishing a "stablecoin-centric" environment. Following the philosophy of "Follow Smart Money," UXUY significantly reduces the barriers to social trading on the blockchain. It supports mainstream public chains and integrates the advantages of "wallet + trading," actively participating in the construction of the "Unclaimed" ecosystem.

CONTACT: Jordan L Email: jordan-at-uxuy.com