Hong Kong, China, July 05, 2023 (GLOBE NEWSWIRE) -- Winacoin, the revolutionary project merging the worlds of cryptocurrency and gaming, is poised to redefine the gaming industry with its unique offering. Founded by Joe and Jack Dalton, two seasoned veterans with a passion for poker and an interest in crypto and NFTs, Winacoin aims to introduce a community-oriented approach that benefits every participant. By combining their expertise and love for gaming, Joe and Jack have created a platform that allows users to play exciting casino games without the risk of losing their hard-earned money.
In a world where cryptocurrencies often seem to favor the interests of token owners over the community, Winacoin stands apart. Recognizing the extraordinary potential of the communal system in the crypto space, Joe and Jack were determined to prioritize the community's well-being. Their vision has led to the birth of Winacoin, a cryptocurrency that is currently in its pre-sale phase until September 1, 2023.
Join the Winacoin Giveaway: Play Casino Games Risk-Free and Win Real Rewards!
Winacoin is launching a Winacoin Giveaway, offering $50 worth of games to everyone who follows one of their social networks. Once subscribed, users will receive a special code to input in the games section. Participants stand a chance to win exciting prizes based on their performance.

Losers will be rewarded with 500,000 Winacoin, while those who achieve winnings between $50 and $75 will receive 2 million Winacoin. For winners with earnings surpassing $75, the reward is an impressive 5 million Winacoin.
In addition to the giveaway, Winacoin is introducing a new opportunity for users to utilize Winacoin for playing and winning USDT. When the giveaway concludes, all participants will have the ability to use Winacoin to play and win USDT, further enhancing the gaming experience on the platform.
With this new giveaway and the prospect of winning real rewards, Winacoin continues to exemplify its commitment to the community and delivering exceptional gaming experiences.
Winacoin's pre-sale offers three distinct phases, each featuring different token prices, providing an opportunity for early adopters to join the project at favorable rates. The first phase will end on June 23rd, the second phase on July 14th, and the final phase on September 1st. During each phase, Winacoin offers different prices for its tokens, providing early adopters with advantageous opportunities to join the project.
To guarantee transparency and trust, Winacoin has implemented a game account that automatically transfers fees to the community when someone purchases Winacoin. Through a meticulously designed smart contract, the project has made all wallets visible and verifiable to users. Additionally, Winacoin rewards token owners by doubling their playable game credits on the Winacoin website's Games tab, set to be activated in the second phase on June 23, 2023. Users can enjoy an array of popular casino games, including slots, poker, blackjack, and roulette.
Playing on the Winacoin platform is simple and secure. Users can purchase Winacoin directly on the website using the Connect Wallet feature, ensuring a fast and reliable transaction process. Once the purchase is complete, users receive their Winacoins instantly. They can then navigate to the games section, connect their wallet, and Winacoin's system will detect their Wina balance. Users are subsequently credited with an equivalent amount in US dollars, providing a clear view of their earnings. Players have the flexibility to choose the game they desire, with options ranging from 0.10 cents to $1 per play, and the potential to multiply their stake by 1 to 10.
Here's how it works: Imagine purchasing $100 worth of Winacoin. Upon visiting the games page, connecting your wallet, and receiving $100 in your playable balance, you can freely select your preferred game and wager. Suppose you win and accumulate a balance of, for instance, $140. At any point, you can choose to withdraw your winnings by clicking on the "withdraw" button, instantly receiving your $40 in USDT.
Apart from the thrilling prospect of playing and winning without losing tokens, Winacoin has even bigger plans for the future. The team is diligently preparing for 2024, with the development of an innovative platform called METAVERSE. This groundbreaking project will introduce an immersive gaming experience for users on Android and iOS, equivalent to the largest poker table. Players will have the opportunity to engage in thrilling poker matches and tournaments against real opponents, all while being safeguarded from any losses.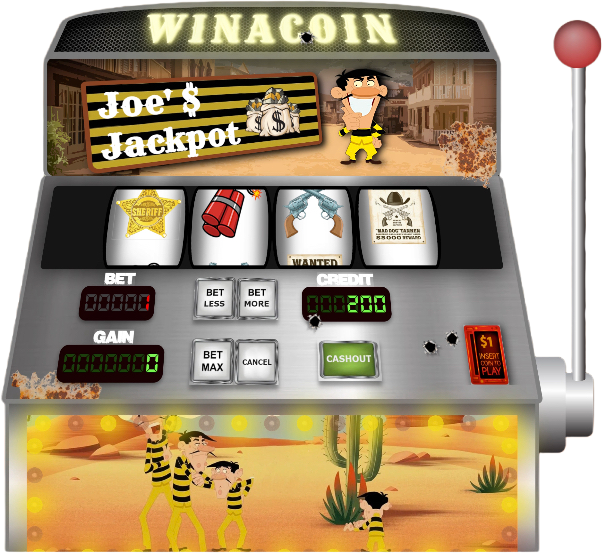 Fairness, Transparency, and integrity
Winacoin's commitment to the community extends beyond its gaming offerings. The project operates on a set of fundamental principles that ensure fairness, transparency, and integrity. Let's take a closer look:
1. Token Distribution: Winacoin believes in the power of community participation. Hence, all tokens are made available to the community, enabling widespread ownership and benefit.
2. Fee Sharing: Winacoin ensures that all fees generated through transactions are directed back to the community, creating a sustainable ecosystem where participants can reap the rewards of their involvement. These fees are transparently visible on the blockchain, reinforcing trust and accountability.
3. Capped Token Supply: At the end of the pre-sale, the creation of new Winacoins will cease. This limited token supply ensures scarcity and value preservation, making Winacoin an appealing long-term investment opportunity.
4. Play Without Risk: Winacoin breaks new ground by offering its token owners the opportunity to play four captivating casino games without the risk of losing their initial investment. This unique feature sets Winacoin apart from other cryptocurrencies and gaming platforms.
5. Real Rewards: Thousands of winners will have the chance to earn real USDT (Tether) every day. Winacoin not only provides an exhilarating gaming experience but also allows participants to convert their gaming success into tangible rewards.
With its robust foundation, Winacoin is on track to become the most reputable and honest cryptocurrency of the last decade. The project warmly welcomes everyone to join their endeavor and expresses gratitude for the support received thus far.
To learn more about Winacoin, its pre-sale phases, and its groundbreaking gaming features, visit the Winacoin website. Experience the thrill of playing and winning without the fear of losing. Winacoin is not just about artificial intelligence; it's about real intelligence.
Socials
Facebook: https://www.facebook.com/officialwinacoin/ 
Instagram: https://www.instagram.com/winacoin.io/ 
Twitter: https://twitter.com/winacoin_ 
Telegram: https://t.me/+IlDHDSzS2-BhODJh 
Email Contact: contact@winacoin.io
About Winacoin:
Winacoin is a pioneering project founded by Joe and Jack Dalton, combining the worlds of cryptocurrency and gaming. With a focus on community-centric principles, Winacoin offers token owners the opportunity to play casino games without the risk of losing their investment. By providing transparency, fairness, and real rewards, Winacoin aims to revolutionize the gaming industry and become a trusted cryptocurrency for the future.
Note: The information provided in this press release is accurate at the time of writing. For the most up-to-date details and developments, please refer to the Winacoin website.
CONTACT: Jack Dalton
contact-at-winacoin.io