Aegis Custody announced the launch of its new hardware-cloud hybrid solution, purpose-built for securely managing institution digital assets. As part of its launch it has also revealed its first partnership with ELICONN, a subsidiary of FoxConn Technology Group, the world's largest computer electronics manufacturer and a major supplier for Apple Inc.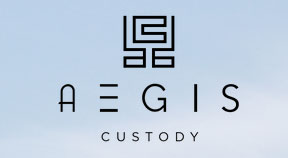 The new Aegis Custody product is designed to provide a much needed solution to institutions who have been reluctant to enter the digital asset market due to concerns around security. Aegis Custody's product is a breakthrough solution which will allow transactions to move more swiftly and securely for exchanges, banks, asset management funds, STO projects, managed solutions, and self-custody solutions
.
Jack Huang, COO of ELICONN said: "FoxConn sees tremendous value in securing digital assets and the proprietary systems that Aegis Custody has put in place will no doubt make them a market leader. Our new ELICONN division will focus on using the product for payments, supply chain management, and agricultural services. Enabling digital assets across our enterprise will facilitate quicker, lower cost payments"
Aegis Custody's new solution includes multisig wallets secured by a unique combination of hardware, cloud services, workflow, cold storage, and a professionally staffed service center.
"In 2018, over US$2 Billion in digital assets were stolen. Aegis Custody is going to secure your assets and allow for more trust and confidence in managing your cryptocurrency and is a the much needed bridge and security required by institutions to confidently enter the market for digital currency and storage. We are proud to contribute to the exponential growth that is going to result from the much awaited institutional entry into the digital custody solution market in 2019," according to Serra Wei, Founder of Aegis Custody.
About Aegis Custody
US company Aegis Custody was founded in 2018 as a spin-off from Aegis Capital Management to develop a secure and compliant way to invest in the rapidly growing multi-billion-dollar digital assets markets. From 2019 it will successfully contribute to the structural foundations of the digital currency ecosystem by providing a robust digital assets custodian that combines cloud services, proprietary secure hardware keys and system operator agents who provide complete asset management solutions so that corporates and institutions can safely and securely safeguard, invest and manage in cryptocurrency.
Learn more at https://www.aegiscustody.com/