AI & Blockchain Fintech Confex to be held in New York on the 27th and 28th September, 2018 will host industry giants like IBM, CITI Bank, World Bank, Ripple and MasterCard to present their AI & Blockchain case studies. The main aim of the conference is to give the attendees a better perspective about the combination of Artificial Intelligence and Blockchain and their potential in the future.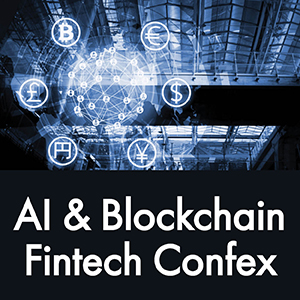 MarketsandMarkets presents to you the AI & Blockchain Fintech Confex to be held on 27 – 28 September, 2018 in New York, USA. The 2-day event will gather 10+ sponsors, 25+ leading industry speakers and 150+ professional working on Fintech technologies with respect to Artificial Intelligence and Blockchain.
With overall 4 sessions, the primary focus of the agenda will be various technologies, innovations and research associated with Fraud & Security, Regulation & Compliance, Smart Contracts, Chatbots, Trade Finance and Cryptocurrency. The expected attendance of delegates will see global leading industry professionals from Banks, Hedge Funds, Financial Institutions, Consulting Firms, Venture Capital, Investors, Solution Providers and Cryptocurrency Companies.
The event will serve as a platform to discuss major roadblocks of technological innovations to solve real world problems and strategies adopted to overcome these challenges. Speaker companies like IBM, Credit Suisse and Citi bank will help you understand how investments can be reduced while taking full advantage of these most talked technologies in the current Fintech sector.
As AI & Blockchain defines the new age of Fintech industry, more than 25 speaker will present the real world scenarios, case studies and live examples of implementations through their organisations.
Speaking about the Blockchain, Marc Kaufman, Co-chair of the Blockchain IP Council, Chamber of Digital Commerce will present a walk through blockchain explaining the origins of the technology along with its high technicalities, advantages and limitations. Such discussions of blockchain will serve as the practical orientation of many current implementations of blockchain technology in the industry.
Apart from Marc, Khwaja Shaik of IBM will be highlighting aspects of cybersecurity in the AI-first world; Tonia Durfee of Credit Suisse  will present changing Risk Management and Compliance with respect to AI and Ari Chatterjee of US Bank will cover key use cases where AI and machine learning has been implemented across banking.
Over the two days, the event will also host expert speakers from PWC Data & Analytics, JP Morgan Chase, Citi bank, R3, Ripple, The World Bank, Master Card, Capital One, Barclays, Colorado Blockchain Capital, Royal Bank of Scotland, Institute of International Finance, International RegTech Association, Galaxy Digital Advisory Group, Government Blockchain Association, Unbank Ventures, and the Blockchain Academy.
Companies like Compliance.ai, Juntos and IMerit are all set to showcase their product, solutions and services at this IOT Council, Cognilytica and International RegTech Association supported Confex. The event has also be endorsed by leading partners like Crypto Reporter, ICOHolder, Analytics Insight , ICO buffer, Financial IT , Light Node Media, Coinspeaker and Crypto Reporter.
The event overview, registration details and complete speaker list are available on the official website. You can also download the complete agenda to identify the potential interest in the conference on this page – https://bit.ly/2AR6Ao2 or you can directly email on events@marketsandmarkets.com asking for more details, your queries and provide feedback.
Markets and Markets Conferences (MnM Conferences) produces global summits, congresses and conferences bringing together key industry experts from academia and industry, fostering the exchange of ideas and latest research through cutting edge conference programs, interactive panel and round table discussions. Conferences are currently held or planned in the UK, Europe, USA and across Asia.
Contact Person: Amit Shelke
Email: amit.shelke@marketsandmarkets.com
Contact Number: +91 020 48598 285