BitMEX and Bitcoin Magazine announced a wide-ranging partnership that brings the companies, two of the most trusted and established in the bitcoin space, together to offer the best Bitcoin-focused insight to the crypto community.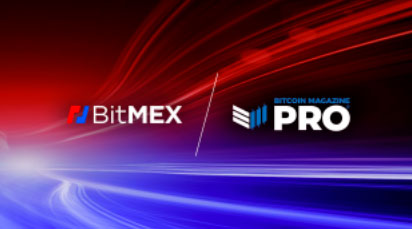 The partnership, which lasts through this year, will see BitMEX become the official sponsor of Bitcoin Magazine PRO, including its Live Stream featuring Dylan LeClair, website, and monthly research reports. BitMEX will also be granted an exclusive licence to publish Bitcoin Magazine content on the BitMEX Blog; which will include a series of articles signed by Bitcoin Magazine authors published over the next few months to bring the best crypto content and analysis to BitMEX users and crypto enthusiasts.
As unveiled at Bitcoin 2022, the two companies are also partnering to send a physical wallet holding 1 bitcoin to the moon later this year as part of the Peregrine-1 commercial lunar lander.
Alexander Höptner, CEO of BitMEX, said: "At BitMEX, we are partnering with organisations that recognise we have a once-in-a-lifetime opportunity to shape the future of money, investment, security, and privacy. By leveraging and growing our shared community of thinkers, traders, and Bitcoin advocates, this partnership will allow us to deepen knowledge of Bitcoin and showcase how the community can use BitMEX as part of their overall trading and investing strategy."
"I'm very excited to partner with the team at BitMEX to be the premium exchange sponsor for Bitcoin Magazine Pro," said Dylan LeClair, Head of Market Research at Bitcoin Magazine. "BitMEX has a long and storied history in the space as a cutting-edge investment platform, and we are excited to publish our market research alongside their brand and team."
Both companies have a yearslong track record of supporting Bitcoin research, development, and thought leadership. Aside from the research team behind Bitcoin Magazine Pro, Bitcoin Magazine continuously invests in producing new Bitcoin content in every medium including print, video, audio, and online where it publishes dozens of Bitcoin related articles daily from over 700+ top contributors in the Bitcoin ecosystem.
BitMEX is the first exchange to support Bitcoin Core development through its Open Source Developer Grant programme, which has just announced its latest grant awards to Calvin Kim, Rene Pickhardt, Chris Coverdale, Sjors Provoost, and Gleb Naumenko. Last month, the exchange expanded its ecosystem with the launch of BitMEX Spot – allowing users to spot trade popular portfolio staples like XBT (BTC) and ETH, rising stars like APE and AXS, and DeFi performers like UNI – all paired against USDT (ERC-20).
Formerly known as Deep Dive, Bitcoin Magazine PRO reaches thousands of readers daily covering on-chain metrics, bitcoin mining, derivative markets, and the global macro landscape. You can subscribe to the content here – it's full of great articles and analysis by authors like Dylan LeClair and Sam Rule.
To celebrate the partnership announcement, Bitcoin Magazine Pro will be publishing a special article today that is free to all new and existing subscribers here. Additionally, any readers that sign up for a BitMEX account through the article link will be eligible to win a year-long paid subscription to Bitcoin Magazine Pro (US$250 in value).
Marking the start of BitMEX Spot, users who trade more than US$250 in crypto will automatically enter into the exchange's biggest giveaway ever – and stand the chance to win US$500,000 in bitcoin, BMEX Tokens, and many other prizes. Click to learn more about BitMEX's spot trading sweepstakes.
About BitMEX
BitMEX is an iconic trading platform that offers access to crypto-products in the global digital asset financial markets. BitMEX allows users to buy, deposit, withdraw, convert, and trade with cryptocurrencies (XBT, ETH, and USDT, as well as LINK, UNI, MATIC, AXS and APE as part of the Spot exchange launch), and it currently supports purchases with +30 fiat currencies.
BitMEX has been at the forefront of crypto exchanges since 2014, revolutionising the industry with the invention of the perpetual swap, the most traded crypto product in history, and has continued to relentlessly innovate since then. BitMEX is owned by HDR Global Trading Limited. To learn more about BitMEX, our vision, growing team, and the road ahead, please follow us on Twitter, Telegram, and the BitMEX Blog. For further inquiries, please contact press@bitmex.com.