In recent months, thanks to the steady rise in the number ICO's being listed, it's become clear that blockchain technology has the potential to revolutionize the way we do business and provide solutions to many social and economic challenges that have created inequality and lack of transparency globally.
With 2 billion adults worldwide that are still underbanked or unbanked it is no surprise that many startups are creating solutions that are geared towards servicing this audience.
While traditional banks may be failing to see the benefit of working towards creating a more inclusive system, blockchain startups like Latino-owned FinTech company Uulala see the huge untapped potential of this multi-trillion dollar market.
With a target audience of over 210 million unbanked adults living in Latin America and 23 million living in the U.S. combined with an easy to use financial app that helps users build a global credit score in addition to sending and receiving remittances, paying their bills, shopping online and obtaining microcredit offers for a fraction of the current cost, it is no surprise that early investors have lined up to support Uulala in their mission.
To date they have secured over USD $5 Million in funding, exceeding their soft cap target, have MOUs with 17 direct sales and affiliate marketing companies as well as insurance providers who will use the Uulala payment system in their businesses. Creating a strong foundation for success as they move towards their public crowdsale. Initial paying clients will be onboarded in April putting Uulala in a revenue positive position before the public facing phase of their crowdsale.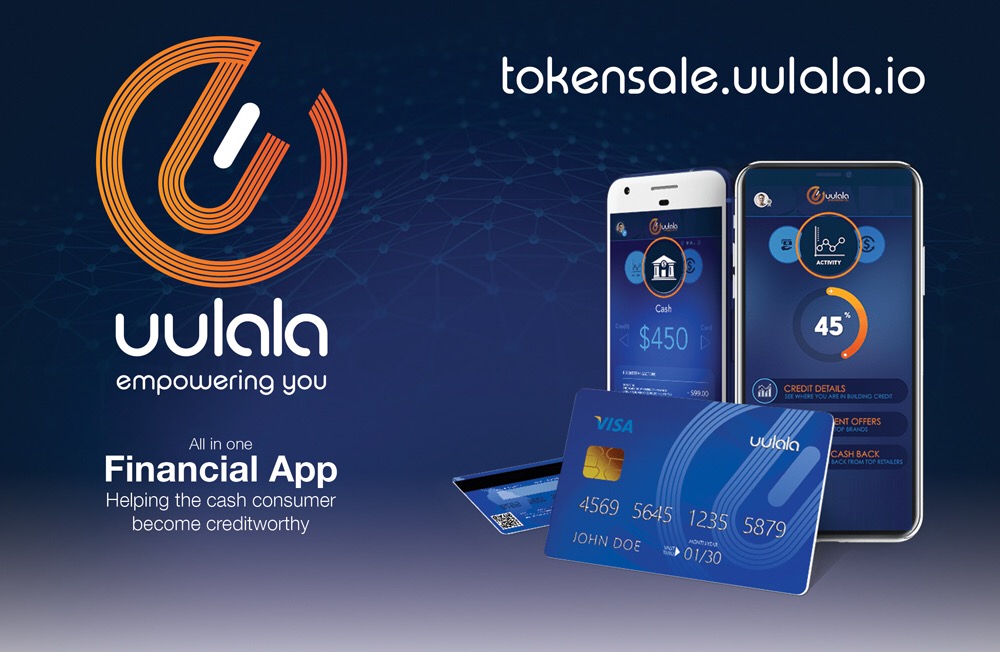 Oscar Garcia, CEO and Founder of Uulala is no stranger to the need for financial inclusion. While presenting at d10e event in Silicon Valley, Oscar revealed that throughout his childhood he would join his mother at check cashing businesses and described in detail how the exorbitant fees they were charged impacted his family.
"It is expensive to be poor, you are paying fees to access your income, added fees to pay bills, send money transfers, and you lack access to services others take for granted." Garcia said.
This first-hand experience combined with his repeated success as an entrepreneur in both the corporate and startup sectors lead Mr. Garcia to develop the Uulala Mobile App to service the unbanked Latino Market which has a $2 trillion GDP in the US alone.
While many startups in this sector are focused on reducing the cost of remittances many have failed to provide a full-service financial solution which includes the ability to build credit. Through their partnerships, with traditional financial institutions, Uulala will allow customers to benefit from their credit score outside of the app removing a significant obstacle this demographic currently faces.
"The ability for the Uulala platform to connect the unbanked to the formal economy, track their creditworthiness through our microcredit ledger and provide them relevant microcredit offers allow us to decentralize the financial services industry" stated CEO Oscar Garcia.
The Uulala App is currently in Beta testing and will be operating in the coming months. With their public crowdsale starting on the 21st of April, 2018 Uulala will continue their aggressive growth plan and working towards their mission of accelerating the financial inclusion of the underbanked and unbanked population across the Americas.
About Uulala:
Uulala is a minority-owned US-based corporation with the majority of shareholders being first or second generation Latin Americans. Uulala is a mission-driven organization to facilitate and accelerate the financial inclusion of the underbanked and unbanked population across the Americas. Uulala empowers the underbanked communities of the world through the Uulala platform by providing financial tools for them to build credit, send money, participate in ecommerce and elevate out of a cash-only environment. Uulala will drive change and betterment of Latino culture through the massive social impact their banking platform and mobile app can have on a culture that lacks trust in traditional banking systems. Uulala platform not only provides ways for Latinos to participate in secure financial transactions, build credit and offer remittance services but also gain access to entertainment and shopping services that were once out of reach because of their banking status.
Additional Information
https://tokensale.uulala.io
Press Contact:
Matthew Loughran – CMO
media@uulala.io
---
Crypo-Reporter.com does not endorse nor support product/service described in press release. Crypto-Reporter.com is not responsible for or liable for any content, accuracy or quality within the press release. Readers should do their own due diligence before taking any actions related to the promoted company or any of its affiliates or services.