On April 4, a large-scale conference dedicated to blockchain technologies, cryptocurrencies, and ICOs, Blockchain & Bitcoin Conference Germany will kick off in Berlin.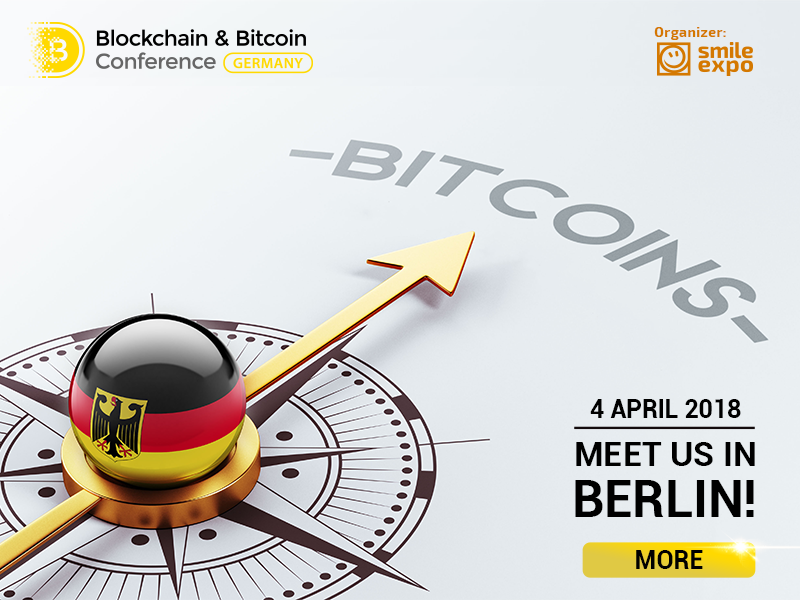 Conference speakers will include representatives of major transnational corporations, and the exhibition area will house well-known brands of the crypto industry including Trustier, Bubbletone, Unibright, APLA, which supply software and services for the crypto industry.
At the event, attendees will learn more about the use of blockchain in business processes, regulation of cryptocurrencies and token sales, profitable investments in ICO projects, and building an efficient marketing strategy for ICO campaigns.
Here are the main reasons to attend the conference:
– 15 top speakers from Germany, the US, France, the Netherlands, the Czech Republic, and Switzerland;
– experts represent such world-renowned companies as IBM, Ocean Protocol, Baker & McKenzie, SatoshiPay, Bitfury, Blockchain Bundesverband, The German Startups Association;
– you will find lawyers, developers, and scientists among speakers;
– panel discussion dedicated to topical trends of token sales. Participants will focus attention on prospects, regulation, and current state of ICOs;
– large-scale exhibition where companies will present mining hardware, component parts for farms, software, blockchain platforms, consultancy services for ICO projects;
– pitch session of brands that will allow you to learn the core ideas of companies as well as to quickly find a required product or service;
– possibility to meet founders of leading startups, potential investors, and build new business partnerships.
The event is organized by the international company Smile-Expo that hosts conferences dedicated to innovative technologies in different parts of the world.
Register to Blockchain & Bitcoin Conference Germany here and get a 40% discount.