Blocto, a leading cross-chain wallet application and multi-chain Web3 ecosystem, has unveiled a $1 million grant program to fast track user onboarding to Web3 by enabling fast, seamless, and secure wallet creation on the Polygon protocols. This follows extensive efforts to bolster account abstraction (AA) capabilities across the Web3 ecosystem at the recently concluded EthCC, where Blocto had announced the launch of its AA-compatible wallet to further enable everyday users to seamlessly interact and engage with digital assets.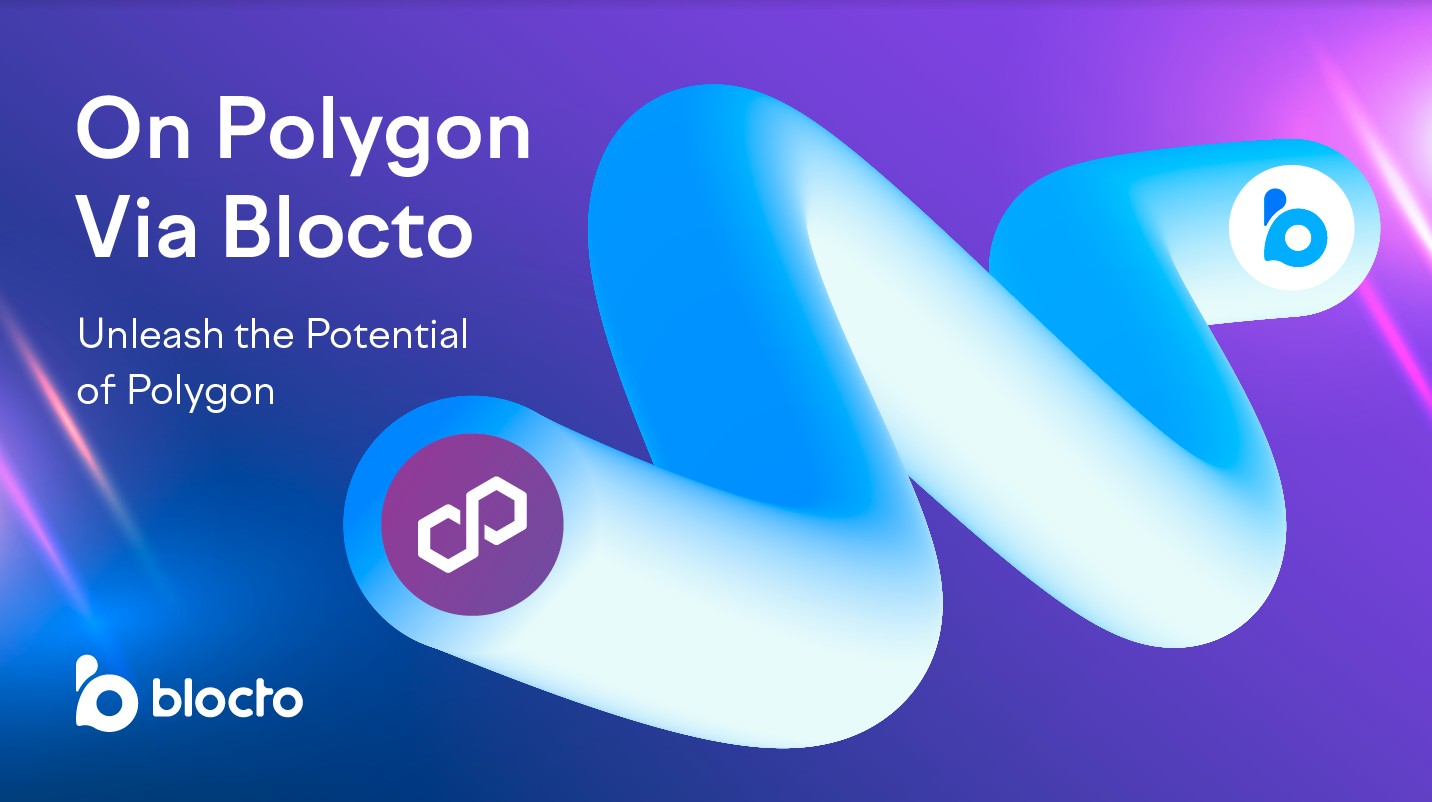 Intended to augment accessibility of Blocto's seamless wallet experience to users across the Polygon ecosystem, the grant enables decentralized applications ("dApps") to integrate Blocto's coinless, 30-seconds user onboarding experience directly in-dApp with just two lines of code. This is in line with Blocto's strategy of making blockchain technologies more user-friendly for mass adoption, facilitating the onboarding of the next million users onto Web3.
Exclusively available for projects building on Polygon, builder incentives of up to $1 million will be deployed across an engagement period of 3 months. In addition to financial support and developer tooling resources, selected projects are provided marketing and operational support with dedicated access to Blocto's vast user base, developer relations teams and communication channels. Enrolled applicants that have newly launched on Polygon will also be guaranteed access to Polygon Village upon registration, the leading blockchain's eponymous ecosystem program.
Hamzah Khan, Director of Growth at Polygon Labs, said: "Our vision at Polygon Labs is seeing scalable, affordable, secure and sustainable blockchain technology for Web3 being broadly available. Blocto's cross-chain wallet application on Polygon provides dApp builders and projects building on the Polygon ecosystem with seamless access to blockchain wallets by bringing user experience to the forefront. By prioritizing simplicity and ease-of-use, these efforts accelerate the development of user-friendly Web3 technologies to propel the industry forward."
Hsuan Lee, Co-founder and CEO, Blocto, said: "Blocto is committed to empowering individuals to meaningfully interact with exciting opportunities within the Web3 ecosystem, without complexities of managing their digital assets. As one of the most well-recognised, leading blockchain ecosystems that has been bridging the worlds of Web2 and Web3, Blocto's integration with the Polygon protocols and engagement with the Polygon ecosystem will create user-friendly and secure portals for frictionless onboarding experiences. Together, we are thrilled to contribute to the democratization of blockchain technologies and foster the widespread adoption of next-generation tech innovation."
Known for its plug-and-play modules, Blocto SDK allows dApp developers to significantly increase chances of onboarding funnel conversions. With email and social logins, Blocto wallet users are able to conveniently access dApps, manage cryptocurrencies, engage in token swaps, and manage non-fungible token ("NFT") transactions all in one mobile app. Transaction fees are effortlessly managed via its universal gas fee solution, Blocto Points, or through ERC-20 tokens.
Interested applicants can apply for the program through Blocto's Ecosystem Program page, subject to rigorous review by the Blocto committee. Eligible projects will be evaluated holistically across assessment factors of project impact, innovation, feasibility, and alignment with Blocto's strategic business objectives.
Since its Series A round in February 2023, Blocto has amassed 100+ integrated ecosystem partners, over 1.6 million active users, and increased its company valuation eightfold to $80 million. Leveraging investor support from strategic partners Mark Cuban, IPX and 500 Global, the company continues to enhance expansion of its interconnected multi-chain ecosystem as seen in the Blocto Ecosystem Program on Polygon, while bolstering product and infrastructure development aimed at simplifying the Web3 onboarding process.
The Blocto Ecosystem Program on Polygon marks the first phase of the company's ecosystem accelerator efforts in 2023.
Interested developers can apply via the Blocto Ecosystem Program on Polygon application form. For more information, please visit: https://www.blocto.io/ecosystem-program-on-polygon
About Blocto
Blocto is an all-in-one cross-chain smart contract wallet ecosystem that offers a seamless, unified experience in a comprehensive platform. Blocto SDK enables instant Web3 integration for builders, developers and innovators with significantly lowered user acquisition costs.
Since its founding in 2019, Blocto has been an industry pioneer in the field of account abstraction (AA), driving wide-scale adoption of digital assets — by launching one of the most extensive ERC-4337 compatible crypto wallets, prioritizing user experience and simplifying the onboarding process.
Today, Blocto is one of the most influential blockchain projects in the industry, having recently secured a Series A funding round with investors like Mark Cuban, IPX (previously Line Friends) and 500 Global.