The last two years have been ripe with numerous blockchain projects that mushroomed rapidly following the 2017 Bitcoin boom. Yet it has been a challenge sieving through a maze of white papers and pitch decks trying to find the one with amazing opportunities for the user and community. The Business Club project has been solid in the delivery of its promises and set goals. Its one-of-a-kind ecosystem is a place for blockchain enthusiasts to congregate and grow business, focusing on increasing the value of user's hard-earned capital.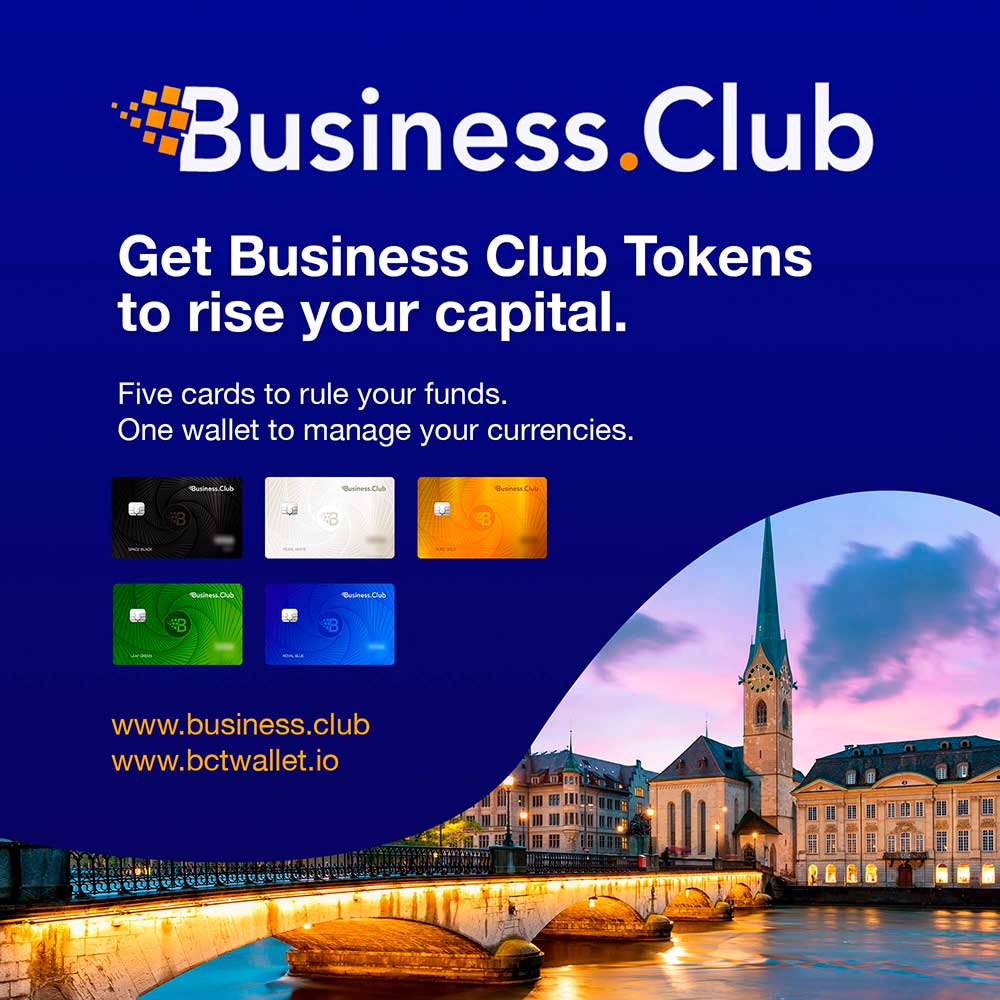 So what is Business Club and what possibilities it unveils for its members?
Business Club is a comprehensive and balanced ecosystem propped by an array of products and services. Under the same umbrella users could take advantage of an innovative cryptocurrency wallet, its own cryptocurrency – BCT (Business Club token), a social media platform, where users can exchange funds with each other. Every transaction is reflected on the project's proprietary blockchain. While the founders are based in Zurich, Switzerland, Business Club members can expect the kind of service that works like a Swiss watch.
BCT ecosystem and token
A BCT token is essential for being part of the ecosystem. It allows users to make various purchases, such as storage space, bandwidth transfer, ads, different features for social media platform and video streaming, etc.
BCT blockchain
Transparency is at the core of Business Club's objectives. Every transaction, no matter how small, is recorded on the blockchain and available for review here: https://business.club/explorer
BCT token and profit
The BCT token is a fundamental part of the company. It supports the community by rewarding its members and supports business development processes. Free circulation helps to share generated profit by deposing new tokens into a user's active wallet. The larger the stake, the higher dividend one receives.
The Active Wallet is a safe way to store user funds. The profit shared as part of being a BCT tokens holder comes from a commissions pool based on small transaction charges. In its turn users who spend BCT tokens within or outside the platform generate profit for the company as acquired BCTs return to Business Club.
Expected profit
The token holders can count on the dividend drawn from the Active Wallet and BCT. Apart from transaction fees payback, the profit also depends on tokens returned Business Club from services, products, sales commissions, subscriptions purchased within the ecosystem. The profit ranges 0.3-0.4% per day, averaging 10% per month. It is calculated on a daily basis.
Privacy
Business Club values user privacy, hence it never shares personal data with  a third party. At the same time a participant creates an Active Wallet, a new profile is generated on Business Club Social Network. It can be used to enhance one's business activities or deleted by user to keep it more private.
Business Club payment cards
Traditional and digital currency fusion becomes true with Business Club which gives users the power to store, buy, sell or spend fiat and virtual currency all around the world.
Now everyone can easily cross the borders with Business Club. Get Business Club Tokens to raise capital. Five cards to rule the funds. One wallet to manage currencies. Purchase BCT and hold it for at least 6 months (freeze time) in the BCT Active Wallet and get one of 5 Business Club payment cards. What is more, BCT stored in Active Wallet will work for user's profit day by day. Once a 180-day period ends, the user is qualified to receive a payment card. VISA Leaf Green Debit Card is free and needs no BCT stake.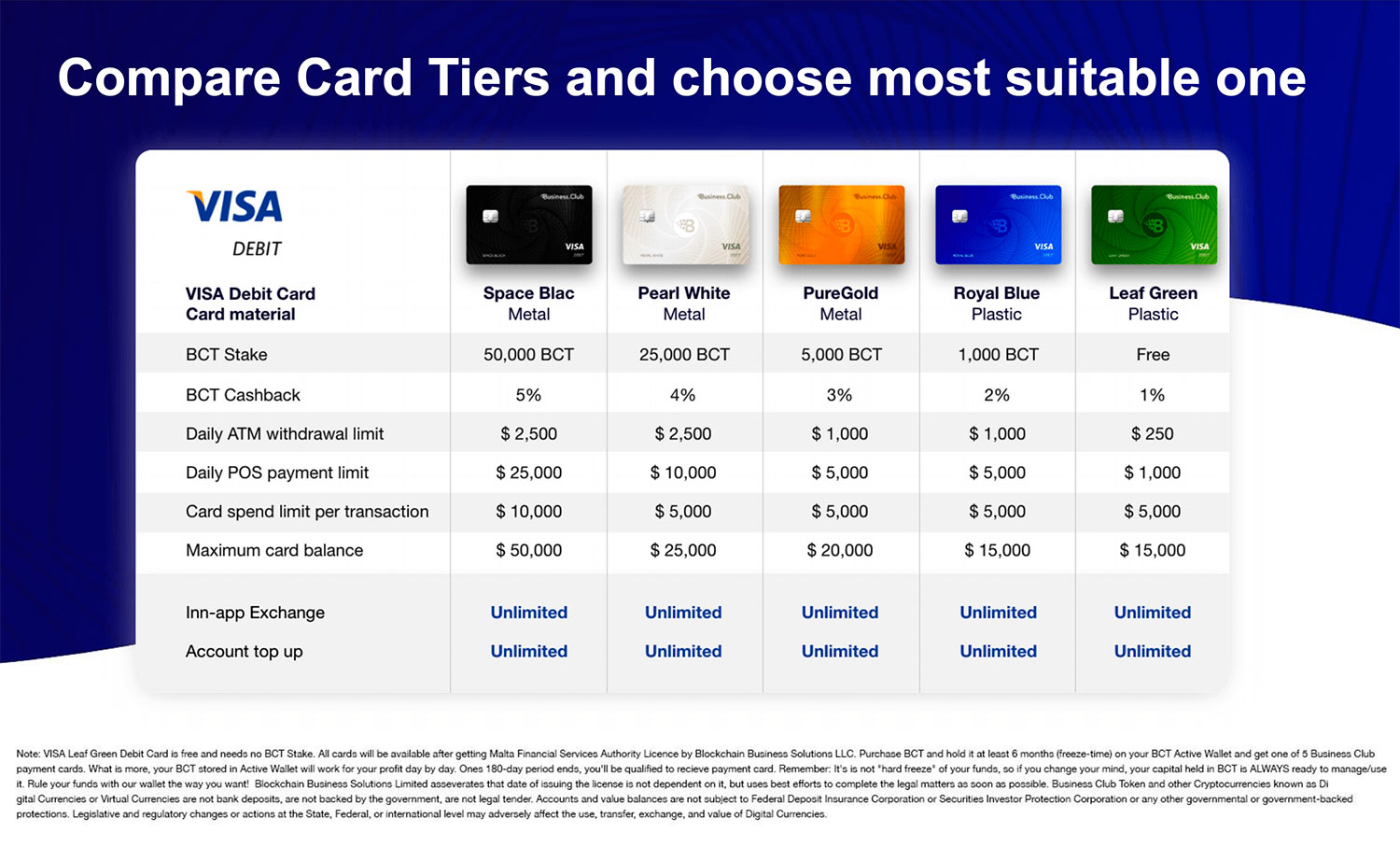 Members can store crypto in Business Club Active Wallet, and spend it wherever they want.
What does it take to become part of the ecosystem? Joining the platform requires a special invitation by a member. Should anyone want to take advantage of Business Club's services, they can use the code 104579765008 to sign in and discover great opportunities that could help in expanding one's business and maximising return on capital.
Website: https://business.club
Twitter: https://twitter.com/BC_ActiveWallet
Facebook: https://www.facebook.com/Business-Club-BCT-Active-Wallet-103155141085862/
Instagram: https://www.instagram.com/Business_Club_Active_Wallet/
Telegram: https://t.me/Blockchain_Business_Solutions