Confexco events, a leading provider of conference and exhibitions, is proud to announce the Business Transformation and Operational Excellence Conference for BFSI Industry from APAC region. The 2 days virtual conference will take place on 8-9 June 2023 during Singapore time.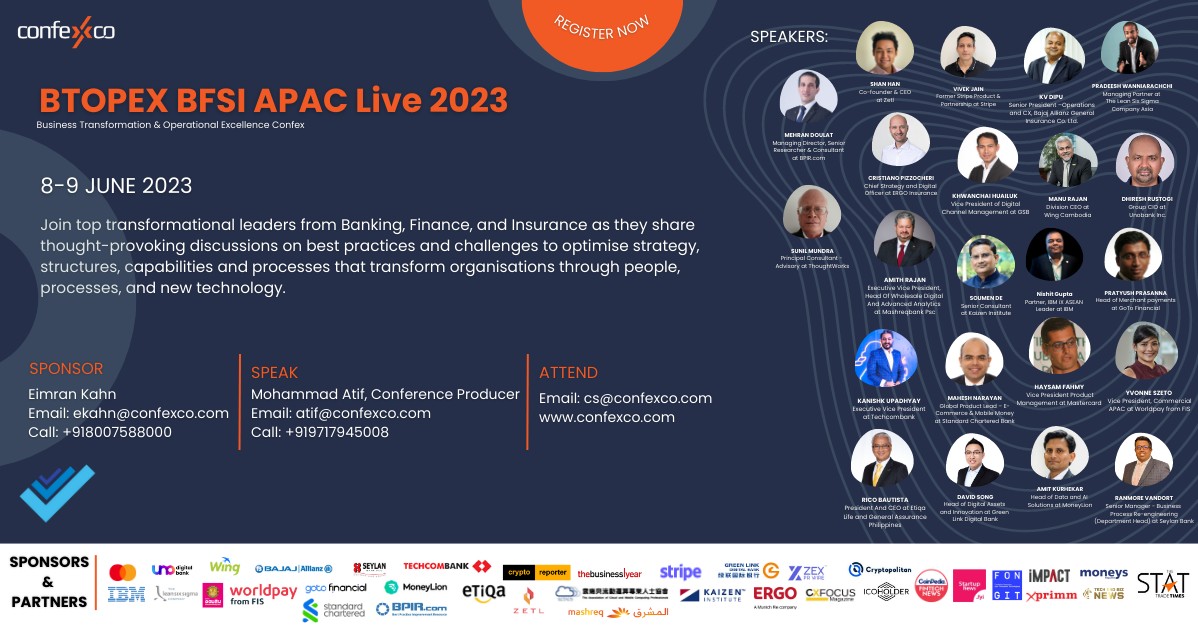 In today's fast-paced and dynamic business landscape, organizations across industries face the constant challenge of staying competitive, driving growth, and adapting to rapidly evolving customer demands. To address these challenges head-on, companies must embark on a journey of Business Transformation and Operational Excellence. The Business Transformation and Operational Excellence Conference for BFSI Industry will bring together industry leaders, experts, and stakeholders to discuss the latest trends, strategies, and best practices in business transformation and operational excellence in Banking, financial institutions and Insurance. The conference will feature insightful keynote speeches, panel discussions, and case studies providing attendees with valuable insights and actionable takeaways.
Some of the key topics that will be covered during the conference include:
Digital transformation in BFSI industry
Operational excellence and process improvement
Risk management and compliance
Customer experience and engagement
Emerging trends and technologies in BFSI industry
Lean Six Sigma for Financial Sector Organizations
Manu Raja from Wing Cambodia, shared some persuasive insights as "As we embarked upon an ambitious journey to build the Bank for Every Cambodian, we realized that a bank may have a very limited role in that journey in future. So instead, we are focusing on addressing every financial need of every Cambodian – by providing convenient access to finance, markets and technology" While commenting on the future of digital payments Vivek Jain, former Stripe Product & Partnership said, "Eventually money storage and movement across currencies and country borders will be as easy / frictionless as the movement of data on the internet"
The conference is open to professionals and executives from the BFSI industry, including banks, insurance companies, fintech startups, and other related organizations. Attendees will have the opportunity to network with industry peers, gain valuable knowledge and insights, and explore innovative solutions that can help transform their organizations.
Registration for the conference is now open, and last few days are left to register for the event.
For more information about the Business Transformation and Operational Excellence Conference for BFSI Industry and to register, please visit: https://confexco.com/events/btopex-bfsi/.
About Confexco Events
Confexco is a leading conference and exhibition organizer, helping organizations achieve business transformation and operational excellence through innovative event solutions and expert services. With a proven track record of success and a focus on customer satisfaction, Confexco is committed to delivering the highest quality solutions and services to all its Stakeholders.