Blockchain World Conference South (BWC South) is set to host the industry's largest conference ever, featuring more than 100 industry icons including bitcoin pioneer and keynote speaker Brock Pierce, Overstock.com CEO Dr. Patrick Byrne and renowned marketer and authority on crypto advertising Neil Patel, in a series of panels designed to deliver blockchain content reflecting this new, disruptive and constantly-evolving technology.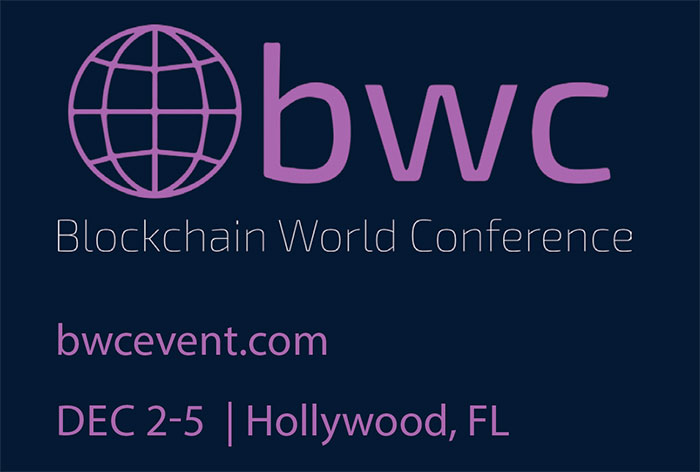 Thousands of high-level investors and thought leaders in cryptocurrency are expected to attend the four-day conference at the Diplomat Beach Resort in Hollywood, Florida, from Dec. 2-5.  With more than 60 panels and related presentations, BWC South will feature more keynotes and crypto activities than any previous conference.
"Our goal is to communicate the latest and most significant information as it relates to blockchain and cryptocurrency to push these cutting-edge technologies closer to mainstream adoption," states BWC South founder and CEO Eric Cohen. "In fact, this week's announcement by Fidelity to offer digital currency services to its customers demonstrates just how entrenched blockchain technology will be in our day-to-day lives, and just how quickly it's happening."
Among many key differentiators, the conference will offer a Blockchain Bootcamp for beginners. Mahesh Chand, the CEO of Mindcracker, Inc. will preside over the bootcamp, designed to provide participants new to the technology with an introductory course on the basics of blockchain coding – specifically how to build real-world blockchain applications and smart contracts.
BWC will also make history by highlighting powerful women in blockchain at a special Women in Blockchain Luncheon and panel discussion. Experts on this first-of-its-kind program will include Crystal Rose, CEO and co-founder of Sensay; Joanna Hubbard, CEO and co-founder of Electron; Marie-Antoinette Tichler, CEO and founder of C2 Legacy Technologies; and entrepreneur Nicolette "Crypto Barbie" Kahen.
The conference will also feature BWC's second all-crypto poker tournament. For a $200 crypto buy in, poker players will compete for a chance to win monetary prizes in Bitcoin, VIP passes to various activities and a free hotel stay at BWC's next conference in Washington, D.C. The tournament will be open to anyone, including non-conference attendees.
Other highlights will be a blockchain legal and regulatory townhall meeting; a yacht tour bound for the Miami Waterfront; the second-ever BWC Golf Invitational; and a first-ever Crypto Burning Man event on the beach near the host resort.  The event will feature a bonfire and fire performers.
The December conference will be held in tandem with the international show Art Basel, taking place in Miami Beach Dec. 6-9. BWC South will provide a place for thousands of Art Basel attendees to interact with blockchain authorities and learn about the applications that are specific to the art community.
BWC South has partnered with Krypto Studios in Miami to curate more than 100 pieces of art which will be displayed at the symposium.  Artists representing more than 20 countries will be on site with their work to narrate the logic behind their pieces, and help to educate attendees about why blockchain is so crucial to the art world.
Early Bird Discounts and "World Pass" for Yearlong Access
A "World Pass" option is now available, allowing attendees to simultaneously purchase tickets to quarterly BWC conferences throughout the year at a deep discount. The option allows cryptocurrency enthusiasts to stay current in the blockchain universe. For BWC South ticket information, including Early Bird discounts, visit wpdev.blockchainworldconference.io/buy-tickets
About Blockchain World Conference
The Blockchain World Conference (BWC) is an educational forum for industry leaders, tech innovators, decision makers, investors, experts, educators and knowledge-seekers.  It offers them access to the latest developments in blockchain and cryptocurrency — often in real-time. The events are held quarterly in the South, Central, East and Western regions of the United States and present constantly evolving programs featuring the industry's most seminal experts and cutting-edge developments. BWC events promise to always deliver rich and multifaceted educational experiences for all attendees, regardless of their past experience in, and knowledge of, the blockchain and cryptocurrency industries.