Cake DeFi, the world's fastest growing online platform, dedicated to providing access to decentralised financial services, has today announced the launch of its Olympic Bake-Off promotion.

In celebration of the spirit of the international, multi-sport event, Cake DeFi is doubling down on its referral rewards. From 12:00pm CET on July 22, 2021 to 12:00pm CET on August 08, 2021, Cake DeFi customers will be able to participate in the Olympic Bake-Off, giving them the chance to win medals and sizable rewards with every successful referral. Each medal has a prize fund allocation, ranging from $50 worth of DFI for bronze medalists, up to $400 worth of DFI for World Record Bakers, with a total of $750 worth of DFI available to those who win them all.
Julian Hosp, CEO and Co-Founder of Cake DeFi said: "We wanted to find a way to give back to our ever-growing community of users in a fun and engaging way — a way that really speaks to our users. With our Olympic Bake-Off campaign, our users have the chance to win bronze, silver, and gold medals, with each medal representing a prize bonus which will be added straight into their account(s). They can even go on to become World Record Bakers on the platform, winning a top spot on the podium and the largest referral reward that Cake DeFi has ever offered — a whopping $2,000 in total."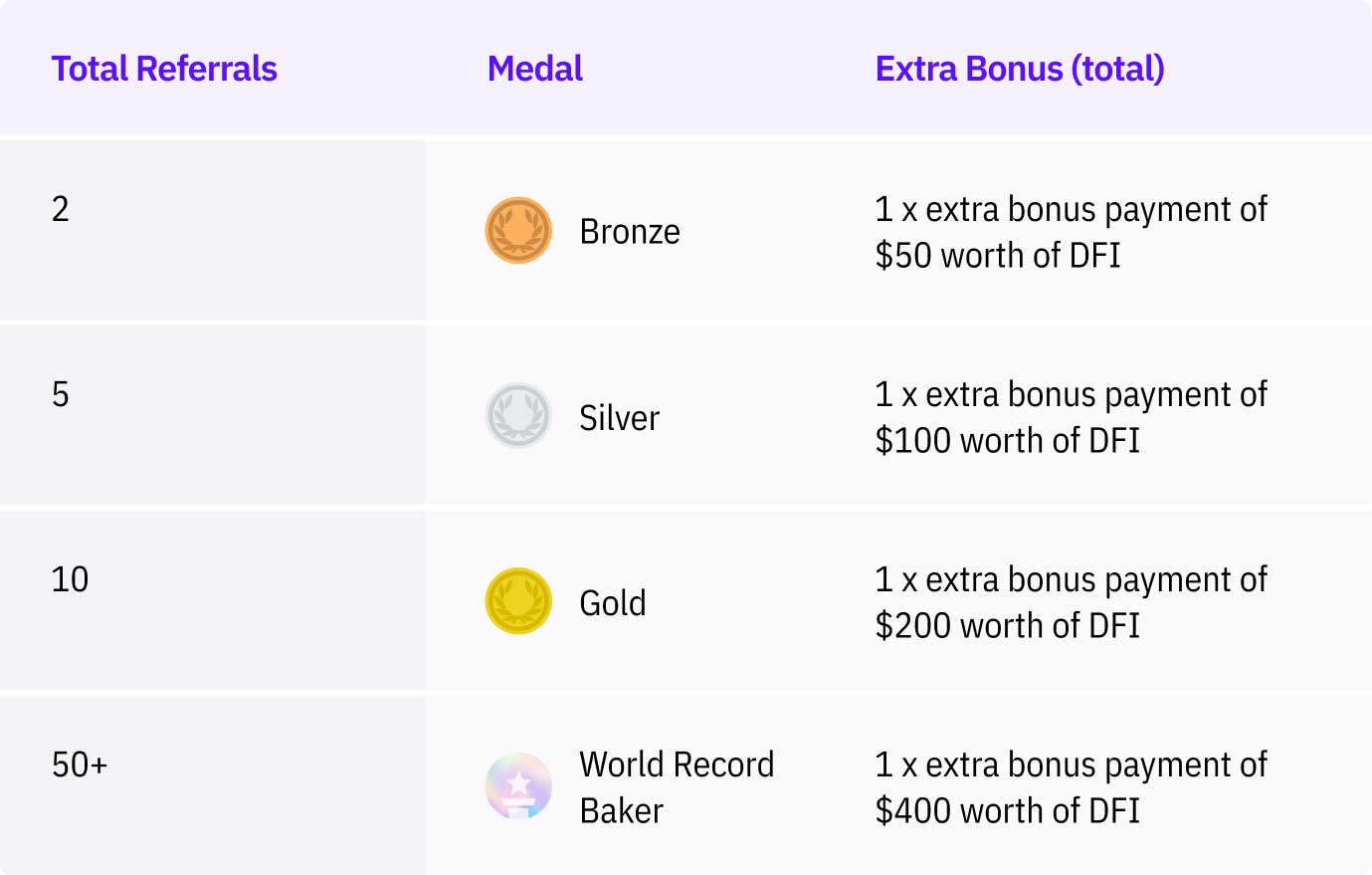 In addition, throughout the competition period, users will also receive double referral rewards, with referrers getting $25 worth of DFI for every successful referral, and referees receiving $50 worth of DFI (a referral counts as successful once their identity has been verified and they have made a minimum deposit of $50 into their account).
Referral bonuses will be added to users' Freezer accounts for 180 days; however, medal-winning bonuses will be paid out directly into users' accounts.
About
Cake DeFi is a fully transparent, highly innovative and regulated fintech platform dedicated to providing access to decentralised financial services and applications by enabling users to generate returns from their crypto and digital assets. It is operated and registered in Singapore and is fully compliant with all regulatory requirements of the Monetary Authority of Singapore (MAS).
By enabling and empowering its users to harness the potential of decentralized finance, Cake DeFi aims to educate and inform people around the world on crypto and DeFi in a simple, easy to understand and hassle-free manner.