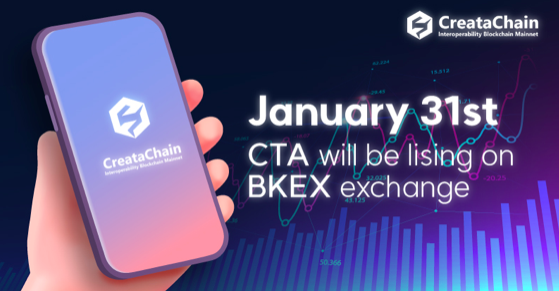 CreataChain is the most advanced technology in the blockchain community. It has reached a milestone by overcoming the challenges of the technology that prevents it from becoming a global achievement and on its way to optimize and enhance interoperability and scalability. It is one of the most secure and improved systems that can add to various industries value. 
Will be listing on the BKEX exchange on January 31st
What is CTA?
The Creatachain is one example of such an organization with a currency/token of its own. Creatachain is a decentralized interoperable blockchain. It uses the consensus algorithm known as Augusteum Consensus Core, which is a combination of DPOS and PBFT, the development kit is known as Creata SDK, which saves time and energy. Creatachain has an inter-blockchain communication protocol known as ICP and a connection of the application layer, which is the MSM, which helps developers to focus more on the development and designing of the applications. It is one of a kind blockchain with the goal to make the world of blockchains interoperable. 
The Creatachain has its native token known as CTA or Creata Coin. It is designed for the Creatachain environment. It is an advanced token that has various purposes. It has many pioneering features such as instant transactions, fast data validation and helps the Creatachain maintain the connection with other blockchains as it is the ultimate protective token. It will assistthe Creatachain in its further growth to establish relations with many blockchains and real-world businesses.
There is a misconception that tokens can be used for trading assets only, but that is not true because tokens could serve different functions in a network rather than trading assets only. CTA can be used to operate specific services on the Creatachain network. Users can use CTA for various purposes, including:
● Users can utilize, receive, or send CTA on the network to execute smart contracts. Smart contracts can be implemented with a certain amount of CTA transactions.
● The sender and the receiver can transfer CTA in their accounts without having to compromise on their security. Cross-chain transactions take place in the Creatachain and CTA can be transferred to other blockchain accounts as well.
● Payments can be sent and received in CTA to employees and others.
● Private blockchain built atop the Creatachain can explore the vast potential of CTA in their respective industry.
● CTA can be used, retrieved, and exchanged at a better price as its value will keep on increasing shortly. It is an asset and can sustain any market change.
Creatachain cares about the community and believes in supporting and fulfilling the demands of its users. It aims to give satisfaction to its users. It delivers quality networks, secure connection, scalability, interoperable interaction, and transparency. A distribution network is important for operating the system securely. 
Creatachain is a new economic platform that is opening the ways towards an interoperable world of blockchains. CTA token allows access to applications and services that are built on the blockchain with a flexible and reliable way to transfer value. The Creatachain platform aims to provide satisfaction to its users. As the activity will increase on the network, the total amount of CTA held across the network also increases, and this overall increases the value of the network and thus gives great profit to its users. Hence, the Creatachain is the network to trust and put faith in.