DCENTRAL is starting its journey into Asia, bringing its iconic Web3 conference to Japan. The latest incarnation of the globe-trotting gathering of Web3 builders and innovators will run for two days starting on Sept. 19, right after Token2049 and before Tokyo Game Show.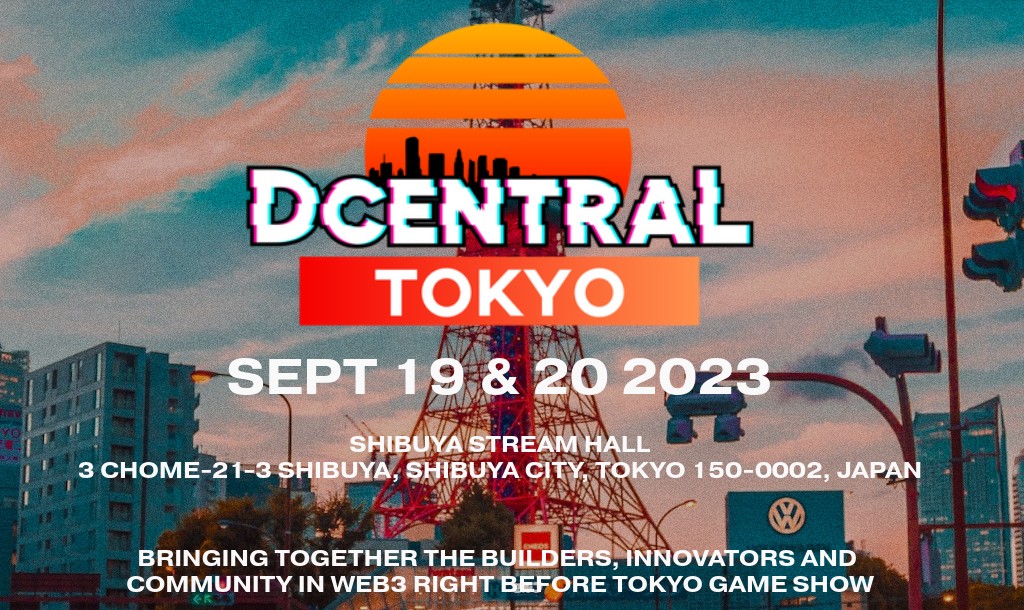 DCENTRAL Tokyo will take place in the heart of the Shibuya District, Tokyo's red-hot hub for all things NFT, Metaverse, and Web3. To bring this ambitious conference to life, DCENTRAL is partnering with Web3BB Tokyo, one of Japan's largest and most established Web3 communities.
The timing for DCENTRAL Tokyo coincides with a seismic cultural shift for the crypto industry in Japan. Its Liberal Democratic Party's Web3 project team has recently approved a whitepaper outlining official recommendations for growing the nation's Web3 industry. This has become part of Japan's national strategy under Prime Minister Fumio Kishida's administration. These major ongoing changes make it the perfect time to tap into Japan's budding Web3 push.
DCENTRAL's goal is to bridge Japan and the rest of the world by providing a platform and bringing people together to share what they're building and open up a broader conversation about Web3's core ideas. The event will be attended by major Japanese brands and well-known Web3 speakers from around the world.
DCENTRAL Tokyo will plant a flag on a new continent for DCENTRAL, which has previously held its blockbuster events and conferences in Denver, San Francisco, Los Angeles, Austin, and Miami. The intimate gathering will feature curated keynotes and panel discussions, seminars, and networking opportunities, showcasing the latest and greatest innovations happening at the forefront of Web3. Expect a diverse assortment of builders across Web3 gaming, metaverse, and much more.
"After hosting successful conferences around the U.S., DCENTRAL is bringing that same magic formula to Asia with DCENTRAL Tokyo. We consider these gatherings a fundamental part of growing the Web3 ecosystem. By bringing together the brightest minds in the space, ideas and innovations can gather the momentum needed to propel the industry forward. We are thrilled and excited to be hosting this event with Web3BB Tokyo, our first and definitely not our last Asian conference," says DCENTRAL co-founder and CEO, Justin Wu.
DCENTRAL Tokyo will be held Sept. 19 and 20 at Shibuya Stream Hall in Tokyo. Early-bird tickets are still available for $99 until July 31st when the general admission price jumps to $149.
About DCENTRAL
DCENTRAL Global Inc. is the world's largest community-based multi-chain crypto and Web3 events facilitator, focusing on DeFi, NFTs, GameFi, Metaverses and DAOs. It's best known for gathering large numbers of Web3 fans, industry leaders, artists, creators, operators, builders and investors several times a year at its popular self-named conferences. DCENTRAL prioritizes education, inclusion and future-focused collaboration, networking and programming, aiming to empower participants to reshape and reimagine crypto culture for the better.
Visit Dcentralcon.com to learn more.
Follow on Twitter @Dcentralcon