Delta, the ultimate Bitcoin & cryptocurrency portfolio tracker app, today announces the launch of Delta 1.6 for iOS & Android, adding Exchange Account Connections with the ability for deposits, withdrawals and transfers. Beautifully designed for efficiency and simplicity, Delta 1.6 aims to save crypto investors' time by automatically importing their exchange transactions whilst providing insight and visibility into their portfolios like never before without extra cost.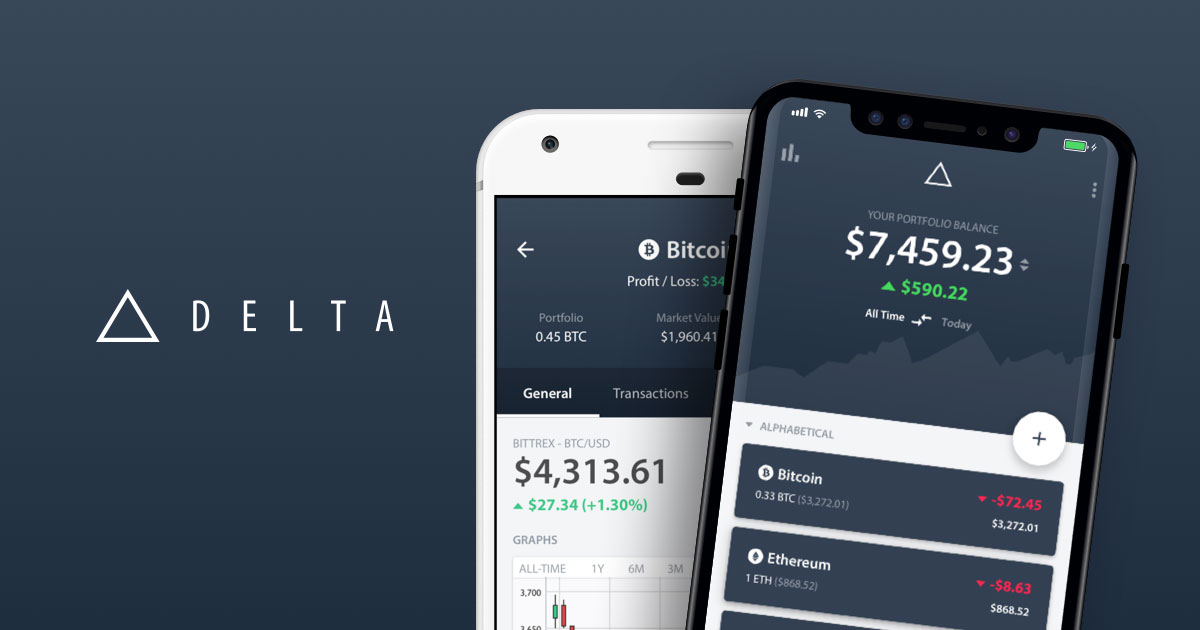 With the new Exchange Account Connections API imports, investors can now set up their exchange accounts and let Delta import transactions automatically, as well as add past transactions if they wish to. The app is able to automatically detect transaction types and adjust balances, accounting for transaction fees when transferring funds and enabling users to get a perfect picture of their portfolio. The transfer form allows for various types of transactions such as; transfers from wallet to wallet, exchange to wallet, exchange to exchange, airdrops, mining, forks and dividends. By facilitating deposits & withdrawals, Delta 1.6 gives investors more time to research and spend on their trading instead of manually inputting their  data.
"As cryptocurrency market has such high volatility, instant visibility and timely alerts across portfolios is essential to any investor and paramount for making better investment decisions. As a result, by incorporating functionalities that connect users accounts to several exchanges, automatically importing transactions and providing insight will empower investors to get more out of their investments," said Filip Minev, CTO & Co-Founder of Delta.
The app supports connections with Binance, Bittrex, Bitfinex, Coinbase, GDAX, Kraken & KuCoin, with more exchanges to be added in the following weeks & months without having to update the app. This advanced feature is available to all users for free with up to two different connections whilst PRO users can go beyond this and link an unlimited amount of exchanges.
In addition to the new feature, users now have the option to choose BNB as a trade fee currency when adding transactions for Binance, which can also be automatically imported into user transactions using BNB. Switching between multiple portfolios is now a one-touch process and users can now view balances in percentages.
"Since our goal is to equip our users with the best functionalities and help them achieve their investment goals, we are very pleased to introduce Delta 1.6, which is designed to do just that. This launch is a huge milestone for us as it enables our users to stay ahead of the ever-changing crypto market," added Nicolas Van Hoorde, CEO & Co-Founder of Delta.
Delta 1.6 is available to download for free immediately on iOS and Android. There's also a beta desktop app available.
About Delta
Launched in October 2017, Delta is the ultimate Bitcoin & cryptocurrency portfolio tracker app that enables investors to keep track of all crypto coins, including Bitcoin, Ethereum, Litecoin and over 2000 altcoins. In just a very short period of time, Deta has attracted almost half a million crypto investors who are tracking their portfolios, checking the latest coin prices and market charts using the Delta app.
https://getdelta.io
---
Crypo-Reporter.com does not endorse nor support product/service described in press release. Crypto-Reporter.com is not responsible for or liable for any content, accuracy or quality within the press release. Readers should do their own due diligence before taking any actions related to the promoted company or any of its affiliates or services.