Metaco announces its cooperation with DZ BANK AG, the central institution to the Volksbanken Raiffeisenbanken cooperative financial network, one of the largest banking groups in Germany. As a central institution, DZ BANK provides a multitude of services, particularly asset management services, being one of the largest German custodians, with €297 billion assets under custody at the end of 2022.
DZ BANK, a BaFin regulated financial institution and custody provider, places the foremost importance on regulatory compliance and security. Metaco's custody and orchestration platform, Harmonize™, was selected by DZ BANK through an extensive proof-of-concept and diligence process. Harmonize™ has proven to be a powerful solution, helping DZ BANK to build an attractive and secure offering to institutional clients in the space of crypto securities (German eWpG) and digital currencies – fully integrated into its current asset management services.
Metaco's agnostic model enables different deployment methods, as well as a hardware-enforced key management infrastructure, securing multiple types of digital assets – including tokenized securities like bonds and equities. Harmonize™ offers a versatile governance framework with customizable risk and compliance controls, with full segregation of multiple business units and clients, guaranteeing isolation of policies, users, accounts, and assets.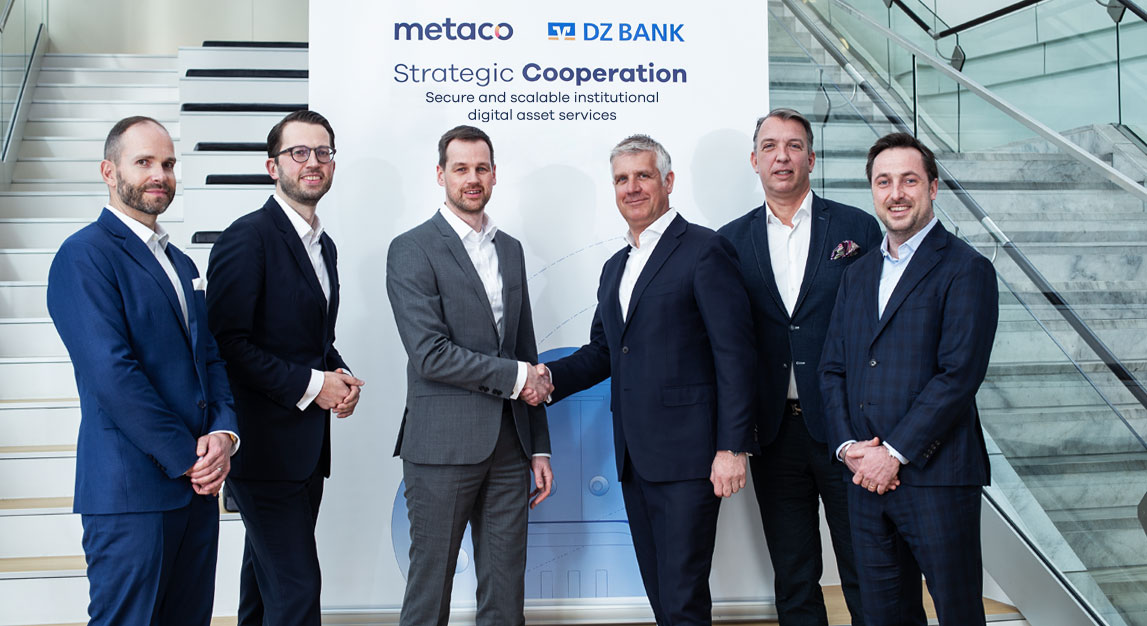 Nils Christopeit, Lead Solution Design Digital Custody at DZ BANK, commented: "In terms of our security, scalability, and future requirements of our digital asset custody initiative for institutional clients, starting with crypto securities as per the German eWpG, Metaco Harmonize has proven to be a powerful solution that is fit for purpose and can support our intended operating model. With the offering we can build by using this technology, we trust to create a durable and fast-growing business cooperation as well as an attractive solution for our clients that can also meet the requirements of digital currencies and decentralized financial instruments."
Craig Perrin, Chief Sales Officer at Metaco, commented: "Metaco's digital asset technology infrastructure is purposely designed to support financial institutions to capitalize on the digital asset economy. We are excited to announce this cooperation as it further establishes Metaco as a market leader in Germany, trusted by some of the country's largest banks and exchanges."
About Metaco
Founded in 2015 in Switzerland, Metaco is an enterprise technology company whose mission is to enable financial and non-financial institutions to securely build their digital asset operations. The company's core product, Harmonize™, is a mission-critical orchestration platform for digital assets. From asset-agnostic custody and trading to tokenization, staking and smart contract management, the platform seamlessly connects institutions to the broad universe of decentralized finance (DeFi) and decentralized applications (Web3 Dapps).
Metaco has established itself as the institutional standard for digital asset infrastructure, trusted by the world's largest global custodians, banks, regulated exchanges, and corporates. Its software and technology solutions enable institutions to store, trade, issue and manage any type of digital asset — such as crypto and digital currencies, digital securities, and non-fungible tokens (NFTs) – with the highest possible security and agility.
www.metaco.com