EMERGE Group, a Singapore-based Martech organization and Esports commercialization partner, is proud to announce a strategic partnership with Immutable Games, a leading web3 game publisher and the gaming-focused arm of Immutable. Through the alliance, EMERGE Group will lead significant marketing endeavors aimed at driving awareness and adoption of titles managed by Immutable Games and create engaging digital content that will ultimately spark interest in web3 within the gaming community.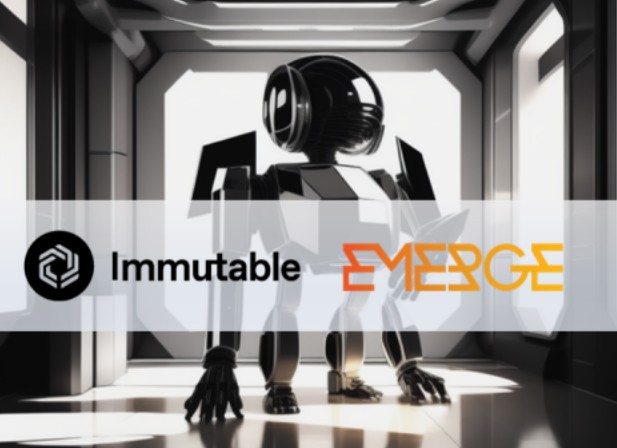 As a global publishing and marketing partner for Immutable Games, EMERGE Group will support web3 titles such as Gods Unchained, MetalCore, Shardbound, Guilds of Guardians, and Infinite Victory. EMERGE Group will execute across various facets of marketing, focusing on campaign strategy, execution, social media, content production, among others.
In addition, EMERGE Group will also support awareness efforts for Immutable Passport, a non-custodial wallet and authentication solution that streamlines user onboarding and improves overall user experience. Immutable's Passport solution will help foster a thriving ecosystem for true asset ownership by empowering gamers through unparalleled control of their digital assets, while paving the way for a new era of trust and transparency in gaming.
"The partnership with EMERGE Group represents a major step forward in our goal to build and scale quality web3 games for the masses. The Group's exceptional track record in marketing for web3 gaming will allow us to reach a much larger audience in Asia and effectively communicate our vision for collaborative and immersive web3 gaming experiences," said Justin Hulog, Chief Studio Officer at Immutable Games.
"We are thrilled to collaborate with a dynamic Web3 gaming platform such as Immutable," said Roy Kek, Chief Executive Officer and Co-founder of EMERGE Group. "The partnership will undoubtedly propel the adoption and awareness of Web3 gaming projects that will usher in a new era of blockchain gaming."
In the months leading up to the announcement, EMERGE Group onboarded Avocado DAO and FIBO Partners as key investors, on top of the investment announcement earlier in March, 2023. The newly formed FIBO Partners counts ex-Binance executives and top industry experts amongst its leadership team.
EMERGE Group has received US$2.2 Million in a seed funding round led by Venture Capital and Arcane Group at the start of the year. As part of that announcement, EMERGE Group underwent a rebranding from EMERGE Esports, symbolizing a strategic shift towards diversification of services to more than just Esports services.
EMERGE Group is currently in collaboration with Mastercard as part of its award-winning Start Path Emerging Fintech program.
About EMERGE Group 
Headquartered in Singapore, EMERGE Group focuses on developing viable and profitable commercialisation options for content creators, Intellectual Property Right Holders, Advertising Inventories and brands in the Southeast Asia region.
With an established network of top esports teams and gaming influencers under its flag, EMERGE Group has also worked with multiple endemic and non-endemic brands to fulfill their business objectives.
For more information, please visit: https://emerge-group.co/
About Immutable Games 
Immutable Games is a global leader in web3 game development and publishing, backed by a world-class team who have proven track records of bringing games to millions of players. As the gaming-focused arm of Immutable, the leading web3 gaming company, Immutable Games has pioneered the world's first blockbuster NFT trading-card game Gods Unchained and is currently building the highly anticipated mobile RPG Guild of Guardians.
Alongside its own high-quality titles, Immutable Games partners with third-party game developers to provide them with best-in-class strategy and execution expertise aimed at ensuring the success of every web3 game deployed within the Immutable ecosystem. Immutable Games is guided by its mission to redefine gaming for generations to come, by developing innovative and engaging experiences that empower players with true ownership, value, and creative expression.
For more information, please visit: https://www.immutable.com