– Following the successful premiere of EventHorizon 2017 which included more than 550 guests in Vienna and was awarded Gold at the Austrian Event Awards 2017 in the category "Congresses"
– The 2nd edition of the conference will be at Kraftwerk Berlin from 17th to 19th April 2018
– Hosted by Michael J. Casey, Senior Advisor Digital Currency Initiative, MIT Media Lab
– Game-changing agenda with more than 30 international top speakers and 40 Start Ups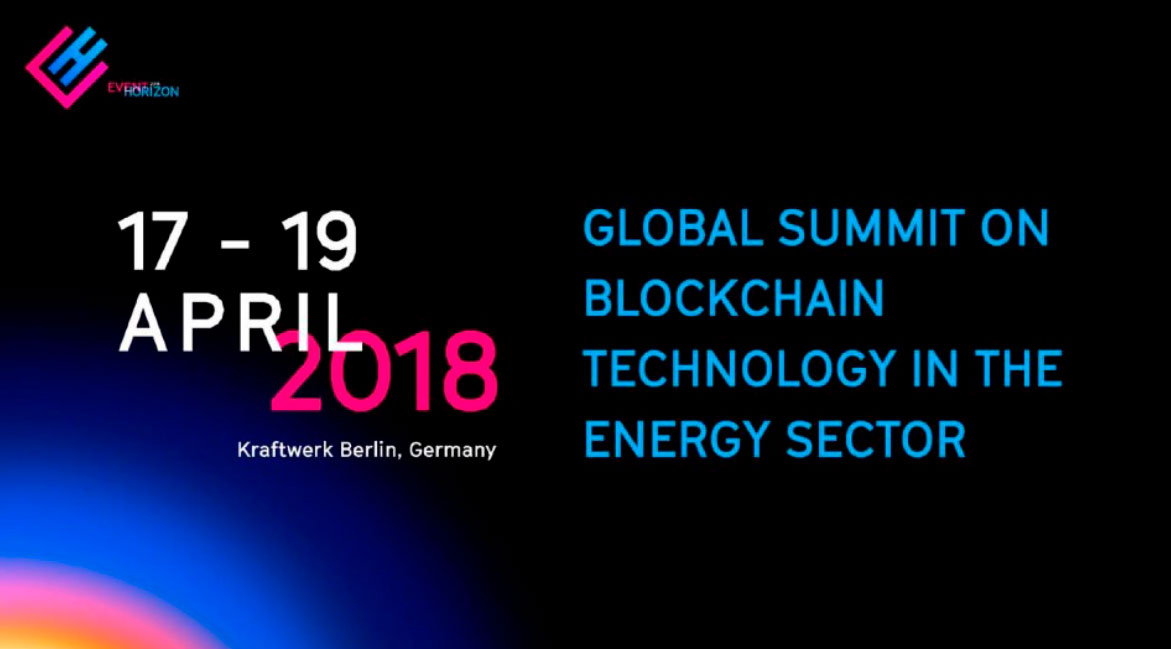 The energy market is at a turning point: Leading experts agree that blockchain technology has the potential to shift the whole energy industry. Decentralized digital platforms will change the way people buy and sell energy. That is why EventHorizon offers a game-changing platform for the exchange of experiences and groundbreaking innovations.
Agenda EventHorizon 2018
One year ago the first edition of EventHorizon took place in Vienna with 550 guests from 36 different countries. Furthermore, the event was awarded with gold, the highest award for it's category, at the Austrian Event Awards 2017 in the category "Congresses". After this success, the second edition is going to take place at the Kraftwerk Berlin from 17th to 19th April 2018. With more than 30 international top speakers and 40 Start-Ups, pioneers, experts and visionaries of both worlds, the energy and blockchain sectors will come together. As a result, attendees can expect a powerful melting pot of diverse perspectives and innovations bolstered by informative content.
The event will be hosted by U.S. blockchain expert Michael J. Casey, Senior Advisor of the Digital Currency Initiative of MIT Media Lab. In addition to keynotes such as "A Future of Decentralized Energy" by Dr. Christoph Frei, CEO of the World Energy Council, or "Blockchain, Climate Change and 1.5°C" by Tom Dinwoodie, Lead Trustee Rocky Mountain Institute and Principal Ark Equities, the innovative technology will be examined from all perspectives in talks and panel discussions. Deep Dive Sessions invite you to deepen your knowledge and contribute to knowledge transfer.
Tickets can be purchased immediately at www.eventhorizon2018.com
Press accreditation
Accreditations for media representatives, interviews with speakers, organizers and Start-Ups, as well as information about ticket packages are available upon request.
About EventHorizon:
EventHorizon – Global Summit on Blockchain Technology in the Energy Sector – is the one exclusive annual event centered on energy blockchain solutions for a future based solely on renewable resources. It is a game-changing platform for the development of a customer focused, fair energy future. Once a year, EventHorizon unites the Who's Who of both the traditional energy and innovative Blockchain sectors. The 2018 motto "Flip the switch & turn on the power of tomorrow. Today!" calls for a paradigm change and takes guests on a unique "journey" into the future of the industry.
#EventHorizon
https://eventhorizon2018.com/
https://www.facebook.com/eventhorizon2018/
https://www.twitter.com/eventhorizonx
Contact for press inquiries:
RAFFEINER REPUTATION
Silva Leschner
s.leschner@raffeiner-reputation.com
Phone: +43 664 887 18 999