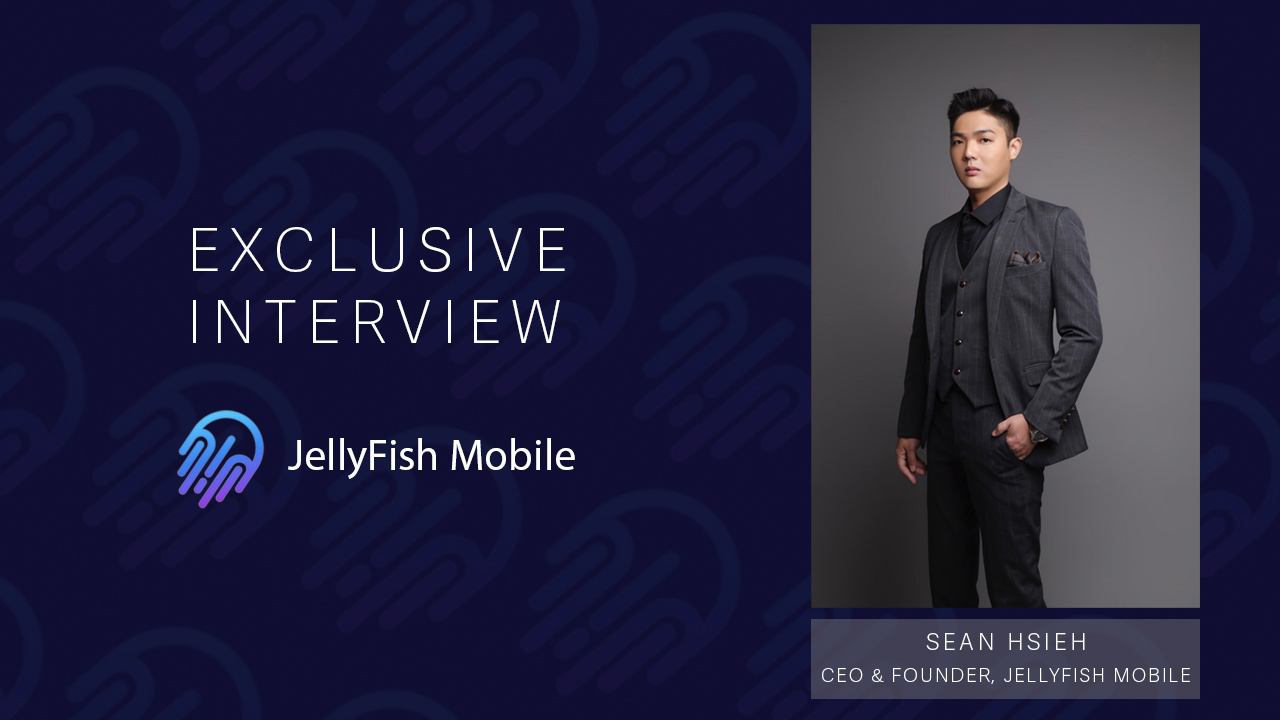 Introducing Mr. Sean Hsieh, the visionary CEO & Founder of Jellyfish International Technologies Ltd, a groundbreaking mobile virtual network operator. In this interview, delve into his insights on the future of mobile connectivity, innovation driving success, and the unique journey that led to the creation of Jellyfish.
Q. Please introduce yourself.
I am Sean Hsieh the CEO and Founder of Jellyfish International Technologies Ltd, I initially embarked on this journey as a humble participant in the vast landscape of blockchain technology. My explorations, however, led me to continually encounter a glaring gap in the market, characterized by numerous incomprehensible securities issues associated with cryptocurrencies. This glaring void ignited a visionary spark within me, inspiring an ambitious goal: to meticulously craft a secure system right at the root of the problem with tangible real-world applications, while simultaneously serving as a comprehensive gateway for users to navigate the expansive universe of WEB3. 
This vision materialized in the form of the Jellyfish Mobile Project, a beacon of innovation in the blockchain technology landscape. This project was conceptualized, not merely as a solution to the persistent security issues plaguing the cryptocurrencies space, but also as a robust platform for the exploration of the possibilities and potential that WEB3 offers. 
The fundamental motivation behind the Jellyfish Mobile Project was twofold. First, there was the insurmountable challenge of creating a secure and user-friendly platform that would act as a buffer against the inherent vulnerabilities of cryptocurrencies. Second, the project was driven by the aspiration to develop an all-encompassing gateway to WEB3, a platform where users could seamlessly navigate the intricate threads of blockchain technology. 
The world of cryptocurrencies, while teeming with potential, is fraught with the threat of security breaches. With my keen understanding of the blockchain landscape and my relentless drive for innovation, recognized this problem. I saw the need for a solution that would ensure the safe and secure handling of cryptocurrencies. This led to the inception of the Jellyfish Mobile project, a venture designed to establish an ironclad security system for cryptocurrency transactions. 
As a champion of the WEB3 revolution, I envisioned a platform that would simplify the complexities of blockchain technology for the average user. By creating an accessible gateway to WEB3, I sought to empower users to harness the transformative potential of blockchain technology without being overwhelmed by its technical intricacies. The Jellyfish Mobile project is the embodiment of this vision, serving as a comprehensive portal to the world of WEB3. 
In pursuit of this vision, i turned to my trusted confidant and friend, Ethan. Together, we embarked on a journey to transform our shared ideas into concrete action. As our deliberations unfolded, we identified a glaring security issue: many of our peers using soft wallets were falling prey to phishing attacks. Recognizing this, we were inspired to create a solution: a secure SIM card equipped with cold wallet functionality. This innovation offers a seamless, secure way for crypto newbies, enthusiast to navigate the WEB3 universe, reinforcing security without compromising convenience.
Q. What is JellyFish?
We set ourselves to be the first MVNO to enable direct web3 connectivity to the telco network. Jellyfish Mobile is a pioneering mobile virtual network operator (MVNO) that leverages Web3 technologies and blockchain integration to transform mobile communications. As a company, Jellyfish Mobile is dedicated to offering a fully decentralized and secure mobile experience to its users.
Q. JellyFish Mobile offers a 5G WEB3-enabled sim card, what is it and how does it work?
We offer 2 flavors of simcards, the eSIM and uSIM, which means a digital version of the simcard and a physical version of it. Just insert the simcard in the phone and make sure that you are in our coverage area and you can start to use the service. Currently we cover 30 countries, mostly around asia. We will focus to bring the service to more countries when we have the resources.
Q. Please highlight a few JellyFish exclusive features.
Decentralized Identity (DID) Integration: Jellyfish Mobile integrates DIDs, replacing traditional mobile numbers. Users have full control of their digital identity, enhancing security and privacy.

Self-Custody Cold Wallet: A secure cold wallet on the SIM card allows offline crypto asset storage, safeguarding against cyber threats.

Seamless Access to Web3 Services: Users enjoy easy access to a wide array of Web3-based services, from DeFi to NFTs and gaming platforms. 
Q. How secure is the cold wallet offered by JellyFish?
This is a very good question, we have the comparable level of security with hardware wallets but without the additional hardware. Software Crypto wallet as you know it like metamask,trust wallet, etc… that runs on android/ios/window/linux/mac all of them are executed ontop of their host operating system which maybe compromised by rootkits,trojans,keyloggers,etc… like our hardware cold wallet cousins, our Wallet-On-SIM solution is isolated from the host operating system which ensures that no such attacks can happen on our coldwallet. Because we don't use the internet to send the data out, the connection from the Wallet-On-SIM with the blockchain network is near air-gapped, thus providing a great level of security. Yes our solution can work even without internet connectivity, as you are roaming in other countries and you do not have data service, our Wallet-On-SIM can still communicate with our network via USSD thru the STK platform that is available on every mobile phone platform. 
Q. How does JellyFish make accessing DeFi apps safe and secure?
As said, all information in-and-out don't use WIFI/Mobile Data. Using our network we are able to preform network initiated ussd push messages to the sim directly which is identified by the registered wallet address. DeFi apps can work with our APIs to make their apps more secure, we plan to release our SDKs and APIs for the dApps soon.
Q. As a new project what is your current stage? What is the next event in your timeline?
From conceptualization to the research and development and engineering phase we have invested about 1 year of our time. We have our base codes ready and will need help thru the IEO stages to bring the first batch of sims into MVP which is targeted around OCT this year. The next event is to MVP with one of our CEX partners, which will be the first CEX in the world to have their own SIMCARDs. Their users will not need to worry about 2FA, OTP authentication issues, as our SDK uses the mobile network authentication to verify the authenticity of the connection, this will make it ultra easy. Along with our self-custody wallet, the transaction between the wallet and into the CEX will be easy without the worry of zero-transfer attacks as all our cold-wallet addresses are hidden from the public, think of it like the EIP-4337 proposal, where actions are batched and being executed by the bundler, we have something like that but ours work for on any chains, using a much simpler method.
Q. Please elaborate on the tokenomics of the project.
JFISH tokens are used in many ways. Users store JFISH tokens in their wallet, they will get allocation of data bandwidth. dApps store JFISH tokens in their wallet, they will get the ability to use our SDK/API to preform offline-push. All JFISH token owners are part of the DAO which will vote on business decisions that will be proposed by the operating team. A total of 1b tokens are created, with 75% allocated to exchanges, 15% to devs which are locked till phase 4 and the rest are 10% are airdrops and marketing that we will be using to get the service/business going.
Q. How did you come up with the idea of the JellyFish network? Was there a backstory behind it?
During all these years, as technology progressed the telecom industry wasn't really focused on solving problems, but instead focused on only getting access speed and getting more spectrum for better coverage. That actually pushed me to get out of my comfort zone to team up with sean hsieh/ceo a serial entrepreneur from taiwan to revolutionize this monolithic industry. With the guidance from my mentors in the mobile telecom industry from singapore,vietnam,malaysia we are poised to really solve the 3 most common problems in the industry, identity ownership, identity privacy and security, service interoperability.
Q. What is your ultimate goal with the project, what are the things you want to achieve as a project?
The ultimate goal of this project is to create a Jellyfish Mobile DAO ecosystem that brings more practical utility to Web3. Our platform serves as a crucial key for users to enter the Web3 world securely, enabling them to fully enjoy its benefits. By prioritizing user safety, we can truly lead them to explore and experience the Web3 universe. This, in turn, allows us to pursue our next objective of developing more practical Web3 applications and achieving seamless implementation.
Q. What is a JFish token? What's the significance?
The JFish token is a crucial currency within our ecosystem. Owning JFish tokens allows users to make payments and access all the services we are dedicated to building. Users can enjoy all our features, and when JFish faces significant decisions, token holders have voting power. This empowers all users to collectively maintain the entire ecosystem. In JFish, we are not the sole decision-makers; instead, all JFish token holders have a say.
Q. How can someone get their hands on JFish tokens? Where to buy?
Currently, we are on the P2B platform:
Aug 13, 2023, 03:00 (UTC+0): Official start of the IEO (Initial Exchange Offering).
Aug 27, 2023, 04:00 (UTC+0): End of the IEO.
Aug 28, 2023, 12:00 (UTC+0): Official listing on the exchange.
Afterward, JFish tokens will be continuously available for purchase on the P2B platform.
Q. Concluding our interview here, please explain simply why someone should invest in JellyFish.
Everyone interested in WEB3 should consider investing in JFish for the following reasons:
Growth Potential: The JFish project has promising growth prospects, with an attractive ecosystem and application domain that may lead to long-term appreciation potential.

Practicality: JFish's ecosystem is focused on building practical Web3 applications, implying real-world utility in the blockchain and cryptocurrency space.
User Engagement: JFish token holders have voting and decision-making rights, enabling investors to actively participate in the project's development and governance.
Listing Opportunities: JFish is already listed on an exchange, providing investors with convenience in purchasing and trading while increasing liquidity. Additionally, there are plans for listing on more exchanges in the future.
Q. Any message for our readers?

We sincerely appreciate your interest and support in JellyFish. Our project will continue to strive towards building a practical and valuable Web3 ecosystem, bringing more surprises and opportunities to everyone. If you are interested in JellyFish, please consider investing and participating in our journey. We look forward to witnessing the growth and prosperity of JellyFish together with you. Once again, thank you for your support, and we wish you all the best in your future endeavors!
Follow JellyFish Mobile on Social Media for latest updates
Twitter: https://twitter.com/jellyfishmobile
Telegram: https://t.me/jfishgroup
Youtube: https://www.youtube.com/@jellyfishmobile
JFish IEO: https://p2pb2b.com/token-sale/JFISH-572/
Website: https://jellyfi.me/