FACETER started its Whitelisting procedure on January 29, 2018 and has received over 7,000 applications from 135 countries in just 2 days as of January 31 7:00 AM UTC. The requested amount exceeded Presale token supply more than 15-times.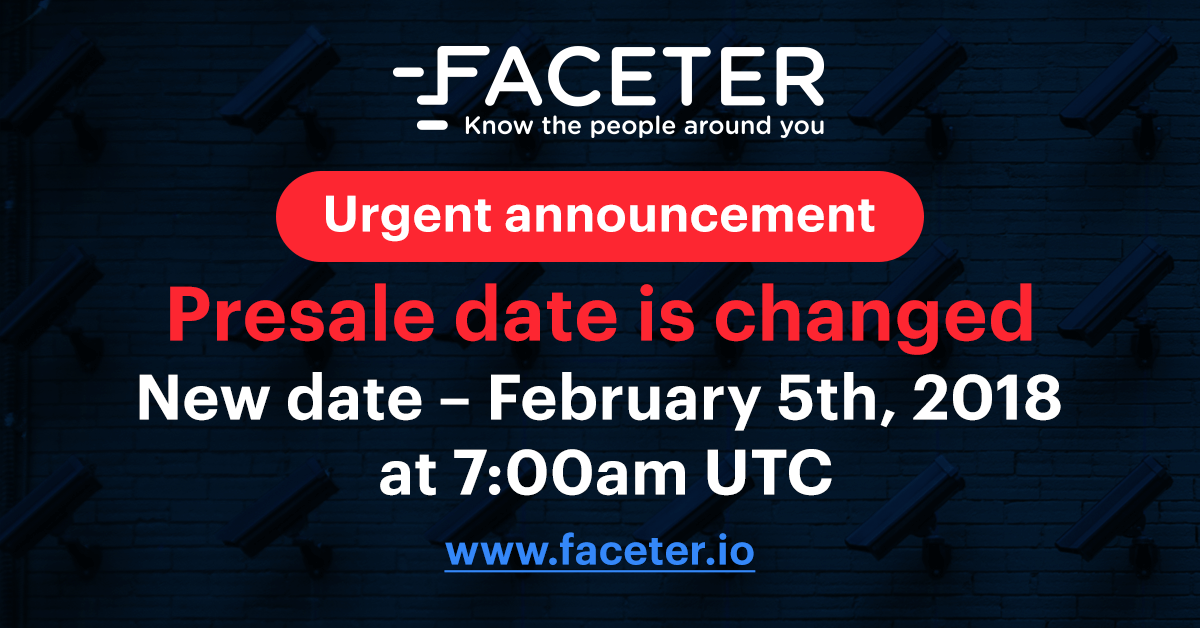 Such a high demand requires the team to implement fair and accurate bonus distribution mechanics. As a result, Faceter has decided to schedule the new dates for the presale and keep the option to run the presale only on a Whitelist basis, with a queue and without free sale.
The new date for the presale to commence is February 5th, 2018 7:00 AM UTC. Prior to this date, all whitelisted contributors will be able to fund their account with their chosen cryptocurrency (per the list of acceptable cryptocurrencies) in order to confirm their reservation. In addition, the Faceter team will provide tranches of tokens with 40%, 30% and 20% bonuses that were originally reserved for the main Token Sale for delivery to those who applied for the Whitelist. All these bonuses are to be distributed on first come, first served basis and according to the quantities that have been published on our website. All pre-ordered but unpurchased tokens will be supplied during the next stages of FACE Token Sale.
"We are happy that so many people globally are sharing our vision of the future. We believe that it will be fair to give the opportunity to more people globally to support our idea to make advanced AI-based technologies affordable to the mass consumers. We respect all the feedback received to date, and are working hard to meet the expectations of all contributors," said FACETER CEO, Robert Wayne Pothier.
About FACETER
FACETER's computer-vision surveillance technology is powered by a fog network of cryptocurrency miners. The international startup was founded by partners from different countries and began collaboration in 2014 with an R&D project in the field of image recognition, based on neural networks and machine learning (variations of AI technologies). The company's first successful product was launched in 2015. It was an open-source library for the developers of financial software and mobile applications — https://pay.cards.
For more information on FACETER, please, visit: https://faceter.io or our telegram chat https://t.me/faceter.
---
Crypo-Reporter.com does not endorse nor support product/service described in press release. Crypto-Reporter.com is not responsible for or liable for any content, accuracy or quality within the press release. Readers should do their own due diligence before taking any actions related to the promoted company or any of its affiliates or services.