– Gold for EventHorizon at Austrian Event Awards 2017 in the category "Congresses"
– Now first price at 8th Eventex Global Event Awards in the category "Best Tech Event"
– 2nd edition of leading global summit of blockchain technology in the energy sector, April 17 – 19 at Kraftwerk Berlin, motivates attendees to active contribution to the event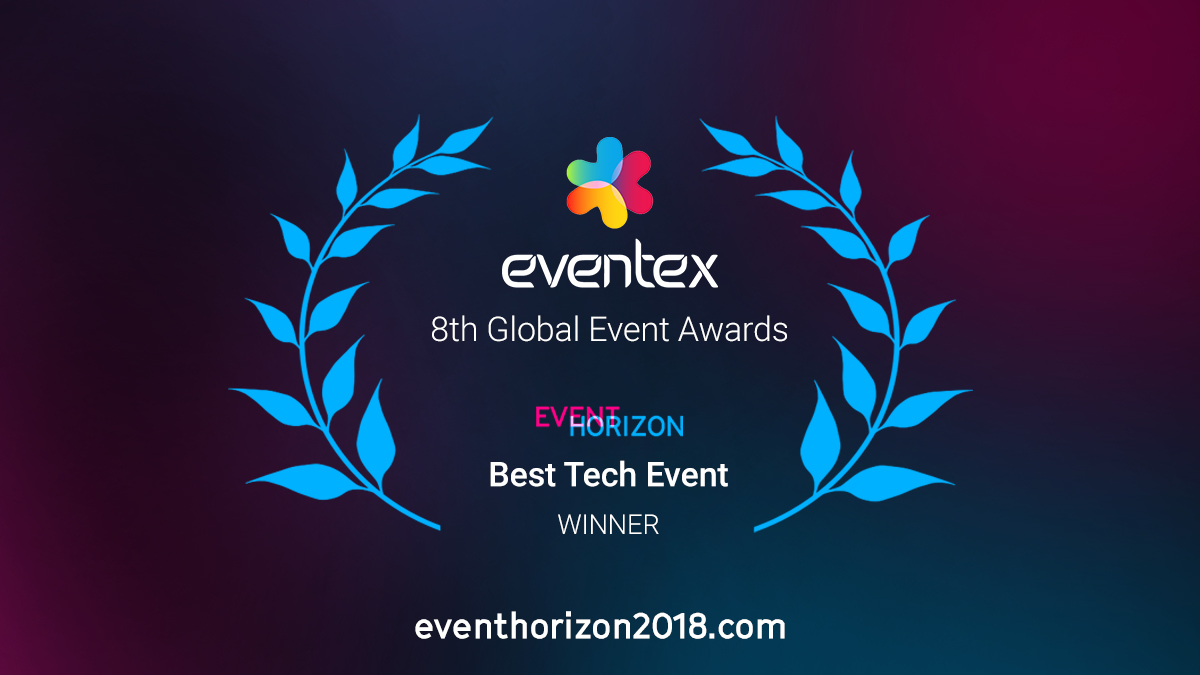 One year ago, the first edition of EventHorizon took place in Vienna with over 550 guests from 36 different countries. The event was awarded with Gold, the highest award for it's category, at the Austrian Event Awards 2017 in the category "Congresses". But the success story has just begun: The leading global summit of blockchain technology in the energy sector has won yet another first price for "Best Tech Event" at the Eventex Global Event Awards 2018.
Eventex Global Event Awards
Eventex has awarded excellent accomplishments in the event organization this year for the 8th time in a ceremony, which was held entirely online via live streaming. 80 finalists in 26 categories out of a total of 156 entries from 35 countries around the world competed for the popular Global Event Awards. EventHorizon was chosen as the winner of the category "Best Tech Award" by an international jury and prevailed against its strong competitors exceptionally.
"For me it became clear really quickly that blockchain, as an utterly innovative technology, calls for a new type of event concept. The decentralized character of blockchain needed to be visible in all areas of the event", explains Stefanie Gründl, Business Architect HIVEwise, who was responsible for the project development and overall project management.
EventHorizon 2018
For the second edition of EventHorizon, that takes places April 17 – 19 at Kraftwerk Berlin, the attendees await more than an ordinary summit. Personalization, interactivity and the crosslinking of visionaries and leading experts of the most diverse areas of expertise will be centered by the event. Andreas Göltl, CEO mediaaparat, responsible for the multimedial event production, is euphoric: "We are planning EventHorizon 2018 for over a year now and it is likely to be the most extraordinary event that we ever worked on – an unbelievable location, that we could transform into an experimental landscape never seen before."
Tickets can be purchased immediately at www.eventhorizon2018.com
Press accreditation
Accreditations for media representatives, interviews with speakers, organizers and Start-Ups, as well as information about ticket packages are available upon request.
About EventHorizon:
EventHorizon – Global Summit on Blockchain Technology in the Energy Sector – is the one exclusive annual event centered on energy blockchain solutions for a future based solely on renewable resources. It is a game-changing platform for the development of a customer focused, fair energy future. Once a year, EventHorizon unites the Who's Who of both the traditional energy and innovative Blockchain sectors. The 2018 motto "Flip the switch & turn on the power of tomorrow. Today!" calls for a paradigm change and takes guests on a unique "journey" into the future of the industry.
#EventHorizon
https://eventhorizon2018.com/
https://www.facebook.com/eventhorizon2018/
https://www.twitter.com/eventhorizonx
Contact for press inquiries:
RAFFEINER REPUTATION
Silva Leschner
s.leschner@raffeiner-reputation.com
Phone: +43 664 887 18 999