Game Space, the first GameFi as a Service (GaaS) platform in the industry, announced the establishment of the GameFi Future Fund with focus on the next generation of GameFi 3.0. The Foundation will be used to invest and incubate GameFi and NFT, PFP and DID projects, aiming to help quality projects to flourish in terms of infrastructure, marketing, operations and trading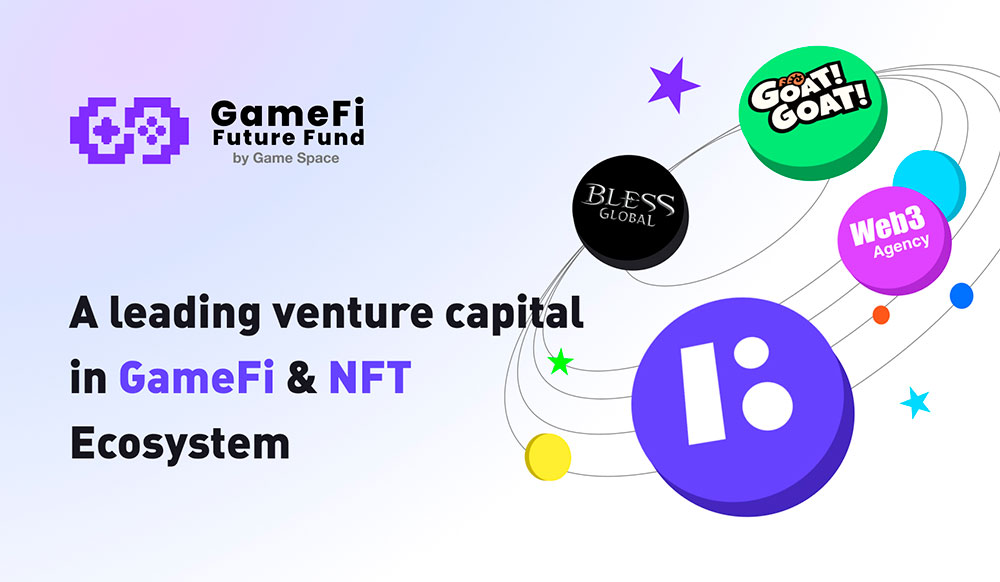 With an initial fund size of $10 million, Game Space's vision is to help developers of high quality IP games to further spin off and expand into Web3. At the same time, to encourage the use of games and blockchain technology innovation to accelerate the improvement of the underlying infrastructure and the combination and iteration of various middleware to ultimately serve billions of players worldwide.
"I am thrilled to see the launch of GameFi Future Fund", said Cameron CEO of Game Space. "Our aim is to help Web2 gaming companies to deploy their game on Web3 with compatibility for Web2 traffic and Web3 publishing methods. The current market presents a prime opportunity for us to anticipate new opportunities and innovate in response to changes and challenges. We look forward to supporting some of the brightest ideas and talents as they work towards delivering market impact. "
In the past year, the GameFi market has seen an undeniable rise in funding and project development allowing GameFi to grow as a strong niche in the market marking historic progress with iconic game titles such as Axie Infinity and StepN as representatives. Meta-universe, GameFi and other related keywords are also getting a lot of attention, with many believing that 2022 and 2023 is the year that meta-universe and GameFi will explode.
Currently, GameFi penetration only accounts for 2.5% of the global gaming landscape and the total number of active GameFi users accounts for no more than 1% of the world's 3 billion gamers, by means leaving plenty of room for upward mobility. In the long run, GameFi will become the key accelerator across the gaming industry's consumer ecosystem, with predictions that the industry will be worth $2.8 Billion in 2028.
GameFi Future Fund believes that the previous GameFi 1.0 phase of the chain was dominated by simple NFTs + Play to Earn model games, while the current GameFi 2.0 phase has introduced a complex of NFTs + X to Earn model. In the future, GameFi 3.0 will place more emphasis on game quality, gaming experience and NFTs + a more reasonable Play to Earn model + Play for Fun model + AAA games. With the Web2.5 infrastructure as middleware, it will be able to introduce Web2 users at a lower threshold, and guide them to Web3 conversion through games.
To specify, GameFi Future Fund will focus on the development and investment of GameFi in three aspects:
– GaaS for Game Studios
Investing in teams with experience in developing large-scale games, providing economic model design, NFT business model, and blockchain security which will significantly lower the barrier for gaming companies to enter Web3. Small to medium-sized independent game developers will also have the chance to be funded, helping them to adopt blockchain technology, through the GaaS SDK provided by Game Space, gaming companies can achieve an embedded NFT marketplace, wallet integration and one click multi-chain deployment solutions in under 7 days with full support for iOS, Android and web.
– Web3-based Game Distributors and Operating Channels
Lower the barrier for Web2 users to enter GameFi and help Web2 and Web3 project owners to build their brand presence in the Web3 industry, such as gaming guilds, various educational investment and research DAOs that act as distributors and channels in the GameFi industry.
– Combination and Iteration of Various Infrastructure and Middleware
As GameFi continues to take over the traditional gaming industry, the number of GameFi players will grow significantly and the demand for the infrastructure, technology, tools and services to build great games will skyrocket.
Since May this year, Game Space already has taken on Web3 projects such as Bless Global, Goat! Goat! and Web3 Agency achieving great results. Worth mentioning, Goat! Goat!, a casual Web2 game was upgraded into GameFi in under 7 days. Bless Global, the first AAA MMORPG GameFi in the industry achieved over 1 million beta user signups. Game Space also provides Web3 Agency services for Web2 and Web3 project owners to build their brand presence and user base in the Web3 industry.
Game Space encourages game developers of all kinds to use various middleware such as DIDs and SDKs, to stack and iterate with each other, unlocking new ways of user interaction through innovative mechanisms and gameplay, driving the explosion of GameFi applications. Moreover, Game Space has an exciting project in pipeline – Key3 DID, a Decentralized Account System that runs on Ethereum, BNB Chain, Solana with support of other chains. Users can claim a DID for free and it will be permanently free to own. Key3 DID lower the entry barrier and encourage more existing and new users to enter Web3. Once available, users can create any sub.did and assign ownership to anyone you'd like, even set up your own registrar for your .did.
In the future, Game Space will continue to devote its work in investing and incubate GameFi and NFT related projects, following the company's commitment to promote Web3 development and catalyze blockchain innovation.
About Game Space
Game Space releases games on their GameFi-as-a-Service Platform. It can help AAA gaming companies and titles to release on-chain functionality in a matter of days through integrated SDK, as well as an NFT transaction engine that can be embedded in games, which can help GameFi projects shorten the launch time by half a year and greatly reduce the threshold for gaming companies to enter Web3.
Discord:
https://discord.com/invite/7yMSzCzDkr
Twitter:
https://twitter.com/Gamespace_NFTs
Telegram:
https://t.me/gamespace_nft
Website:
https://game.space/en-us