Golteum has joined Chainlink via its BUILD program, the leading Oracle network and Web3 infrastructure provider, to unlock a new era of possibilities in the world of digital assets. This groundbreaking move brings together Golteum's vision of tokenizing real-world assets and Chainlink's cutting-edge technology to create a seamless and secure trading experience like never before.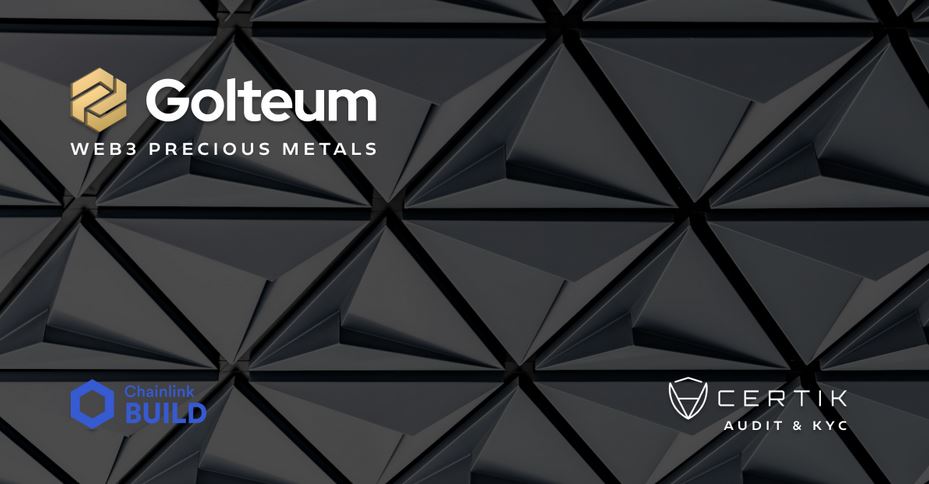 Golteum is on a mission to disrupt the traditional precious metals market by leveraging the power of blockchain technology. By tokenizing precious metals and transforming them into asset-backed NFTs, Golteum enables individuals to own and trade these valuable resources in a digital and decentralized manner. With Golteum, anyone can have direct access to the world of precious metals, removing barriers and opening up a wealth of opportunities for investors, collectors, and traders.
Chainlink BUILD Strengthens Golteum's Position in Web3
Joining the BUILD program will be a game-changer in the web3 ecosystem. Chainlink, a benchmark web3 services platform, is known for its leadership in Oracle network development and time-tested production infrastructure. By joining forces with Chainlink BUILD, Golteum gains access to Chainlink's extensive suite of services and technical support, empowering the project to thrive and reach new heights.
🏗️ #ChainlinkBUILD 🏗️@golteum, a platform for fractionalized NFTs backed by physical gold bars and other metals, has joined Chainlink BUILD.

In return, Golteum will make 4% of its total native token supply available to Chainlink service providers, including stakers.… pic.twitter.com/jLOpcgfylW

— Chainlink (@chainlink) June 15, 2023
The integration of Chainlink's Proof of Reserve system with Golteum's supplier network ensures real-time validation and transparency for precious metals transactions. This integration strengthens the trust and confidence of Golteum's customers, as they can verify the availability and authenticity of physical assets on-chain, 24/7.
Additionally, Golteum benefits from Chainlink's industry-leading pricing data for precious metals, ensuring accurate and reliable valuations.
Golteum is not the only one benefitting from this alliance as it has agreed to make 4% of its total GLTM token supply available to Chainlink's community. The tokens will serve as rewards for Chainlink's stakers and service providers who help to ensure the integrity of the ecosystem,
Golteum boasts a strong team of industry veterans, six of which have been doxxed by blockchain security company Certik and awarded Silver Badge for completing the KYC process. Certik has also audited the Golteum smart contract and declared it sound after a rigorous testing process.


Fireblocks Ensures Unparalleled Security for Golteum
In its commitment to market integrity and user security, Golteum has teamed up with Fireblocks, a leading institutional-grade infrastructure provider. Fireblocks offers Golteum a robust security framework that safeguards user assets and ensures the highest level of protection. This alliance strengthens Golteum's reputation as a trusted platform for precious metals trading and reinforces its commitment to providing a secure environment for its users.
Fireblocks' technology ensures the secure storage, transfer, and management of digital assets, mitigating the risks associated with cyber threats and unauthorized access. It will also provide institutional-grade custody services to guarantee the safety of Golteum's reserves.
Ready to be a part of the future of precious metals trading? Don't miss out on this incredible opportunity to join Golteum's journey toward revolutionizing the industry. Here's what you can do to get involved:
Secure your GTLM tokens today and enjoy the exclusive 25% bonus available during this round.
Visit Golteum's website for early access:
Website: https://golteum.io
Twitter: https://twitter.com/golteum
Telegram: https://t.me/golteum
Discord: https://discord.gg/golteum
LinkedIn: https://linkedin.com/company/golteum
Facebook: https://facebook.com/golteum
Disclaimer: The statements, views and opinions expressed in this article are solely those of the content provider and do not necessarily represent those of Crypto Reporter. Crypto Reporter is not responsible for the trustworthiness, quality, accuracy of any materials in this article. This article is provided for educational purposes only. Crypto Reporter is not responsible, directly or indirectly, for any damage or loss caused or alleged to be caused by or in connection with the use of or reliance on any content, goods or services mentioned in this article. Do your research and invest at your own risk.