Golteum (GLTM) is a state-of-the-art Web3 platform combining the advantages of different asset classes, facilitating effortless trading of precious metals and cryptocurrencies. One of Golteum's core focuses is making physical precious metals easily accessible, giving users greater control over their financial future.
Using Golteum, individuals can conveniently manage their assets and navigate the ever-changing crypto market from a non-custodial wallet. The platform revolutionizes online trading, eradicating traditional obstacles and allowing people to diversify their portfolios and venture into new investment avenues.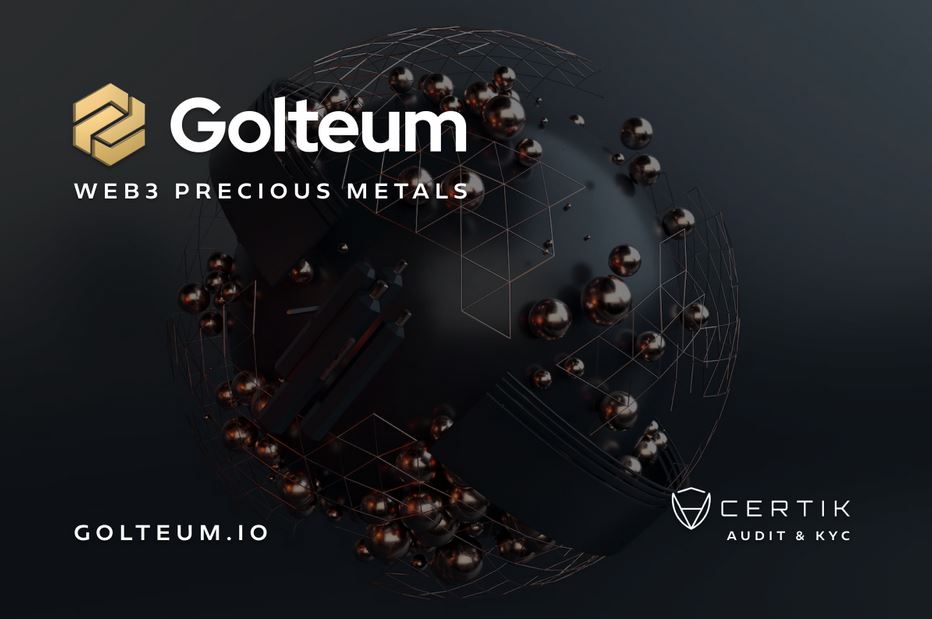 Golteum ensures that the assets you invest in are fully backed by reserves while maintaining its decentralized nature. This means either Golteum or no other central entity can influence the underlying precious metals assets owned by Golteum users.
It's no wonder the cryptocurrency community has welcomed Golteum's Proof-of-Reserve mechanism with open arms. Many industry experts recognize it as a significant step forward in ensuring the safety and security of assets.
As the presale for Golteum progresses, the platform's unwavering commitment to transparency and accountability through its Proof-of-Reserve mechanism continues to set it apart from its competitors. If you're looking for a platform that puts your investment safety first, look no further than Golteum.
Further, investors looking to make significant returns in 2023 can look out for similar tokens with great postures, tokens like Axie Infinity (AXS)
The Mechanics and Features of Axie Infinity (AXS)
Axie Infinity (AXS) draws inspiration from games like Pokémon and Tamagotchi, enabling players to collect, breed, raise, battle, and trade token-based creatures, known as Axies. These creatures can take on different forms, with over 500 body parts available, including aquatic, beast, bird, bug, plant, and reptile parts. Each type class has four rarity scales: common, rare, ultra-rare, and legendary. Axies can possess any combination of body parts, making them highly variable and often unique, with some being rare and highly prized.
One of the defining characteristics of Axie Infinity is its focus on community engagement. Members are encouraged to contribute, participate in governance, and create content. The game also boasts unique mechanics that set it apart from other games of its kind, such as built-in population control. Additionally, the game features a vast array of Axies with various attribute combinations, which creates additional demand among gamers and collectors seeking rare NFTs.
However, following a devastating $600 million hack on the network, AXS has been on a downhill and investors have shifted attention to new tokens on the horizon such as Golteum (GLTM).


Learn More About Golteum (GLTM) And Join Presale
Proof-of-Reserve is a transparent mechanism that allows users to monitor the reserve assets for their tokenized assets on Golteum. The platform also leverages Chainlink's oracle network to provide price feeds and other relevant data that can inform investor's decisions.
Proof-of-Reserve became a thing following the FTX crash, and centralized exchanges quickly adopted the feature as a means to let users monitor reserve assets for their crypto holdings on exchanges. This has promoted true transparency and is the backbone of true decentralization on Golteum.
With Golteum, users are in complete control of their tokenized precious metals and can also physically redeem their assets if they want their real gold or silver. Tokenized assets on Golteum are more than just idle assets that can back other crypto activities on the platform, such as staking, lending, borrowing, and access to liquidity, so users can pursue other profit opportunities in DeFi.
Golteum's second stage presale is ongoing and selling at $0.012, a slight increase from the previous round. The token has massive potential for profit as an early innovator in the real-world assets market, which is already projected by Citibanks and Boston Consulting Group to grow to up to $4 – $16 trillion in 2030.
Secure your early spot now on the Golteum presale and earn 15% on your GLTM purchase.
For more information about the GLTM Presale:
BUY GLTM PRESALE TOKENS NOW
WEBSITE
TELEGRAM
TWITTER
Disclaimer: The statements, views and opinions expressed in this article are solely those of the content provider and do not necessarily represent those of Crypto Reporter. Crypto Reporter is not responsible for the trustworthiness, quality, accuracy of any materials in this article. This article is provided for educational purposes only. Crypto Reporter is not responsible, directly or indirectly, for any damage or loss caused or alleged to be caused by or in connection with the use of or reliance on any content, goods or services mentioned in this article. Do your research and invest at your own risk.