Infineon Technologies and XAIN will work together on the implementation of blockchain technology for the automotive sector. The Munich-based semiconductor manufacturer and the Berlin start-up signed a Memorandum of Understanding at the first Infineon Automotive Cybersecurity Forum in Munich, thus moving closer to integrate XAIN technology directly into Infineon microcontrollers.
Together, the companies embark to jointly develop, test, and bring to market Automotive applications that benefit from XAIN's AI and Cybersecurity Technology and Infineon's Hardware Technology to meet privacy and resiliency needs in connected vehicles.

Flexible car sharing
When applying key blockchain principles in the automotive industry and combining them with an access delegation framework such as the one proposed by XAIN, unprecedented functionalities can be achieved. These include:
automated payment transactions,
keyless vehicle access,
flexible car sharing,
in-trunk delivery,
telematic insurance policies.
In essence, these services become enabled by giving users the ability to flexibly grant access rights to specific parts of their machine data or function.
Combining AI and Blockchain
XAIN is taking things one step further by combining AI and the delegation of access rights via a blockchain network. Here, decisions about access rights to vehicle functions can be made by AI algorithms without having to store private data centrally; in fact, through the eXpandable AI Network, local AI algorithms are able to learn from one another without compromising user privacy.
"Cybersecurity is a key pillar of the data-driven future of mobility. Blockchain technology offers great potential in that regard. Built into vehicles will play a big part in helping to create more secure systems; this inherently presupposes a tight-knit and well-executed integration of software and hardware components. This is what we would like to advance together with XAIN," said Peter Schiefer, President of Infineon's Automotive Division.
AI allows drivers to be recognized in the car and Infineon's AURIX™ microcontrollers to automatically identify vehicle owners or authorized users and provide them with access to specific functions inside of the vehicle. Blockchain technology enables the secure allocation of access rights for the AI and the microcontroller as well as to check the correct execution.
A hardware security module (HSM) available in all AURIX™ second-generation microcontrollers provides secure digital key storage that serves to identify the vehicle in a blockchain network, and can perform operations (e.g., hashing or digital signing) quickly and securely.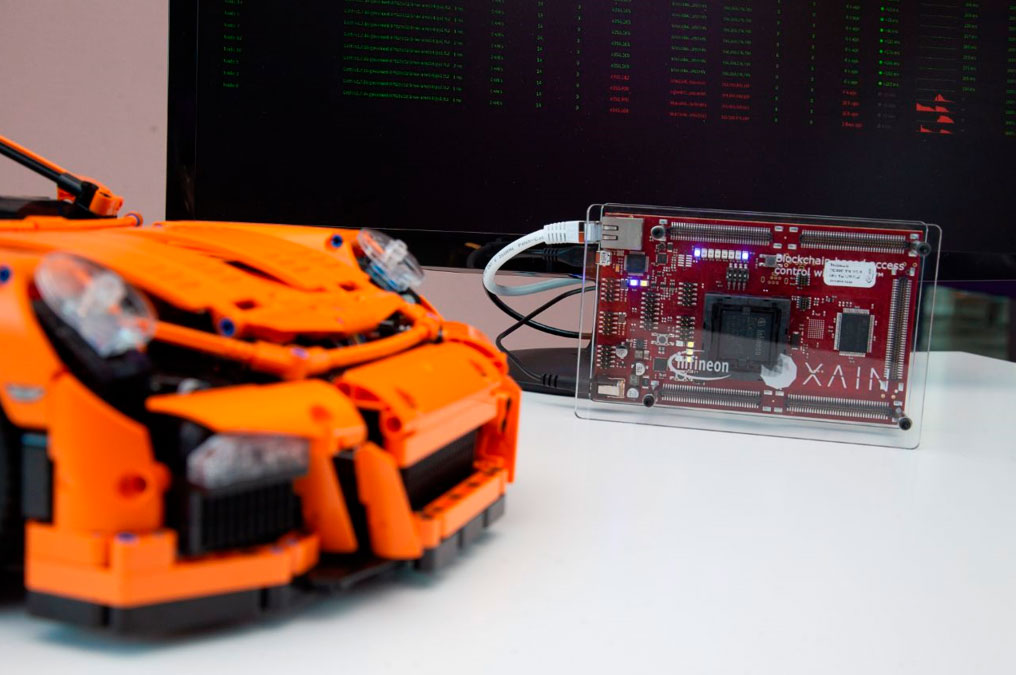 New hybrid client structure
Creating new data blocks in the blockchain is still a challenge for traditional microprocessors, such as those used in devices which control vehicles. However, XAIN has developed a new hybrid client structure, which is particularly well-suited to resource constrained devices such as microcontrollers in automobiles.
"We want to make vehicles fully-fledged participants of a distributed network. This is important for offline and real-time capability. It also provides a high level of privacy protection when using AI technologies. By working with Infineon, we want to further advance the application of XAIN AI technologies in the vehicle," says Leif-Nissen Lundbæk, CEO and founder of XAIN AG.
With the joint Infineon and XAIN solution, access rights to vehicle functions can be delegated in a remote manner via a smartphone app via blockchain network. This technical approach could enable car sharing without a platform or back office, in which each participant could spontaneously choose to share their car with others whilst at the same time retaining full control over user permissions.
About
XAIN (eXpandable Artificial Intelligence Network), began as a University of Oxford research project in 2014. Three years later the company was incorporated in Berlin in February 2017. XAIN creates intelligent systems for the sharing of data, resources and knowledge, that offer a universal, user-centric access control protocol. In May 2018, XAIN received 6 Million Euros in seed funding.
Infineon Technologies AG is a leading global provider of semiconductor solutions. With around 37,500 employees worldwide, the company generated sales of around € 7.1 billion in the 2017 financial year. Infineon is listed in Frankfurt under the symbol "IFX" and in the US in the over-the-counter market OTCQX International Premier under the symbol "IFNNY".