Security remains a significant aspect of blockchains, as keeping a decentralized anonymous system requires up-to-date security tech to avoid cyber attacks and server failure. As security concerns intensify, a new token, Golteum (GLTM), goes big on its security infrastructure, drawing investors to its unique offerings.
Armed with a combo of Chainlink's oracles and the Fireblock Web3 engine, Golteum's users won't have to worry about keeping their precious metal assets safe. In one of many giant strides, this newcomer, Golteum, sold out 32 million tokens in about two days of its first presale.
This incredible feat and solid security systems has led experts to predict intense competition for Solana's recent success. Stay tuned for more on Golteum's sparkling features.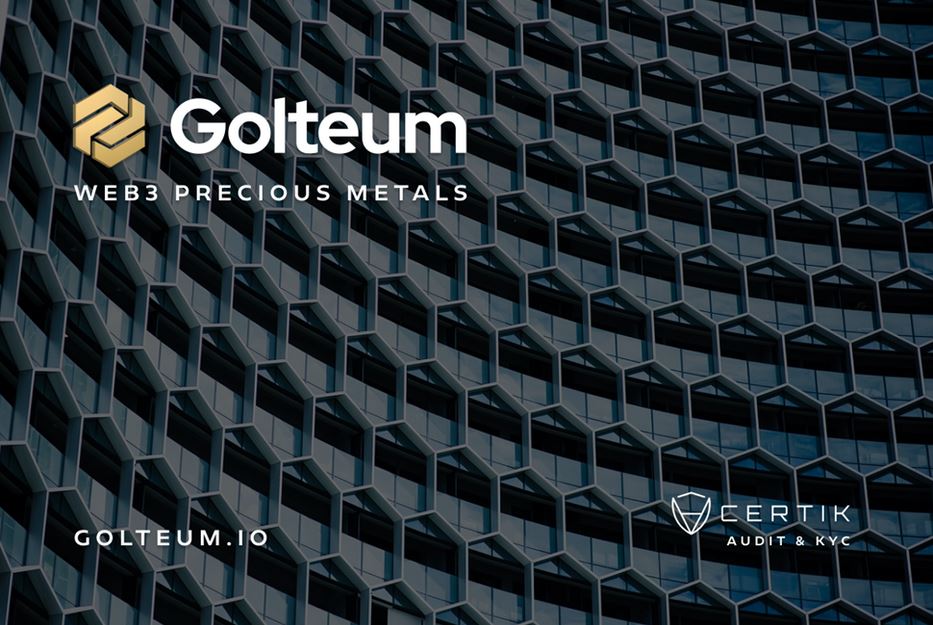 Solana, Veteran Falling On Hard Times?
Solana went public in 2018, sporting its proof of stake protocol that allowed for faster transaction processing and more scalability than the proof of work code. The project became a household name when NFTs gained popularity in 2021, as Solana rocketed to the top of the charts following the Solanart launch.
Unfortunately, the bearish market in 2022 and 2023's regulatory crackdowns have made things move from bad to worse for the veteran platform. At the start of the year, the SOL token seemed on its way back to past glories after the bearish waves in 2022. However, the altcoin blacklisting in 2023 has caused some stagnation in its price as it tries to beat the $20 resistance.
In a recent press release, Ethereum co-founder, Vitalik Buterin, sympathized with the affected altcoins, as the regulations have placed Ethereum miles ahead of its closest rivals. All these have little to do with Golteum, as the budding project intends to balance its DeFi projects with Web3 ventures to ensure its users get a wholesome crypto-verse.
Let's get down to more of what Golteum has in store.
Golteum: Real-World Assets Backed By DeFi
Golteum's making a statement launch; that much is evident from its presale. Considering its wide range of utilities, you are in for quite the experience on Golteum.
As we stated earlier, Golteum's security is remarkable, and rightly so, because it guarantees backups for users' real-world precious metals. First, they have Chainlink's proof of reserve, which provides the one-to-one backup for individual users' assets. The oracles on Chainlink offer unique services that further improve the security and reliability of the Golteum network, ensuring that precious metal trading occurs without any hitches.
Next on security is the Fireblock alliance, which offers a battle-tested firewall to secure the overall operations on Golteum. Since a lot of sensitive trade will occur within the platform, Fireblock will provide top-level security to traders from day one.


Ethereum's improved blockchain technology also contributes to protecting assets on Golteum. Ethereum's network boasts one of the most secure servers in the crypto-verse due to its recent upgrade to proof of stake and its introduction of layer-2 blockchains.
On the other hand, the entire Golteum team has undergone verification from Certik and has been audited. Six members got silver badges for transparency, and users can rest assured there won't be irregularities in the Golteum space.
Moreover, the Boston Consulting Group has predicted that the tokenized asset industry will be worth $16 trillion by 2030. Golteum is working to be a key player in that industry, and with all its prospects, it's safe to say it's within sight.
Golteum (GLTM) Presale's The New Rave!
Investors are trooping to the Golteum presale after going over its security measures. The attention to security is an attraction for most users and investors, and after missing out on the first phase, no one is letting the second phase sell out on them.
Each $GLTM token sells for $0.012, which will increase after this phase. Hurry now to get yours and join the Golteum journey.
For more information about the GLTM Presale:
BUY GLTM PRESALE TOKENS NOW
WEBSITE
TELEGRAM
TWITTER
Disclaimer: The statements, views and opinions expressed in this article are solely those of the content provider and do not necessarily represent those of Crypto Reporter. Crypto Reporter is not responsible for the trustworthiness, quality, accuracy of any materials in this article. This article is provided for educational purposes only. Crypto Reporter is not responsible, directly or indirectly, for any damage or loss caused or alleged to be caused by or in connection with the use of or reliance on any content, goods or services mentioned in this article. Do your research and invest at your own risk.