Gotbit.io examines the world of crypto market making. The article provides answers to questions like, what is cryptocurrency market making? Who are market makers in crypto? What are the examples of crypto and bitcoin market makers?
What is Crypto Market Making?
This refers to a market activity where liquidity is provided for a crypto asset through bid and ask limit orders on a cryptocurrency exchange. Profit is made from the difference in the bid-ask spread.
Who is a Market Maker in Crypto?
A crypto market maker is an individual or firm who provides liquidity for a crypto asset by submitting both bid and ask limit orders on an exchange. Market makers often make profits from the difference in the bid-ask spread. By providing liquidity, crypto market makers ensure the smooth running of the market.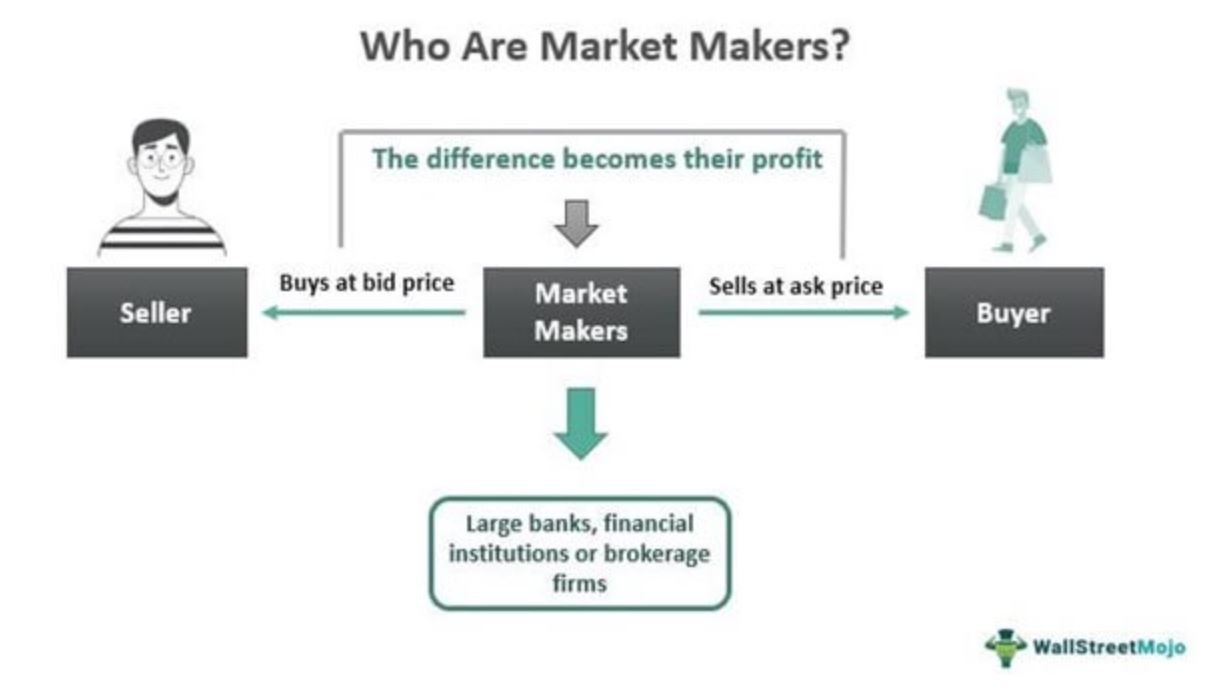 Market Makers in Crypto
Market makers in crypto can be profit-driven or designated. Profit-driven market makers provide liquidity using their own crypto assets. Designated crypto market makers, on the other hand, use the assets of their clients to provide liquidity.
Crypto projects that are yet to be launched employ market makers to create liquidity for their tokens during their initial coin offering (ICO).
Market-Making Strategy in Crypto
A good market-making strategy in crypto involves having a liquid order book and a tight bid-ask spread. This means that buyers and sellers will find the market liquid. It also facilitates fair prices and quick order completions.
How To Be a Market Maker in Crypto
Becoming a market maker in the crypto market involves these steps:
Apply for the market-making program provided by a cryptocurrency exchange
Use the training and educational materials provided by the exchange to learn the ropes of market making and the requirements of the exchange
Get a market-making software to automate the process
Oftentimes, crypto exchanges require market makers to have a minimum amount of funds as capital. This is to ensure that the market makers can always provide liquidity when needed.
Cryptocurrency Market Making
The job of a crypto market maker is to fill the void when a buy or sell order cannot be completed. For example, if a trader wants to buy $10,000 worth of a token, they need to find another trader who is willing to sell that amount at that time. If there's no such seller at the time, the market maker steps in. This is how they reduce the time it takes for buying and selling crypto assets. However, if the order is beyond the capacity of one market maker, multiple market makers can fill the order.
As stated earlier, market makers profit from the bid-ask spread. Hence, they need to buy an asset lower than its current market price and sell it higher than the current market price. For instance, say a market maker charges a spread of $0.4 for an asset valued at $5, this means that the market maker will buy the asset at $4.8 and sell it at $5.2.
A table showing different bid-ask spreads and the corresponding profits for 10,000 units of an asset traded at $10 per unit
| | | | | | |
| --- | --- | --- | --- | --- | --- |
| Bid-Ask Spread ($) | Current Market Price ($) | Total Unit of Asset  | Buy Price ($) | Sell Price ($) | Total Profit ($) |
| 0.2 | 10.0 | 10,000 | 9.9 | 10.1 | 2,000 |
| 0.4 | 10.0 | 10,000 | 9.8 | 10.2 | 4,000 |
| 0.6 | 10.0 | 10,000 | 9.7 | 10.3 | 6,000 |
| 0.8 | 10.0 | 10,000 | 9.6 | 10.4 | 8,000 |
| 1.0 | 10.0 | 10,000 | 9.5 | 10.5 | 10,000 |
Market-Making Crypto Exchanges
Some of the popular crypto exchanges offer market-making programs. These exchanges include Binance (specifically Binance US), Huobi, Coinbase, Kucoin, among others. It is important to note that these exchanges are not market makers themselves, they only provide a platform for market makers.
Conclusion
For markets with minimal liquidity, one could assert that crypto market makers are the backbones of such markets. This is because every crypto trader wants to trade in a highly liquid market; a market where trades are executed quickly. And without market makers this might be impossible.