LEXIT, the world's first online mergers and acquisitions marketplace to allow businesses and individuals to trade assets, intellectual property and whole or parts of companies, has announced that its LXT Token has gone live on the BitMart exchange.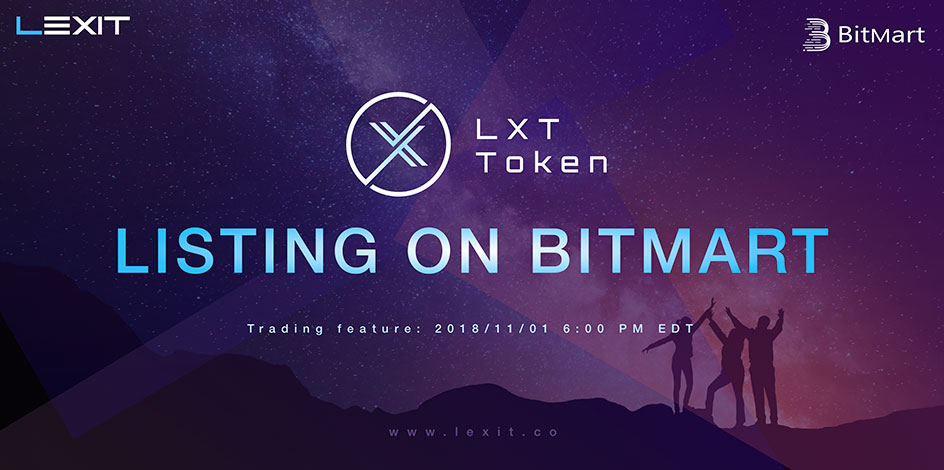 A decentralized registry of company, asset, and I.P. rights ownership through the blockchain ecosystem carries some serious advantages. Automatic and immutable smart contracts serve the essential function of making sure that all parties keep to their end of the deal, whilst the transfer of rights can be transparently and publicly recorded.
"We're always moving forward, working hard to form partnerships and make LEXIT the best platform that it can be. Putting the LXT token on an exchange is a natural progression to this and is central to our global vision, so I'm excited for what the future holds," said LEXIT CEO, Amir Kaltak.
LEXIT kicks off the token listing with a trading competition held on BitMart.
The LXT token represents the value of currency on LEXIT and means that all platform functions can be completely standardized. Features such as listing fees, anti-spam payments, and monetarily backed ratings mean that a crypto token is vital in helping to facilitate seamless and rapid transactions throughout the entire platform.
This means that businesses can transact assets and I.P. on a global scale in next to no time at all. The token can be exchanged thereafter for another type of currency, or even reinvested into other assets or technology listed on the marketplace.
LXT can also be used for LexICO, a crowdsale solution for startups looking to launch their own cryptocurrency without the high costs of developing their own sales platform. Users are offered a substantial discount on LexICO services if they choose to pay using the native LXT token.
Conducting mergers and acquisitions or transferring I.P. these days is still largely reliant on paperwork and manual administration and is yet still vulnerable to fraud and abuse. But, using LXT tokens to trade on a blockchain-based marketplace confers the advantage of immutable evidence of ownership, and smart contracts that finalise automatically upon certain conditions being met.
You can find out more about BitMart at https://www.bitmart.com and LEXIT at https://www.lexit.co
---
Crypo-Reporter.com does not endorse nor support product/service described in press release. Crypto-Reporter.com is not responsible for or liable for any content, accuracy or quality within the press release. Readers should do their own due diligence before taking any actions related to the promoted company or any of its affiliates or services.