Mantle, one of the world's largest DAO-led web3 ecosystems, announced the unveiling of Citizens of Mantle, a commemorative NFT collection to celebrate the upcoming launch of Mantle Network Mainnet. The Citizens of Mantle collection was developed in collaboration with famed international visual artist Chen Man, whose trademark style blends influences of Eastern and Western cultures, overlaid by 3-D rendering and image manipulation.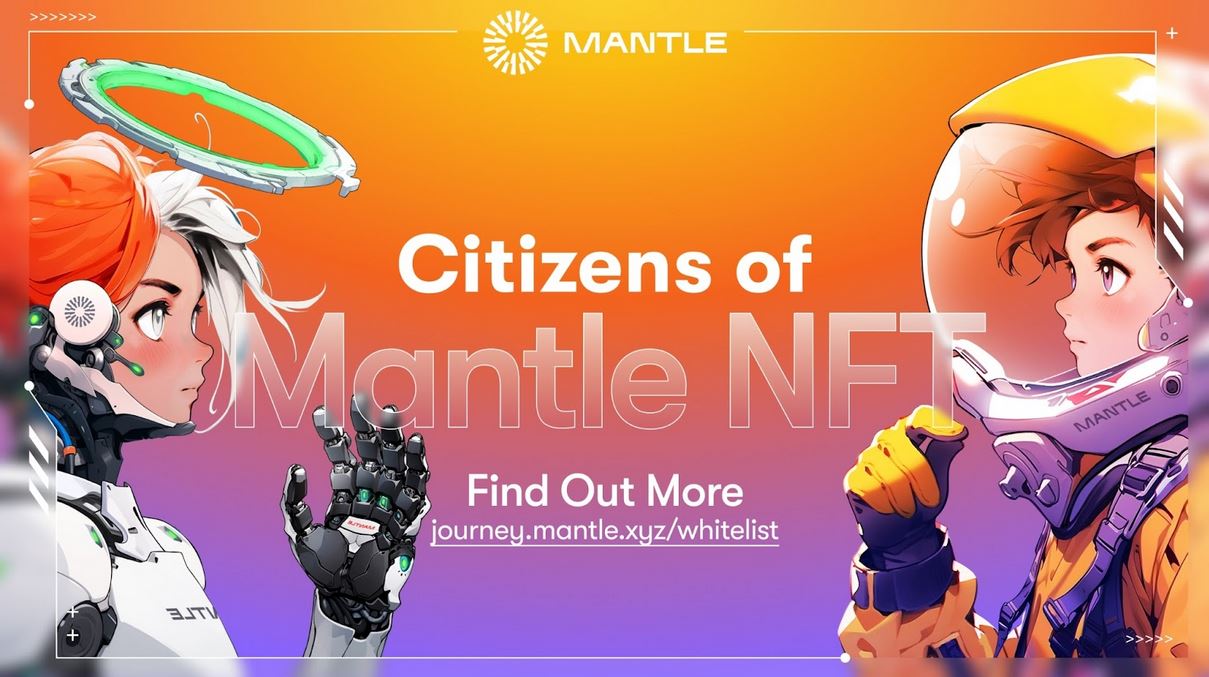 Reflective of Mantle Ecosystem's collective commitment to building web3 at the bleeding edge of technological innovation, the Citizens of Mantle collection introduces the concept of "modular dynamic NFTs", which is set to usher in a new era of interactive NFT experiences, redefining the boundaries between creators and collectors, as well as blockchain ecosystems and their users.
As a celebration of Mantle Network's upcoming mainnet launch, the Citizens of Mantle collection serves as the gateway to an immersive experience within Mantle Ecosystem. Each unique NFT avatar minted becomes a faithful companion for users to embark on a journey of building, connecting, playing, earning and trading on Mantle Network, reflecting depth of engagement and accomplishments to unlock many more ecosystem benefits.
Breaking Barriers to Herald a New Era of Creativity
The Citizens of Mantle collection aims to celebrate the creativity and diversity of the Mantle community, and is more than a mere NFT collection — it stands as a living testament to the limitless possibilities of Mantle Ecosystem. A limited supply of the Citizens of Mantle NFTs will be made available to the earliest users of Mantle Ecosystem. Those on the whitelist will have free mint-access to the base NFT character and will be able to earn multiple unique add-on traits based on their on-chain as well as off-chain engagement with the Mantle ecosystem. All NFTs minted from the Citizens of Mantle collection will be tradeable on the secondary market.
The artwork featured in Citizens of Mantle is created by internationally-renowned visual artist Chen Man, whose iconic style blurs the lines between fashion photography and the arts, making her one of the most recognized female contemporary visual artists today since bursting onto the fashion photography scene in 2003.
Chen's works have become permanent collections at Victoria & Albert (V&A) Museum in London and Asian Art Museum in San Francisco. She has been hailed as a photographer who "changed the way the world sees China" by CNN, and The New York Times described her as "the Chinese Annie Leibovitz".
With a decorated career spanning over two decades, Chen Man has photographed covers for global fashion magazines such as Vogue, Harper's Bazaar and Elle, and has worked with leading luxury fashion houses including Bulgari, Tom Ford, Gucci, Dior, Louis Vuitton, Chanel and many more.
As the only Chinese photographer appointed by numerous internationally acclaimed directors, artists and celebrities such as Rihanna, David Beckham, Anne Hathaway, Michelle Yeoh, Tom Holland, Stan Lee, George R. R. Martin, LeBron James, the Beijing native most recently collaborated with Canadian electro-pop star, Grimes, on her limited edition NFT collection, Silent Noise, marking Chen Man's inaugural venture into the world of NFTs.
Chen's latest collaboration with Mantle is a significant one, marking a partnership with the world's largest DAO-led web3 ecosystem that is set to push the boundaries of artistic expression.
"We are merely a tiny part of the planet's vast history. Be humble. Keep on discovering and creating," commented Chen Man on the Citizens of Mantle launch.
Reimagining the Creator-Collector Dynamic
Modular dynamic NFTs subvert the existing creator-collector dynamic. With each milestone achieved within Mantle Ecosystem, various add-on accessories from the Citizens of Mantle collection will be unlocked in stages for users to evolve their NFT avatars over time.
Each NFT avatar indicates the depth and breadth of a user's engagement with both the wider Mantle ecosystem as well as the community, enabling users to rank amongst the highest-grossing Citizens of Mantle collectors and gain access to a wide spectrum of add-on traits. From different outfits to exquisite accessories like helmets, skateboards, badges, etc., on-chain activities are rewarded with a diverse array of artistic design choices to best represent their distinctive digital identities. This inspires limitless creativity among holders of Citizens of Mantle, enabling users to create uniquely generative iterations from a single collection.
"With the launch of the Citizens of Mantle NFT collection, we are excited to show the power of dynamic modular NFTs to the community. This collection celebrates the launch of the Mantle Network Mainnet Alpha and explains our ethos of modular blockchain design and token-governed technologies. We are passionate about building new and intuitive ways of interacting with blockchain networks, and the community can expect to see many new innovations in the time to come as we continue our quest to make mass adoption of web3 technology a reality." said Arjun Kalsy, head of ecosystem at Mantle.
The whitelist for Citizens of Mantle is now open. For more information, visit https://journey.mantle.xyz/whitelist.
ABOUT MANTLE
Mantle is a fast-growing, DAO-led web3 ecosystem whose goal is the mass adoption of decentralized and token-governed technologies. Mantle Ecosystem comprises Mantle products such as Mantle Network, Mantle Governance (DAO), and Mantle Treasury. Mantle token ($MNT) is the unified product and governance token of the ecosystem.
Mantle's first core product is Mantle Network, a high-performance Ethereum Virtual Machine (EVM) modular layer-2 (L2) blockchain. Mantle Network's modular rollup architecture separates transaction execution, data availability, and transaction finality into distinct layers. By virtue of being the first L2 network partner for restaking protocol EigenLayer, Mantle Network inherits security from Ethereum while offering high performance at low fees. As the world's first DAO-spawned L2, Mantle Network is pioneering a vision for a more collaborative decentralized economy to showcase the potential of tokenized governance. Mantle Network offers a Grants Program that provides milestone-based funding to promising projects that help expand, secure, and decentralize the network and the wider ecosystem.
Mantle token will power Mantle Network as its native gas token, multi-party computation (MPC) validator node staking token, data availability (DA) node staking token, and ecosystem growth token, as well as its sequencer node staking token in the future. All future Mantle products will likewise be powered by Mantle token, as it continues to serve as the governance token of Mantle Governance.
To support the next-generation of innovators, builders, and developers, Mantle is growing its ecosystem via Mantle EcoFund, which helps to manage a catalyzed capital pool of $200M.