Mosio, Inc., the company providing two-way mobile messaging solutions for healthcare and clinical research, announces the launch of Clinicoin, an open source blockchain platform for health and wellness industries.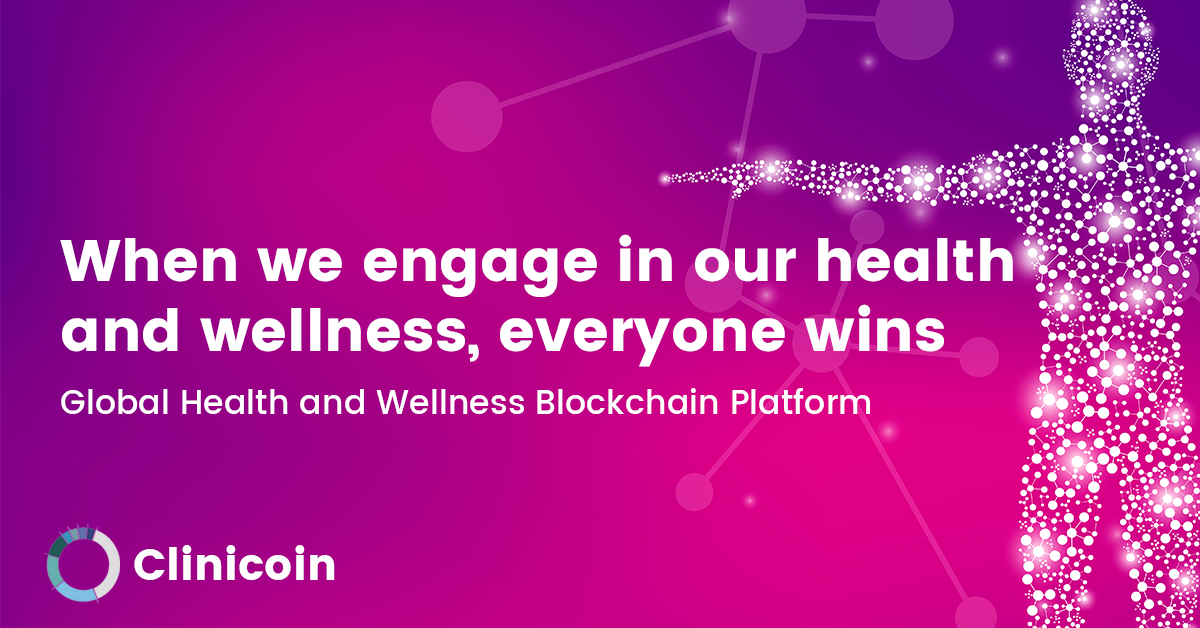 Clinicoin is designed to connect people, healthcare organizations, medical researches and developers from all over the world to improve global health and wellness. The platform will also incentivize users to live a healthy lifestyle, engage in healthy activities and make exercises regularly. Clinicoin will reward users with its in-app cryptocurrency CLIN.
Clinicoin offers its users a variety of features including:
Rewards Engine – enables the distribution of Clinicoin (CLIN) tokens among community members. They can be used for completing healthy tasks, incentivizing adherence or participating in medical research.
Proof of Engagement (PoE) – the confirmation of healthy activities connected to the Clinicoin platform by two different types of Validators (health app developers and activity leaders). Similar to mining other cryptocurrencies, users earn CLIN tokens for participating in healthy activities and Validators earn tokens for confirming those behaviors.
Secure Messaging – uses end-to-end encryption, enabling users to interact securely with each other, organizations, researchers and digital tools, keeping them on track with their health and wellness goals in compliance with HIPAA privacy and security guidelines.
Health and Wellness Marketplace – where Clinicoin members spend their CLIN tokens for access to tools, content, products and services. The marketplace will be powered by Mosio and soon move to a decentralized model.
Educational tools – Users can access digital tools and explore resources and updates about fitness and nutrition to educate themselves with the latest information about staying healthy.
The two other Clinicoin community member types are Developers (programmers, software engineers) and Providers (healthcare organizations, researchers, practitioners). Developers can create, deploy and monetize their software applications connected to the Clinicoin platform. Providers benefit from an easy and secure way to interact with users and gather data through surveys. Leveraging ten years as a mobile messaging solutions provider, Mosio uses its platform to solve patient engagement problems for healthcare organizations, clinical researchers and software companies.
"Clinicoin is the digital intersection between wellness, health and research," stated Noel Chandler, co-founder and CEO of Mosio, creator of Clinicoin. "Chronic diseases cause nearly three quarters of the world's deaths each year, many of them preventable by improving healthy choices and behaviors. Clinicoin helps keep people engaged in their health and wellness, while providing them with a simple and secure way to communicate with providers, researchers and digital tools to keep them healthy."
"Clinicoin is an example of the continuous innovation we've seen with Mosio throughout our long relationship with them," explained David Nichols, founder and COO of CareWire, a mobile patient engagement company that serves hospital and health systems. "We see great potential for this to enhance secure patient-to-provider communication and drive dramatic increases in engagement, and look forward to exploring more deeply how it may help us serve our client needs."
The Clinicoin token sale will open at 9am PST on February 21, 2018 (5pm GMT, Feb 21, 2018) and close at 6pm PDT on March 20, 2018 (1am GMT, March 21, 2018). Of the 3 billion CLIN tokens minted, 600 million will be reserved in the community rewards pool, rewarding users and validators for taking part in and confirming healthy activities. Everyone contributing in the token discount sale will have access to all early buying bonus discounts, with no pre-sales, whitelists or minimums. Once the hard cap is met, an additional 200 million CLIN tokens will be unlocked during the sale, with proceeds donated to global children's health charities.
About Clinicoin
Clinicoin is a blockchain platform that pays users to be healthy while connecting them with the people who help keep them that way. Building the world's largest cryptocurrency-based health and wellness community on the planet, the platform is designed to connect users, developers and providers, worldwide, improving global health, wellness and research.
Website: https://clinicoin.io
About Mosio, Inc.
Founded in 2007, Mosio helps health and clinical research organizations maximize the power of mobile devices through its award-winning mobile messaging platform. Mosio aims to make mobile technology simple for clients and end users, creating applications that increase patient engagement and improve study adherence requirements through two-way mobile messaging communications, alerts, incentives and surveys.
Website: https://mosio.com
---
Crypo-Reporter.com does not endorse nor support product/service described in press release. Crypto-Reporter.com is not responsible for or liable for any content, accuracy or quality within the press release. Readers should do their own due diligence before taking any actions related to the promoted company or any of its affiliates or services.