Phemex, a cryptocurrency derivatives platform today announced a $3.5 million (USD) investment round, led by NGC Ventures, one of the world's leading blockchain investment firms, followed by a number of Morgan Stanley executives and a leading team of quants. The investment will drive Phemex's global expansion and growing the Phemex team while also launching a renewed product design.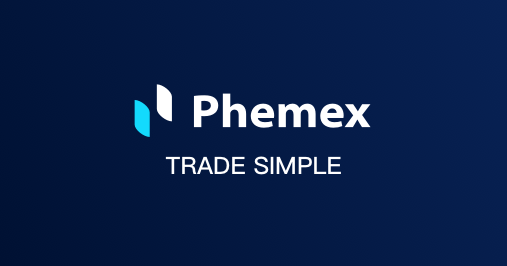 Phemex is building the world's fastest cryptocurrency derivatives platform with a user-oriented approach to offer market-leading technical features such as high-security, high transaction throughput, and low latency to allow traders to easily buy and sell derivatives contracts with trust. Advocates of the benefits of knowledge-sharing and as a means to give back to the industry, Phemex is the first exchange to share its core architecture.
Launched in November 2019, Phemex currently has 105,000 registered users. This investment will spur Phemex's growth in markets such as Russia, Korea, and Japan as well as hiring outstanding talent across the developer, marketing, and customer service teams.
Commenting on the announcement, Jack Tao, CEO of Phemex, said: "Finance is advancing rapidly and with this innovation comes great opportunity. Blockchain has the ability to bring billions of potential users into a more equitable global system, and we want to be there to enable them to have access to user-friendly, secure, and efficient trading platforms. This investment from NGC Ventures will help us to fulfil this vision, bringing our expanded product offering to new markets, allowing new users to transact with ease".
NGC Ventures is one of the largest and most active institutional investors of cryptocurrencies. NGC Ventures adopts best practices from traditional financial markets to invest in and incubate leading projects in the crypto industry worldwide.
Commenting on the investment, Tony Gu, Founding Partner at NGC Ventures, said: "As we witness an increase in global demand for products such as cryptocurrency derivatives, there is a need for market-ready products and platforms that can cope with this rise in demand. NGC Ventures believes in Phemex's technical superiority and has full confidence in its team to expand its platform and product offering across the new markets successfully and meaningfully."
About Phemex
Led by eight former Morgan Stanley executives, Phemex is building the world's fastest cryptocurrency derivatives trading platform. Phemex leverages a "User Oriented" approach to develop powerful features enabling traders to easily buy and sell contracts with trust. Phemex's technical criteria are <1ms latency speed, >300k transactions / second, >99.9999% availability; Phemex also supports FIX API, sub-accounts & L3 market data. The company name, Phemex references the Greek Goddess of fame and good repute Pheme.
For more information, visit: phemex.com
About NGC Ventures
NGC Ventures is one of the largest and most active institutional investors of cryptocurrencies. NGC adopts best practices from traditional financial markets to invest in and incubate leading projects in the crypto industry worldwide. Both Fund I and II have invested in over 70 projects, mostly in blockchain infrastructure and adoption technologies in areas such as De-Fi, Gaming and Decentralized Computing. NGC also incubated NGC StakeX, which is a node-operating division. NGC Ventures has offices in Singapore, Shanghai and San Francisco.
For more information, visit: ngc.fund