World Financial Innovation Series (WFIS) is around the corner and attracting banks, fintech organisations and other key FSI players for the second year.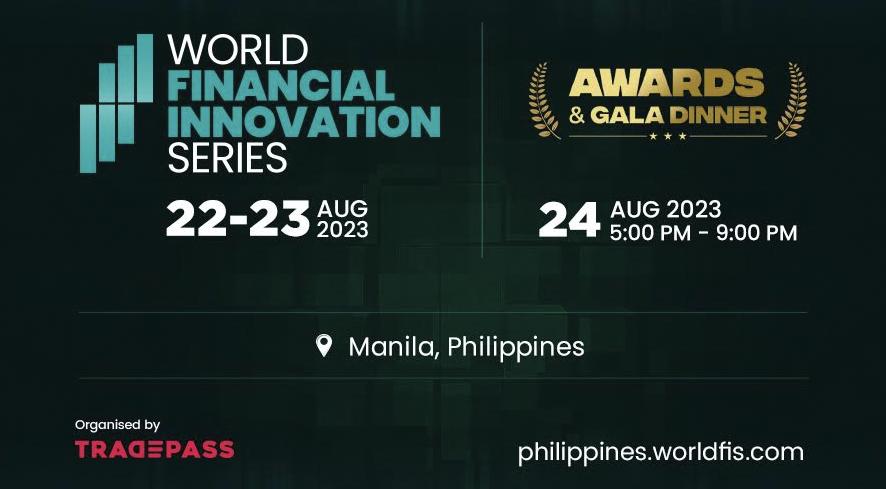 Fintech Philippines Association, the largest financial technology trade association in the country and Digital Pilipinas, the largest private sector-led movement championing to tech up the Philippines are backing the event as its "Supporting Partners". The event will run for a period of two-days i.e., 22 – 23 August, followed by a glamorous evening on 24 August featuring "Awards & Gala Dinner" to reward the top FSI talents.
Part of Tradepass events, WFIS is fully geared-up to bring the same legacy in the Philippines which it has earlier established in key regions across ASEAN and Africa. Meanwhile, for those looking to participate in the financial services & technology event, the platform is split into conference and exhibition. While the former delves into a highly focused knowledge sharing platform to bring forth the latest information on the most relevant FSI topics, the latter features a space to project cutting-edge fintech products and solutions.
Organisations like Expleo, Onfido, Schneider Electric, SAS, Newgen, BMC, IntellectAI, 8×8, ACI Worldwide, Perfios Software Solution, Provenir, iProov, OutSystems, GBG, Altair, SAP, LexisNexis® Risk Solutions, Feedzai, AI Rudder, Thought Machine, OpenText™ AI Cloud, dzcard and Veefin Solutions have already reserved their exclusive exhibition booth at the platform with some of them even showcasing their thought leadership at the conference.
While the country's fintech has become a force to be reckoned with and is going towards a projected market value of $44 billion by 2024, the entire FSI community has come to realize its paramount importance. It's perhaps the reason why WFIS which has always stood for promoting the technology innovations in FSI will be attended by 600+ technology & business heads from the leading Banks, Insurance & Micro-Finance institutions across the country.
Lucose Eralil (Executive Vice President and Enterprise Technology & Operations Head (ETO), Security Bank Corporation) a key speaker for WFIS 2023 – Philippines who also participated in the previous edition stated the primary reason that made him to participate again this year, "At Security Bank, we're currently embarking on a BetterBanking eXperience transformation to deliver intelligent, personalized solutions and distinctive experiences at scale and in real-time—enabling us to leap-frog the market in the coming years. Our forward-thinking and customer-centric vision align with the financial innovation that Fintech Philippines Association champions. I'm pleased to participate at the World Financial Innovation Series Philippines to offer insights and to speak about Security Bank's digital transformation."
The top officials from Philippines' leading banks, financial entities and fintech organisations are the key speakers for the event who are pacing to impart the latest information on the most pressing industry topics.
Some of the confirmed speakers include: Lito Villanueva (Executive Vice President and Chief Innovation & Inclusion Officer, RCBC); Dr. Adrienne Heinrich (Vice President, AI Centre of Excellence Lead – Union Bank Of The Philippines); Josh Bosiños (Vice President and Head of Data & Analytics, Robinsons Bank Corporation); Esel Madrid (SVP, Head of Data Science & AI Center of Excellence, Security Bank Corporation); Erika Denise Dizon Go (SVP, Fintech Business Group Head, Open Finance and Digital Services Center of Excellence Head, Union Bank Of The Philippines); Pramod Veturi (CEO, Perfios Software Solutions); Gary Romualdez (Country Manager, Philippines, OutSystems); Dr. Adrienne Heinrich (Vice President, AI Centre of Excellence Lead, Union Bank Of The Philippines; Edison Tsai (Partnerships Chair & Trustee, Fintech Alliance Philippines); and many others.
Organiser & the CEO of Tradepass, Sudhir Ranjan Jena elucidated his thoughts on WFIS 2023 – Philippines, "The World Financial Innovation Series has always been a significant touchpoint for fintech organisations to reinforce their relationship with the top-notch financial institutions. With FSI's top stakeholders convening under one roof, the event will be a cornerstone in bridging the gap between technology innovations and the financial institutions.
The country's leading digital trade organization comprising of startups and unicorns, FintechAlliance.Ph is also the "Association Partner" for the event.
For more information about the event, log on to: https://philippines.worldfis.com/
About Tradepass
Providing access to the global emerging markets, Tradepass brings together people, products and solutions to power events for unparalleled business and networking opportunities. Being the most accredited event company, it helps organizations: enter new markets, grow sales pipeline, close prospects, raise capital and identify the right solution-providers.
As a deal facilitator, Tradepass is always determined about exposing the most agile liquid growth markets, to enable all-round scalability and growth.