Blockchain Life – the 3d international edition – will bring together more than 3,000 participants from 70+ countries. Founders of the major blockchain and crypto companies, investors, developers, crypto traders, CEOs and entrepreneurs are coming to Blockchain Life 2019 on April 23-24 in Singapore.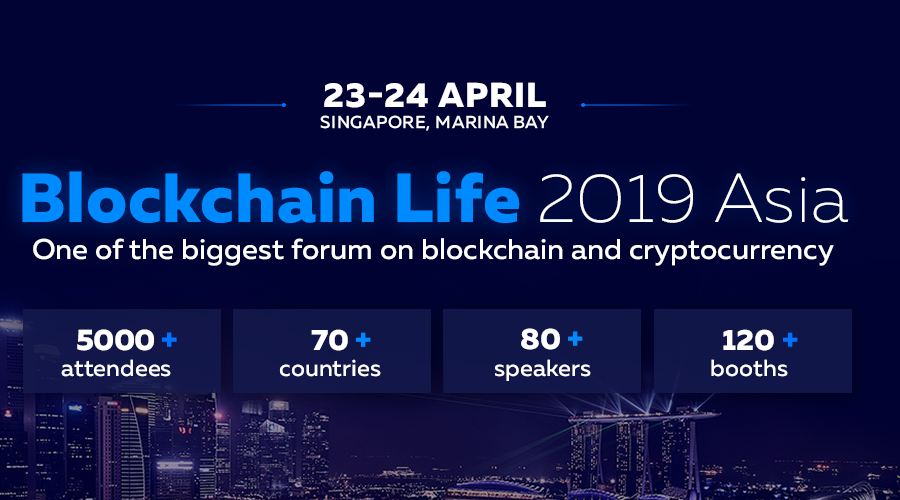 Famous speakers and investors will share their professional insight and forecast during keynote presentations and various panels at the two-day forum.
Some of the speakers are:
– Roger Ver (Bitcoin.com)
– Sergei Khitrov (Listing.help)
– Jason Fang (Sora Ventures)
– Tim Draper (Draper Associates and DFJ)
– Xinxi Wang (Litecoin)
– Alex Reinhardt (ELVN)
– Ke Su (Bitmain)
– Johnny Lyu (Kucoin)
– Toni Gu (NGC, NEO)
– Carylyne Chan (CoinMarketCap)
– Zhong Zhuang (BTC com)
– Manmeet Singh (Cardano)
– Jasmine Ng (NEM)
– Tony Ling (Bitblock Capital)
– and others
Investment funds, crypto industry leaders, crypto exchanges, project owners and executives, crypto traders and blockchain developers from all over the world will gather to discuss the latest trends and ways to make money in the most innovative blockchain and crypto market.
Get tickets on https://blockchain-life.com/asia/en/ before the price increase. Use a special 10% promo code "info".