Solvo, an EU-based cryptocurrency startup, announced the official launch of the Solvo app, which is now live and available to download on the App Store for users in the EU and United Kingdom. Solvo is seeking to turn crypto-curiosity into crypto-capability by bringing the best of the best of crypto to everyone with a straightforward, transparent and easy to use entry point. Through Solvo, users can purchase easy to understand financial products and build their understanding of cryptocurrencies.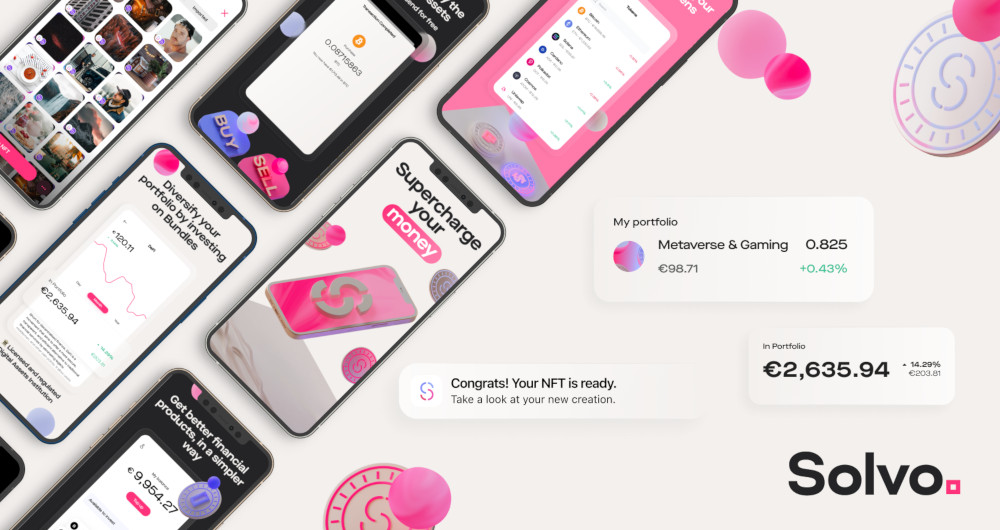 "Current product and service offerings used to invest in crypto assets are too complex and unwelcoming to those who are just starting out their crypto journey," said Ayelen Denovitzer, Co-Founder and CEO of Solvo. "By providing an easy to use, trusted and transparent platform we believe we can get the 'crypto-curious' to embrace the world of cryptocurrencies, turning them into 'crypto-capable' users."
A 2022 survey by 451 Research, a technology research group within S&P Global Market Intelligence, reported 32% of non-crypto users cited "lack of understanding of blockchain" as the reason they had not participated in trading cryptocurrency. Meanwhile, 26% of non-users cited crypto as being "too complicated to purchase" as the inhibitor to start trading.
Solvo eliminates complex and intimidating processes that typify other crypto platforms by providing clear and focused products that manage the myriad of choices a new investor needs to navigate. Through the app users can use three core products:
Bundles: Baskets with sector-specific tokens without the user having to choose from thousands of projects and tokens and invest significant amounts of money. The user can choose what sector to invest in: blue-chip crypto projects, DeFi, or Metaverse & Gaming. Solvo identifies top projects for each and defines the mix of among them.
Vaults: Solvo's app allows users to earn a yield based on their risk appetite. The user deposits FIAT, selects what token they want to earn in, and Solvo takes care of the rest. Solvo looks for the best protocols and investment opportunities and connects to them for the user to earn the yield. The user can choose between ADA, NEAR, MATIC, among others.
NFTs: Users are able to create their own NFTs using a generative AI. By describing in writing what image they want, uploading or taking a photo, the users can create their personalised NFTs. This can also be minted on-chain for free on Optimism. In the coming releases, the user will be able to withdraw and deposit this and other NFTs.
"Solvo sees decentralized finance as the future of finance, but recognizes the massive barriers that are currently holding back millions from entering the crypto space," said Shailendra Sason, Co-Founder and CTO of Solvo. "We want to deconstruct those barriers by providing straightforward, transparent, and easy to use technology so that everyone can experience the benefits of decentralized finance, regardless of their expertise."
On top of the products described above, Solvo is making buying and selling crypto easier. The app offers the ability for users to buy, sell, and hold crypto through a curated list of the 10 best tokens, to avoid the need to review +20,000 tokens. Users can also transfer money anywhere in the world, deposit and withdraw BTC and ETH, and deposit GBP and EUR, through open banking and bank transfer.
Solvo is committed to maintaining best in class trust and transparency with its users. To that end, Solvo is proud to integrate with industry leaders to provide technical excellence and expertise:
The number one institutional digital asset custodian, Fireblocks;
Blockchain compliance analytics provider, Elliptic;
And Know Your Customer (KYC) identity verification engine, Passbase.
The launch of Solvo's app comes after the close of a $3.5 million fundraising round in late 2022.