SparkleCOIN™, the blockchain currency that launched at TechCrunch Disrupt in September of this year and has since been generating huge buzz among veteran cryptocurrency users and in the mainstream consumer and finance worlds alike, was pleased to host a who's who of early coin-holders, influencers, journalists, and celebrities at the SLS Hotel in Beverly Hills on Thursday, December 14.

Reasons to celebrate included the success of SparkleCOIN's initial coin offering (ICO), which is ongoing until December 21 at 1P.M. Pacific time / 4P.M. Eastern. No other cryptocurrency has ever seen its value increase to double digits during its initial token sale, let alone the $37 price at which SparkleCOIN™ is selling at the time of this writing. On December 22, VCoin Exchange will open for trading. VCoin Exchange is part of a managed ecosphere that makes SparkleCOIN™ more immediately usable and transactable than any other cryptocurrency, providing instant trading with other traditional fiat (government-issued) currencies as well as other cryptocurrencies. It also gives merchants a payment gateway that enables them to accept SparkleCOIN™ directly and receive payment in dollars, via a downloadable extension that interfaces with virtually any shopping cart system, with no extra coding required.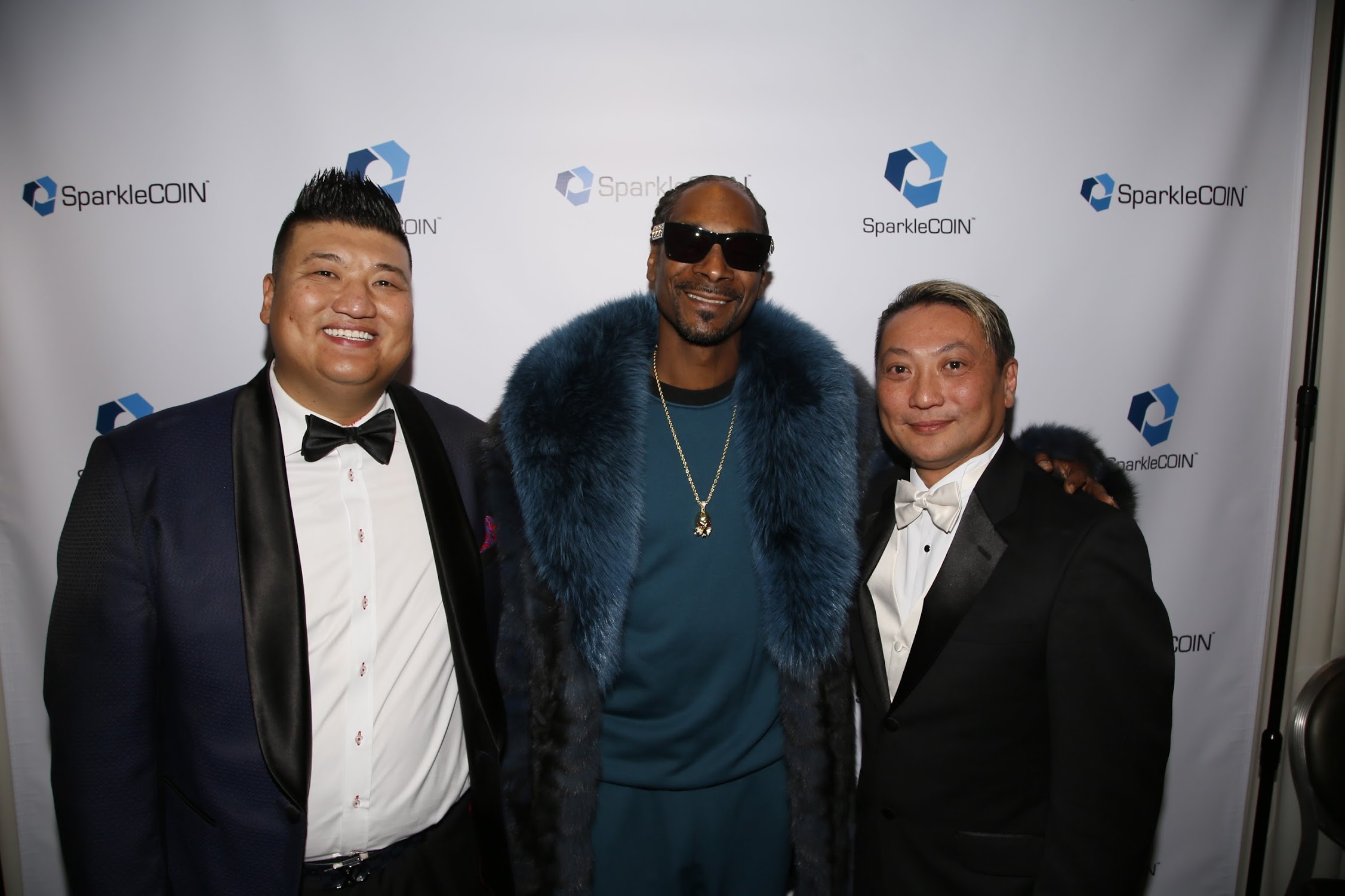 Joining founder and CEO Victor Wong onstage was entertainment legend Snoop Dogg. Mr. Wong greeted Snoop with a donation of 1,500 SparkleCOINs, currently valued at $55,500, to the Snoop Youth Football League (www.snoopyfl.net), a non-profit charitable organization that since 2005 has served inner-city children ages five to 13, fostering values of good sportsmanship, respect for self and others, and academics. "I appreciate and accept this kind gesture on behalf of my football league," said Snoop Dogg. VIP guests enjoyed a private meet-and-greet with Snoop, who later kept the crowd on their feet all evening, personally spinning a non-stop DJ set of classic hip-hop as only one of the most iconic and original stars of the genre could.
Attendees were treated to premium cocktails and hors d'oeuvres from The Bazaar, the Spanish-themed restaurant founded by James Beard Award-winning chef José Andrés. The event also featured casino-style games at which the first, second, and third biggest winners of the night received 500, 300, and 100 SparkleCOINs, respectively.
Further guests of note included actor Noel Gugliemi of Training Day and The Fast and the Furious fame, Olympic Gold medalist swimmer Ed Moses, rap stars Too Short, Bow Wow, and Trinidad James, musician and actor Ray J, legendary music manager Steve Lobel, and R&B musician and Instagram sensation Dennis Graham — the father of Grammy-winning urban music pioneer Drake.
The SparkleCOIN™ management team circulated throughout the party to educate and answer questions. "I had been curious about cryptocurrency for some time, but I'm a novice and most explanations of it I'd read were too technical and off-putting," commented one attendee, echoing a theme the team heard repeatedly. "After talking to the Sparkle folks, it finally made sense, and now I feel good about investing."
"Because you can put the stuff in your digital wallet and use it right away, that's going to create real-world value," said another who identified himself as an 'old-school fundamentals-based finance guy.' "And since it's not as expensive a buy-in as some of the other big crypto names right now, the barrier to entry and risk factor is low."
"The party was a celebration for everyone who has worked so hard to get us where we are today," said Victor Wong, CEO and founder of SparkleCOIN™. "We now look forward to creating real wealth for people from all walks of life, and to providing opportunities to enrich standards of living and e-commerce regardless of anyone's background or level of technological fluency. We hope our efforts will inspire those who benefit to pay it forward."
About SparkleCOIN™
SparkleCOIN is the most transactable, liquid, and user-friendly cryptocurrency in the world. Like other digital currencies, it offers all the advantages of non-centralized blockchain networking, such as privacy, security, and immediate value transfer from peer to peer. Unlike other cryptocurrencies, SparkleCOIN's expertly managed infrastructure allows consumers to make purchases from major online retailers (e.g., Amazon, Target, and many more) via VCoin Mall, while VCoin Exchange provides hassle-free trading with traditional fiat currencies such as U.S. dollars as well as other cryptocurrencies. A payment gateway built into VCoin Exchange empowers retailers to accept SparkleCOIN using virtually any shopping cart solution and receive payment in their currency of choice. SparkleCOIN's infrastructure also builds in proof-of-work and proof-of-stake via mining and minting to increase adoption incentive and long-term stability. SparkleCOIN is the only cryptocurrency to have traded as high as $37 during its ICO (initial coin offering), and all operations are pre-funded for the next 100 years. For more information visit www.sparklecoin.com.
---
Crypo-Reporter.com does not endorse nor support product/service described in press release. Crypto-Reporter.com is not responsible for or liable for any content, accuracy or quality within the press release. Readers should do their own due diligence before taking any actions related to the promoted company or any of its affiliates or services.