50 + investors and 10 ICO projects in one day. The first round of World Blockchain Roadshow on June 28 in Kuala Lumpur, Malaysia, is successfully done.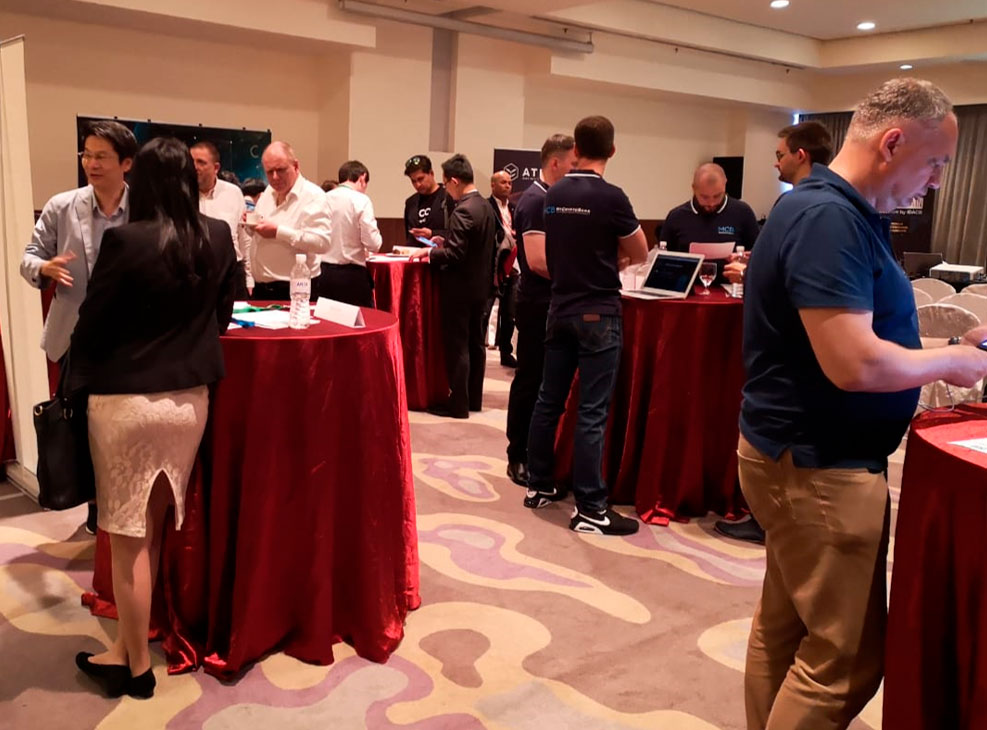 The program contained 8 presentations of trustworthy ICO projects where investors chose the most promising ones. Participants communicated much during two blockchain networking coffee breaks and the preappointed meeting with investors.
The whole BitcoinMalaysia community welcomed WBRShow and showed a high interest in blockchain projects. Investors were fascinated by AI Opinion which strives to introduce the perspective of artificial intelligence into diagnostics and is about making a real boom in modern medicine. Bundle Network also made a great impression on the audience. The idea of the project is to enable users to purchase and sell multiple coins & tokens within seconds of execution. MyCryptoBank, 123x, Bistox Exchange, X-Infinity, 7Seconds, AgroTechFarm, 4ArtTechnologies and Bdaq also were highly appreciated.
IDACB also visited Cyberjaya – the first Malaysia's cybercity. This fully equipped with resources, infrastructure and knowledge workers town was created to turn Cyberjaya into the preferred investment hub for technology companies and increase economic growth in Malaysia. In Cyberjaya IDACB met representatives of Cyberview team developing the idea of cybercities: Shafinas, Head of technology hub development division, and Narila, Head of marketing department. Moreover, IDACB members had a conversation with Jermaine Lim, VP of Malaysia Blockchain Association. They discussed some innovation issues, implementing artificial intelligence and other new technologies in modern life.
The meetings in Kuala Lumpur have shown that founders of the projects should work really hard to become successful on the Malaysian market. Maxim Chereschnew, the IDACB international secretary, also mentioned that having quite a traditional view on investment issues, Malaysia is friendly to new technologies.
The World Blockchain Roadshow is moving on. The nest destination is Singapore where we will meet the best investors and ICO projects on June, 30. Do not miss your opportunity to increase your investors' sales funnel and turn an ICO into a real blockchain project!
A free entrance for investors is provided. Here you can get your Investor's or VIP investor's ticket and Silver or Golden Packages for ICOs.
IDACB is the largest International Decentralized Association on Cryptocurrency and Blockchain. It's the leading non-profit organization the concept of which is to connect crypto and blockchain community and various countries' officials to work out a unifying approach for international legislation on cryptocurrencies and blockchain. The influence of the Association is ensured by the participation of 87 countries, while it is planned to include 50 more states by the end of the year. Members of the Association are the first counselors, recognized experts of the blockchain technology market, national and professional Associations of the participating countries and the professional community representatives. Russia is represented by the Advisor to the President of the Russian Federation on Internet Development German Klimenko.
World ICO Show is produced also by IDACB and will take place within the WBCSummit. WICOShow provides ICO projects with an opportunity to present themselves to large investors whose total loan of investment is more than 2$ BILLION. IDACB ensures qualification of investors as all of them have verified identity, they are IDACB participants as well.
ASIAN World Blockchain Roadshow is the largest ICO Show in Asia – 2 tours, 10 countries, 20 days. The number of places of projects is restricted. The organizer pays for the golden pitchers' accommodation.
Media Contacts
media@idacb.com
+7-495-649-83-08
+7-968-080-88-84
IDACB press-office