TraiCon Events will be hosting the World Blockchain Congress, which will be held at the Hotel Sofitel in Manama, the Kingdom of Bahrain, on the 29th & 30th July, 2018. This forum will be attended by over top 150 participants, key stakeholders and blockchain enthusiasts from across the globe.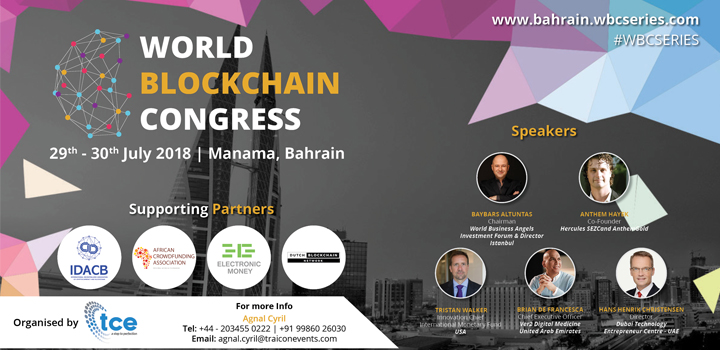 The World Blockchain Congress Bahrain 2018 will be held under the theme "Reshaping Digital Businesses by Disrupting and Transforming the World of Money, Business, and Society" and will be featuring a host of very interesting case study presentations from global experts, such as:
– Hans Henrik Christensen – Vice President at Dubai Silicon Oasis Authority,
– Markus Dold – Founder of eCharge.work,
– Stuart Davies – Head of Technology, Media & Telecommunications at Al Tamimi & Company,
– Anthem Blanchard – Chief Executive Officer at Hercules SEZC and AnthemGold,
– Pavel Shoust – Executive Director at Russian Electronic Money and Remittance Association,
– Wajeeha Awadh – FinTech and Digitalization Initiatives at Al Baraka Banking Group,
– Matej Michalko Founder at DECENT – Slovakia,
– many others.
In March 2017, Bahrain signed a fintech pact with Singapore, widely seen as the foremost fintech hub in the world. The Middle Eastern monarchy is tapping Singapore's expertise in financial technologies to establish its own fintech ecosystem in the region, complete with its own regulatory sandbox.
As blockchain makes considerable forays into financial services, pioneers are beginning to recognize the equally big opportunities it offers in areas like Banking, Messaging Apps, Hedge Funds, Voting, Internet Identity & DNS, Critical Infrastructure Security, Ride Sharing, Internet Advertising, Crypto Exchanges, Education & Academia, Care Leasing & Sales, Industrial IoT & MESH Networking, Cloud Storage, Cloud Computing, Forecasting, Music/Entertainment Rights and IP, Stock Trading, Real Estate, Insurance, Healthcare, Supply Chain Management, Energy Management, Sports Management, Gift Cards & Loyalty Programs, Government & Public Records, , Wills & Inheritances, Retail, Charity, Law Enforcement, Human Resources, Business & Corporate Governance, Credit Histories, 3D Printing/Manufacturing, Crowdfunding, and Commodity-backed Currencies.
Many global blockchain technology providers would be participating in the World Blockchain Congress Bahrain 2018 as sponsors and exhibitors who will be showcasing their host of blockchain solutions including few of the top blockchain solution providers such as eCharge.work – Gold sponsor, Hercules SEZC- Silver sponsor, Black Insurance and DECENT– pioneer partners.
We at TraiCon Events would like to take this opportunity to thank all our Supporting Partners, Speakers, Sponsors, Associations, and Media Partners & Participants for supporting the World Blockchain Congress Bahrain 2018 and ensuring that we together will be able to successfully host the conference.
Contact:
Eng Prasanna – International Marketing Specialist
Email: prasanna@traiconevents.com
Mob: +91-7708523918