Vault, the Canadian-Swiss smart contract platform, today announces its partnership with blockchain-driven trust company Prime Trust. Under the partnership, Prime Trust will act as fiduciary and custodian of the LBMA gold bullion behind Vault's gold-backed and redeemable, 1:1 USD-pegged stablecoin, USDVault, which will launch in Fall 2018.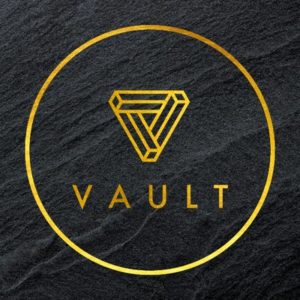 Vault is backed by a consortium of precious metals focused private equity funds, explorers, miners and refiners. The company's upcoming USDVault token is ERC20 compliant and issued on the Ethereum blockchain, and acts as an "evidence of a deposit," giving investors the ability to redeem the tokens for $1 USD or its equivalent in gold. It is able to remain gold-price neutral and stay pegged 1:1 to the US dollar through a sophisticated gold hedging process to be executed by Vault's precious metals partners.
The new partnership both positions Vault's USDVault token as a viable alternative to market-leading fiat-backed stablecoins, and signals Prime Trust's first move into the world of precious metals – a move that bridges the two asset classes that have a special appeal to investors seeking opportunities outside conventional markets.
"USDVault is an interesting and ambitious stablecoin project unlike anything we've worked on until now," says Prime Trust CEO and Chief Trust Officer Scott Purcell. "The Vault team brings to the table the precious metals operational and strategic partnerships necessary to pull off something that has not been done before."
Under the partnership, Prime Trust will act as the fiduciary partner and custodian for all assets related to Vault's USDVault token. After passing KYC/AML compliance checks, token buyers will transfer funds to Prime Trust, which is then responsible for executing the operation protocol provided by the Vault Platform. This includes purchasing of gold bullion and a specific hedge with Vault's designated financial partners to maintain price stability vis-a-vis the US dollar. All transportation and storage of the gold bullion will be conducted by a fully insured vaulting company in Switzerland.
"Together, Vault and Prime Trust will offer cryptocurrency investors something previously unheard of – a secure, investment-worthy stablecoin that gives token holders a legal claim to the USD equivalent worth of gold or fiat currency," says Vault CEO and Co-founder Ranjeet Sodhi. "Leveraging our respective strengths, we hope to provide the gold standard of stablecoins for institutional investors."
About Vault
Vault is a Canadian-Swiss smart contract platform backed by a consortium of precious metals focused private equity funds, explorers, miners, and refiners. The first token to be issued on the Vault platform, USDVault, is US dollar stable, backed by LBMA Gold stored in Swiss vaults, and redeemable for gold or fiat. The token enables traders to exit market volatility without moving into fiat or taking on commodity risk, due to a sophisticated currency hedging program.
About Prime Trust
Prime Trust is a chartered, insured financial institution that as a "Qualified Custodian" provides token and FIAT custody, funds processing, AML/KYC compliance, and transaction technology for the new digital economy. As a blockchain-driven trust company our mission is to provide ICO and STO issuers with the best-in-class solutions to seamlessly meet the needs of their offerings and of exchanges and secondary markets.
Contacts
Vault
Steve Marcinuk
Marketing Director
steve@vault.ch
+41 43 508 63 15