Zeeve, the leading Blockchain Infrastructure-as-a-Service (IaaS) platform, has announced a strategic partnership with the India Blockchain Alliance (IBA). This partnership aims to accelerate evangelism and adoption of blockchain across the Indian subcontinent and contribute to the Blockchain enabled infrastructure of the government, universities and various enterprises through multiple initiatives.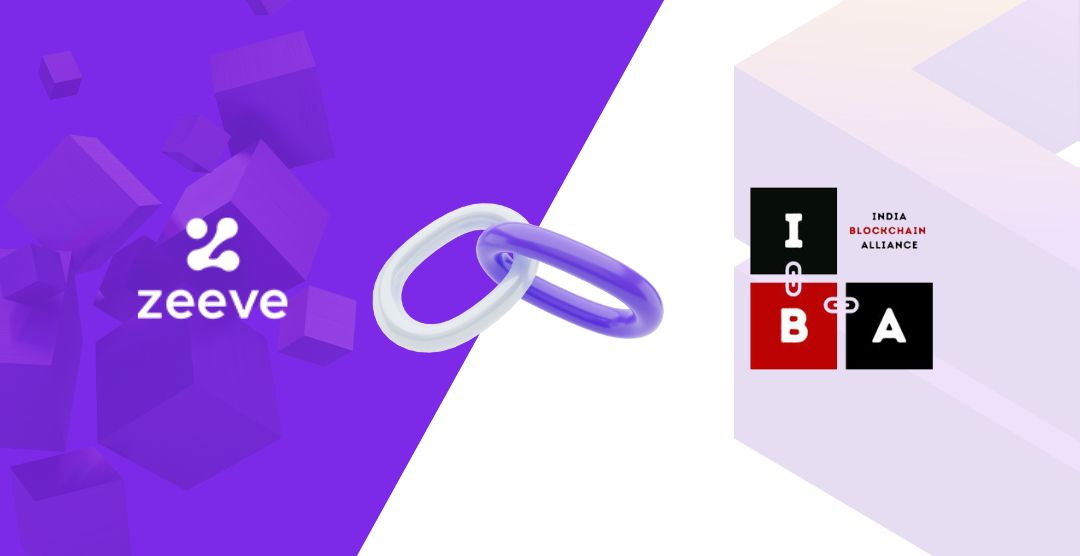 Zeeve, with its no-code, plug-and-play infrastructure, helps businesses leverage blockchain by providing access to dedicated node infrastructure and RPC APIs for over 40+ public, permissive, and application-specific blockchain protocols. As an ISO, SOC2 TypeII, and GDPR compliant company, Zeeve ensures adherence to all standard data privacy and security practices required by even the most stringent industries, such as finance.
On the other hand, the India Blockchain Alliance (IBA), established in 2018, is a non-profit organization fostering evidence-based adoption of Blockchain and Distributed Ledger Technologies (DLT). Its alliance comprises a diverse network of experts, academics, blockchain engineers, venture capitalists, and visionaries committed to transforming India into a global blockchain destination.
"We are thrilled to embark on this journey with the India Blockchain Alliance," said Dr. Ravi Chamria, co-founder & CEO of Zeeve. "This collaboration resonates with our commitment to making blockchain accessible and comprehensible across sectors. As an infrastructure partner of IBA, Zeeve will provide no-code web3 infrastructure to enterprises and governments across India. We will also work with IBA's initiative of establishing Centers of Excellence in various universities, by providing blockchain infrastructure as a sandbox for innovation and development. We strongly believe our combined efforts will expedite blockchain adoption, fueling substantial business growth for blockchain-based startups in India."
Sandbox initiatives and COEs will provide practical touchpoints for blockchain adoption. These sandboxes are intended to simulate real-world environments where stakeholders can experiment with blockchain and distributed ledger technologies, risk-free. Meanwhile, the COEs will disseminate advanced knowledge and foster innovative ideas, helping to cultivate a new generation of blockchain-savvy professionals.
We at India Blockchain Alliance regard this partnership vital to our vision of mainstream blockchain adoption said Raj Kapoor, Founder of India Blockchain Alliance. "Being an end-to-end ecosystem catalyst, IBA loves to work with those whose passion reflect in their work through quality and resolution in their products and services and the good news is that with Zeeve we can now move towards our collective ecosystems with a vision to grow together. With today's announcement, two industry leaders are coming together to provide world-class capabilities across verticals."
Blockchain and Web3 innovations in India are projected to propel the digital asset economy's value to over $200 billion in the next ten years, contributing over $1 trillion to our GDP. Such joint initiatives from responsible players like Zeeve and IBA will undoubtedly help achieve these impressive numbers easily.
About Zeeve
Zeeve is the leading Web3 infrastructure provider in the world. Zeeve provides enterprise-grade web3 infrastructure, including full nodes and staking infrastructure for 40+ Blockchain protocols. Zeeve's robust and reliable Web3 infrastructure platform has won the trust of thousands of web3 startups and investors across geographies. With 26,000+ developers, 30+ large enterprises, and 6000+ nodes, Zeeve is the preferred provider of developer and staking infrastructure for all the popular Blockchain protocols.
About IBA
Established in 2018, the India Blockchain Alliance (IBA) is a non-profit organization promoting the adoption of Blockchain and Distributed Ledger Technologies (DLT) across the public and private sectors. Comprising a close-knit network of experts and organizations from the worlds of Blockchain, academia, information technology, computer science, and policy regulation, the IBA seeks to transform India into a global blockchain destination.