Between 2018 and 2020, worldwide crypto users grew by nearly 200%. Today, there are more than 400 million crypto users. Bitcoin remains the most popular choice.
In 2018, the crypto market cap peaked at around $850 billion. The market reached $3 trillion in November 2021 before dropping—it remains slightly above $1 trillion.
The online gambling industry rose to $61.5 billion in 2021. As of 2022, there were almost 100 million players at online casinos. Most of them played online slots.
How has crypto and blockchain technology changed online gaming?
Let's take a closer look.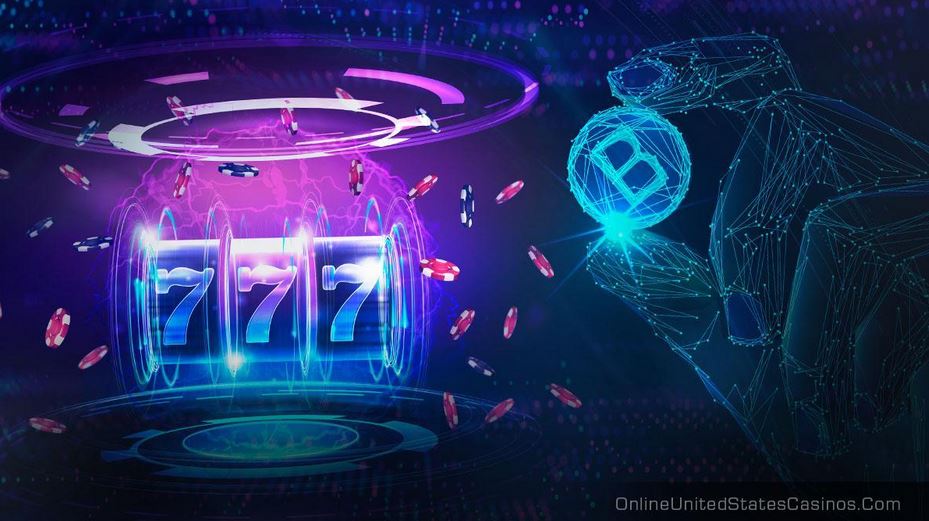 What is Blockchain Technology?
Blockchain gets associated with crypto because the digital currency came from that technology. A blockchain is a computer network that stores data in blocks. Think of it like a public database.
The public ledger shows each digital transaction on the blockchain. It acts like a Google spreadsheet that you can share with others. Changes to a blockchain become immutable—they can't get altered.
Cryptography on a blockchain means there are public and private keys, as well, to help prevent hackers from accessing your data.
By 2027, as much as 10% of worldwide GDP may become associated with blockchain transactions.
Encrypted data on a chain gets connected via individual blocks. How does that relate to transactions at online casinos?
Crypto at Online Casinos
The basis for releasing Bitcoin to the public came from the 2008 financial crash. Bitcoin's white paper was written anonymously by Satoshi. Its purpose came from allowing financial transactions outside the traditional banking system.
With endless money-printing, the currency of any country gets downgraded. That means over time, a person's wealth gets eviscerated through inflation—which some economists and financial experts suggest is a "hidden tax."
Professional gamblers pay careful attention to their bankrolls. Budgeting is an essential strategy for daily, weekly, and monthly wagers. For example, a sports bettor wants to win around 55% of their bets.
If gamblers keep their winnings in a bank, the value diminishes over time. They need to store it in an asset that rises—and for many bettors, that comes in crypto.
Where traditional banks might not allow deposits, crypto casinos permit anonymous transactions. Offshore gambling sites also take crypto since there are fewer fees.
Online players may use crypto at real money gambling slots to get the most value from their bankrolls.
Where else is crypto popular?
How to Use Crypto for Online Gaming
In the realm of online gaming, crypto acts as an extra incentive. Gamers may play for collectible and tradable non-fungible tokens (NFTs). A digital asset becomes the property of the winner.
Some of the most popular online games that use crypto include Axie Infinity and metaverses like Decentraland and The Sandbox.
Players may turn their crypto awards into cash or use them for staking. They also transfer their crypto to other metaverses for digital land, virtual events, and skins for avatars.
The various uses of crypto in online games increase in innovation and scope each year.
Speed and Privacy of Blockchain Transactions
The prominence of crypto derives from the speed and privacy associated with blockchain transactions. For example, if you want to send money to another country, it might be challenging. You may need to overcome legal hurdles or pay unnecessary fees.
With crypto, the speed at which you can make transactions increases exponentially. Since markets never close, you can send crypto at any time of the day or night.
Top e-wallets in the U.S. might be easy to use for domestic transactions. But what if you're a remote worker employed by an overseas company? You'll likely have to pay a transaction fee each time you get paid.
Banking transactions also take time to clear. Crypto cuts down on the waiting time, with some transactions taking a few minutes.
That also applies to slot players at online casinos. Most platforms allow instant deposits. Quick withdrawals are harder to come by.
Crypto became popular due to its speed and versatility for various transactions.
Privacy is another issue when it comes to financial exchanges. If you're using a debit or credit card to buy something online, it may only be a matter of time before your information gets stolen.
Third-party websites for entertainment and travel might not be as well-protected as other well-known sites.
Crypto helps to add an extra layer of security. The point of blockchain is cryptography—transactions get protected with encryption.
While the traditional banking system offers similar technology, the security feature ends once a user leaves that site. Transacting in crypto ensures the sender and receiver get the same protection.
What's the Major Benefit of Using Crypto?
There are plenty of advantages associated with transacting in crypto. It also depends on the user. One of the main reasons crypto is changing the world of finance comes from protection against inflation.
While there are thousands of crypto projects, they may disappear from the market as quickly as they come into being. Layer Ones remain the top choice among investors and users due to their durability.
The best projects offer something akin to Bitcoin—a guaranteed rise in value from inherent scarcity.
Whether it's an investor with a particular time horizon or an online slot player, crypto offers long-term financial benefits lacking in traditional banking.
What's the Future Hold for Crypto?
Crypto in 2022 saw one of the worst years in its short history. Many "black swan" events demystified the industry. Casual users may have left the crypto markets for good.
There's a lot of money on the sidelines regarding crypto. Investors in 2023 continue to wait for the market to turn around after rising inflation and interest rates.
That's what crypto like Bitcoin got built for. Long-term prospects remain favorable while chasing short-term gains is best left to gamblers.
Crypto will keep changing the world via betting, finance, and how human beings think about their future.