Since bitcoin started soaring in early 2017, it has attracted attention of individual investors and financial professionals alike. The same thing is now happening with other cryptocurrencies.
Bloomberg Terminal, the most popular computer software system for monitoring and analysing real-time financial market data, has added ethereum (ETH), litecoin (LTC) and ripple (XRP) to its service. Bitcoin (BTC) was added much earlier owing to its status as the first cryptocurrency and the largest by market cap.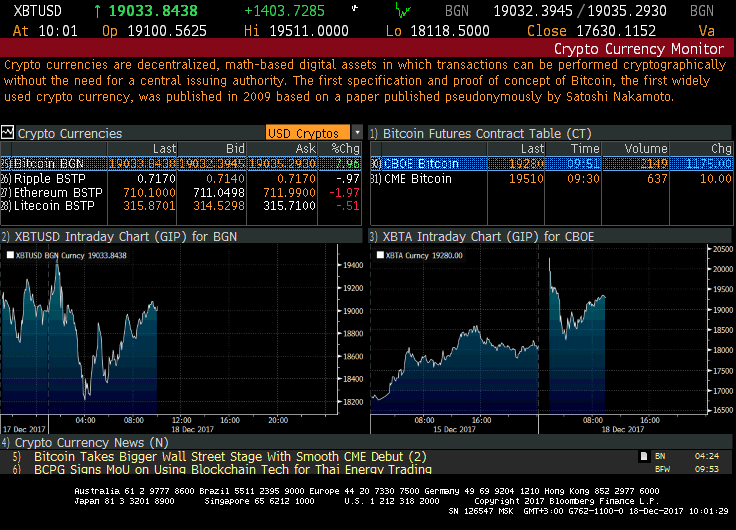 Ethereum is a blockchain-based decentralized platform that enables smart contracts (scripts of code that can be deployed in the Ethereum blockchain) and building of decentralized applications. Ethereum also implements a cryptocurrency token ETH, which is transferred between accounts and used to compensate participant nodes for computations performed.
Created by former Google software engineer Charlie Lee back in 2011, litecoin is based on bitcoin's code. The underlying motivation was to improve transaction speeds. Litecoin transactions are four times faster than bitcoin ones (2.5 minutes vs 10 minutes). Another major difference for end users is that while bitcoin has a limit of 21 million coins, litecoin will max out at the 84 million mark.
Ripple is a company that provides blockchain technology to banks and allows some of its currency (known as XRP) to trade in the open market. Ripple blockchain platform connects banks and other big institutions and allows them to transfer money and other assets through the network.
The addition of new financial instruments to Bloomberg Terminal is a sort of a quality stamp in the world of financial gurus. For cryptocurrencies it means that the blockchain industry is now recognised as the one that has passed the innovation stage and moved to early adoption phase. Quite a few institutional investors (such as hedge funds and mutual funds), private equity firms, high-net-worth individuals have joined the cryptocurrency rush. Many more are likely to follow in the coming years.