Newark, NJ, Aug. 03, 2023 (GLOBE NEWSWIRE) -- BitMart, the leading global digital asset trading platform, has recently announced the successful integration of Bitcoin on the Lightning Network and has opened deposits and withdrawals for its users. The Bitcoin Lightning Network, as a unique Layer 2 solution for Bitcoin, cleverly conducts transaction operations off-chain, only confirming the final results on the main blockchain. This innovative approach allows BitMart users to enjoy faster and lower-cost payment services, optimizing the overall trading experience.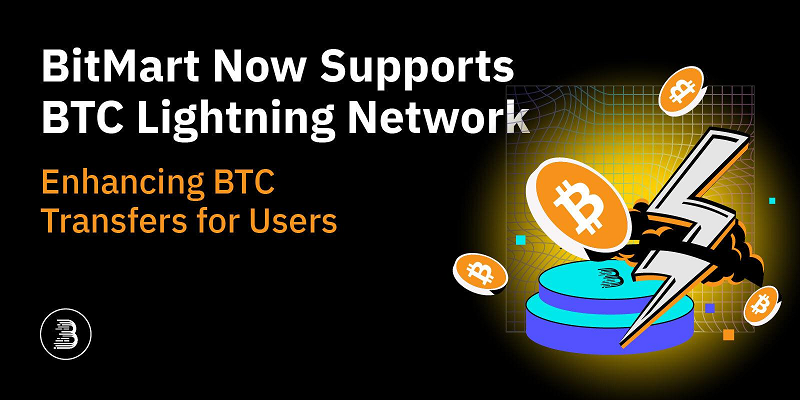 For deposits and withdrawals, BitMart accepts transactions ranging from 0.000001 Bitcoin ($0.03 USD) to 0.1 Bitcoin ($2,938 USD) and currently does not charge any fees.
In the Lightning Network, a user's receiving address is referred to as an "Invoice Number," which distinguishes it significantly from other tokens. The "Invoice Number" has two main characteristics: first, it becomes void after each withdrawal, and second, if not used for more than 60 minutes, it automatically refreshes and requires obtaining a new one. This dynamic mechanism enhances transaction security and timeliness, but it also requires users to be attentive and refresh to get a new Invoice Number promptly.
BitMart's Lightning Network nodes are connected through five channels, including two channels with ACINQ, two channels with Kraken, and one channel with OKX. BitMart's strategic move to integrate Bitcoin on the Lightning Network further demonstrates its firm determination to promote the widespread adoption of cryptocurrency technology and showcases its commitment to optimizing the user trading experience.
To enable users to experience the latest product features, BitMart is launching an exclusive event for the Bitcoin Lightning Network launch. For more details about the event, please visit this page.
For specific information on using the Lightning Network, please refer to BitMart's official announcement.
About BitMart
BitMart is the premier global digital asset trading platform. With millions of users worldwide and ranked among the top crypto exchanges on CoinGecko, it currently offers 1,000+ trading pairs with competitive trading fees. Constantly evolving and growing, BitMart is interested in crypto's potential to drive innovation and promote financial inclusion. To learn more about BitMart, visit its website, follow its Twitter or join its Telegram for updates, news and promotions. Be sure to download the BitMart App to easily trade your favorite crypto anytime, anywhere.
Follow BitMart for more updates:
Twitter | BitMart Research | Facebook | Telegram | YouTube | Instagram | Discord

CONTACT: marketing-at-bitmart.com