Singapore, Sept. 29, 2023 (GLOBE NEWSWIRE) -- Shiba Inu X, the latest sensation in the world of cryptocurrency, is set to take the crypto community by storm. With its fair launch just around the corner, Shiba Inu X aims to redefine the crypto landscape by offering a unique earning ecosystem and a strong sense of community ownership. This groundbreaking project promises to bring exciting opportunities for crypto enthusiasts worldwide.

Shiba Inu X Ecosystem - A World of Possibilities
The Shiba Inu X ecosystem offers a range of features designed to empower its community and maximize its earning potential:
Swap: Shiba Inu X token holders will have the convenience of easily swapping their assets for other digital currencies using widely used platforms and wallets. Moreover, holders will also have the option to convert SIX to fiat using Flooz and additional partner platforms, enhancing accessibility and flexibility.
Staking: Post the public sale, Shiba Inu X's staking pool will go live, allowing holders to stake their SIX tokens and earn rewards. This feature empowers users to actively participate in the ecosystem and benefit from their contributions. The staking activation date will be announced ahead of the public sale.
DEX Trading: Shiba Inu X will be listed on Pancakeswap shortly after the completion of the Pinksale fair launch. Pinksale, as our launchpad partner, will introduce SIX token to their global investor network, opening up new opportunities and avenues for growth.
CEX Trading: Serving as the cornerstone of our ecosystem, Shiba Inu X provides a decentralized community-driven experience while affording holders and traders absolute freedom. Following the public sale, Shiba Inu X (SIX) will be available for trading on centralized exchanges, expanding its reach to a wider audience.
Security and Transparency - Audited by Coinsult
Shiba Inu X places a strong emphasis on security and transparency. To ensure the safety of our community, we have partnered with Coinsult, a trusted auditing firm. The audit results confirm that SIX has low taxes, no minting function, and no team tokens, ensuring that all decision-making power lies with the Shiba Inu X community and its fortunate holders.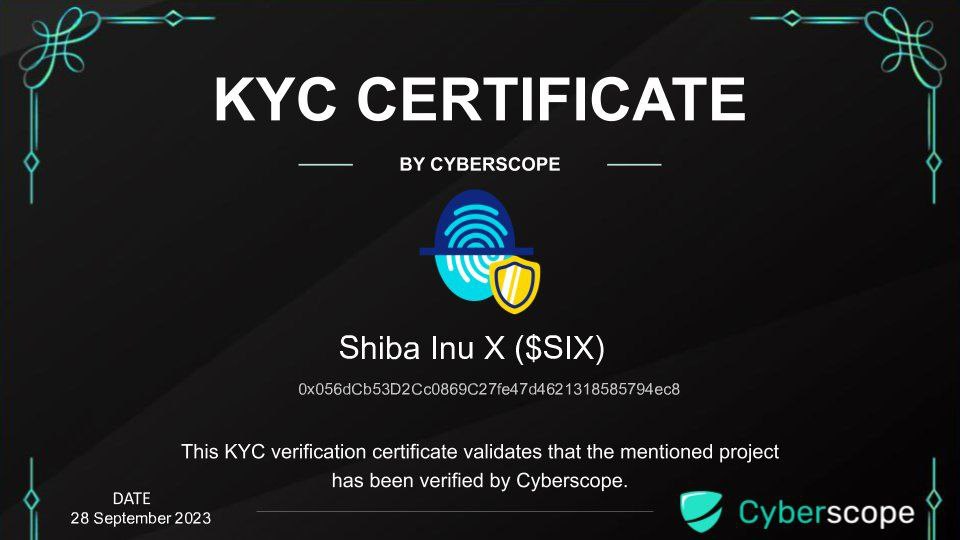 The KYC verification certificate by Cyberscope confirms Shiba Inu X's commitment to security and trustworthiness. It assures users of a secure and compliant environment within the Shiba Inu X ecosystem.
Tokenomics
Shiba Inu X is built on the popular Binance Smart Chain, offering users fast and cost-effective transactions. The token has a maximum supply of 50 million SIX tokens, providing a clear path for sustainable growth.
SIX Contract Address: 0x056dCb53D2Cc0869C27fe47d4621318585794ec8
Blockchain: Binance Smart Chain (BEP20)
The SIX token is further distributed in the following way:
Public Sale: 50%
Liquidity: 30%
Staking: 10%
CEX Listing: 10%
Embracing an Earning Ecosystem
Shiba Inu X is more than just a meme token; it's a powerful transitional evolution in the crypto world. With the upcoming launch of the SIX staking pool, you can stake your tokens and earn rewards, contributing to the growth and prosperity of our community. The staking activation date will be announced soon, so be ready to participate in this exciting opportunity.
A Truly Community-Driven Project
PancakeSwap, one of the most popular decentralized exchanges, will host Shiba Inu X immediately after the Pinksale fair launch. This strategic partnership with Pinksale will introduce SIX to a global audience of investors and ventures, reinforcing Shiba Inu X's community-driven ethos.
In conclusion, Shiba Inu X is poised to make waves in the crypto space with its innovative meme token ecosystem and community-focused approach. The fair launch is just around the corner, providing an opportunity for crypto enthusiasts to join the Shiba Inu X community and participate in its exciting journey.
For more information about Shiba Inu X and to stay updated on the latest developments, please visit https://www.shibainux.io/, follow @ShibaInuXGlobal on Twitter, and join the Telegram community at https://t.me/ShibaInuX_Global.
About Shiba Inu X
Shiba Inu X is a community-powered meme token with a thriving earning ecosystem. Built on the Binance Smart Chain, Shiba Inu X offers a range of features, including swapping, staking, and trading, all designed to empower its community and maximize their earning potential. Shiba Inu X is committed to decentralization and transparency, with a strong emphasis on community-driven growth.
Website | Twitter | Telegram | Medium | Reddit

Disclaimer: The information provided in this press release is not a solicitation for investment, or intended as investment advice, financial advice, or trading advice. It is strongly recommended that you practice due diligence (including consultation with a professional financial advisor) before investing in or trading securities and cryptocurrency.
CONTACT: Derrik Hymer
Shiba Inu X
team-at-shibainux.io