Zug, Switzerland, Oct. 13, 2023 (GLOBE NEWSWIRE) -- Udao, the driving force in the Web 3.0 environment dedicated to improving the skill-based economy, is thrilled to announce the triumph of its First Presale Stage. Within a mere 10 days, the Udao community came together, propelling the platform to soar beyond the impressive milestone of $100,000 USD, in total already over $2 Million.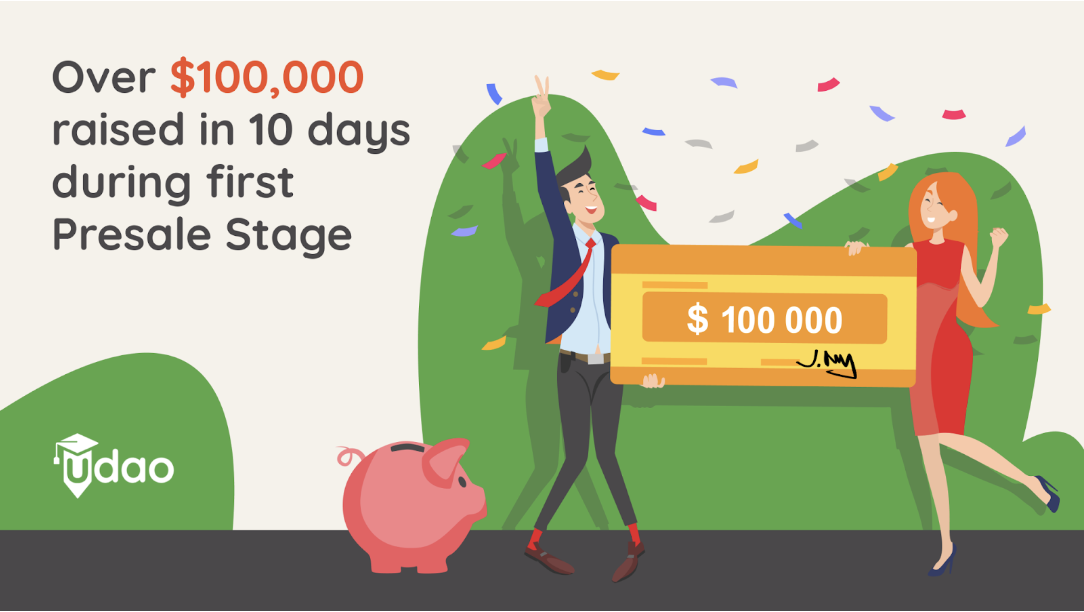 With the second stage of the presale swiftly approaching, scheduled to run from October 12 to October 22, 2023, the exceptional outcome of the first stage undoubtedly ignites anticipation for the next chapter of this remarkable journey.

Surprising Figures about Skill Gap
In our ever-changing world, the growing disparity between the supply of skills and the demand for them intensifies, especially within the dynamic labor market. To offer a holistic viewpoint, consider these statistical revelations:
The World Economic Forum (WEF) highlights the pressing need for reskilling, affecting approximately 1 billion individuals globally. Astonishingly, WEF projects that half of the skills currently at our disposal will soon face automation. McKinsey's research underscores a striking statistic: 87% of companies worldwide confront skill deficiencies within their workforce.
Quote from Udao CEO, Selim Kangeldi: "Two out of three of my children will enter a job that does not exist yet. I want a solution that is of value for all the coming generations, including my children's. Web 3.0 Apps are not just the future – they are happening now. In a year, they will be the topic everyone understands far more deeply than today."

About Udao
Udao is a sustainable Web 3.0 Skills Economy AI-driven Platform, driven by a market-oriented skill development ecosystem that focuses on market-relevant skills and assessments. Operating under stringent Swiss regulations ensures transparency and legitimacy. Udao proudly holds membership in the Swiss Crypto Valley Association and boasts several key partnerships, including the European Academy for Executive Education (Eurac).

The UDAO token empowers a community-owned skills ecosystem, bestowing governance rights, platform rewards, and exclusive features upon holders, all while offering financial incentives for user contributions.

Core Objectives
• Promoting lifelong learning, regardless of formal qualifications.

• Bridging the skill supply and demand gap in a dynamic job market.

• Addressing the urgent need for a skills economy platform.

Smart Solutions
• A global AI-driven platform that empowers users to acquire new skills and connects them with job opportunities.

• AI-driven skill matching and assessments for learners.
• Prioritizing practical skills and real-world knowledge.

• Staying attuned to global market needs and trends.
Profound Impact
• Tailored courses to cater to the needs of hiring organizations.

• Addressing skill gaps and upskilling inequality.

• An innovative business model where every user contributes to success.

Udao envisions a world where skills empower individuals and organizations to thrive, shaping a future where innovation and progress are celebrated, and everyone's contributions are valued. This vision fosters a community guided by courage, curiosity, transparency, and trust, steering us toward a brighter tomorrow.

Joining the Movement
Anybody can become part of the transformation of the skill-based economy, master the skills of the future, and help shift the landscape of education and work to the Web 3.0 World, where the power of skills, knowledge, and collaboration is celebrated. The second stage of the presale is set to unfold from October 12 to October 22, 2023.

For more information, one can visit the official website or connect with Udao on social media:

https://udao.org/
Zug, Switzerland
Twitter - https://twitter.com/udao_official
LinkedIn - https://www.linkedin.com/showcase/udao-official/
Telegram - https://t.me/udao_official
Discord - https://discord.gg/7cXcPbG8yx
Disclaimer: The information provided in this press release is not a solicitation for investment, or intended as investment advice, financial advice, or trading advice. It is strongly recommended that you practice due diligence (including consultation with a professional financial advisor) before investing in or trading securities and cryptocurrency.
CONTACT: Udao
Selim K
support-at-udao.org