Prada announces the sixth drop in its Timecapsule NFT Collection and invites members of its Timecapsule community to register for the exclusive upcoming Prada Mode event to be held in Dubai and Prada Extends event at Art Basel Miami.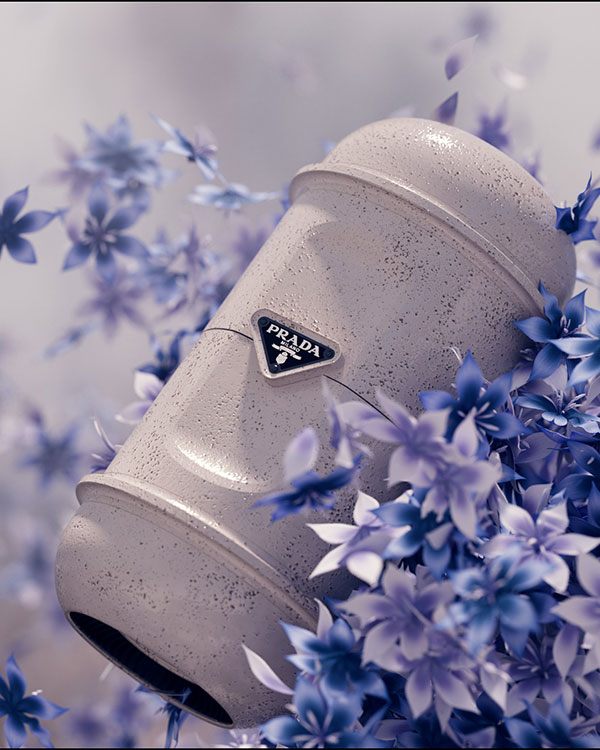 On November 3, Prada will launch a further exclusive drop of new limited-edition shirts crafted using upcycled materials from Prada's archive. This time, Prada has taken style inspiration from the 1970s: November's shirt is a Prada reinterpretation of typical 70s-style patchwork shirts revised in a modern key with upcycled denim from the Prada Archives.
Each fabric has been pre-washed and treated separately to achieve different shades before assembling. Once assembled, the shirt was washed again to amalgamate the different treatments and complete the finished look. The shirt features characteristics typically used in denim clothes, including a hazelnut color yarn and cuts that fray with washing, alongside modern Prada details such as metal snap buttons and the classic triangle logo. While all are made in the same way, the various treatments in combination with the denim aging process over time give further rarity to the garment.
The shirt features a transfer on the back with the words "NOVEMBER" and the "UPCYCLE" patch. Each shirt comes accompanied by its own gifted NFT, which serves as an invitation to join Prada's exclusive Crypted NFT community.
Following the unique Giveaway Experience to one lucky Timecapsule NFT holder at the Prada SS23 Show in Milan in September, Prada is pleased to announce upcoming experiences of which Timecapsule NFT holders will be invited to attend.
On November 9 and 10, 2022 Prada will host in Dubai the eighth iteration of Prada Mode, featuring an installation by artist Damien Hirst – an exclusive event open to Prada Timecapsule community members. A traveling social club with a focus on contemporary culture, Prada Mode provides members with a unique art experience along with music, dining, and conversations.
On December 1, Prada Extends moves to the much anticipated Art Basel in Miami where Timecapsule NFT Holders will be given the opportunity to attend the exclusive live event. Curated by British-born, Canadian-raised electronic musician and Prada collaborator Richie Hawtin aka Plastikman, Prada Extends is focused on and designed for creatives in different hubs around the world and interconnects like-minded figures, encapsulating the identity of each locale and its creative community.
Registration for both events will be available within the "Experiences" section inside the Prada Discord Channel. All information on the RSVP process is shared with community members on the Prada Discord Channel.
The Timecapsule opens for 24 hours on the first Thursday of every month. During the sale, a limited number of Timecapsule Collection items are available in selected markets on prada.com. Prior to delivery, Prada gives each item a unique serial number before wrapping the item in custom packaging. Upon receipt, the customer can redeem their NFT using their unique serial number.
The NFT features details of the drop, including the serial number for the accompanying physical item, establishing a connection between the digital and the physical products. Therefore, Prada customers can be assured that the rarity of their NFT corresponds to the exclusivity of their Timecapsule purchase. Timecapsule Collection NFT owners are part of a new group of Prada customers eligible to participate in exclusive activities and experiences. Prada Timecapsule NFTs are created using Ethereum blockchain infrastructure, meaning they are secure and accessible. Prada collaborates with the Aura Blockchain Consortium, which provides the underlying technology.
DETAILS:
The Prada Timecapsule drop is open to customers in Australia, Austria, Belgium, Brazil, Bulgaria, Canada, China Mainland, Cyprus, Croatia, Czech Republic, Denmark, Finland, France, Germany, Greece, Hong Kong S.A.R., Hungary, Ireland, Italy, Japan, Luxemburg, Monaco, Netherlands, New Zealand, Latvia, Lithuania, Malta, Norway, Poland, Portugal, Republic of Estonia, Republic of Korea, Romanian, Singapore, Slovakia, Slovenia, Spain, Sweden, Switzerland, Taiwan (China), Turkey, United Arab Emirates, United Kingdom, United States for 24 hours only, starting from November 3rd, 2022 at 3pm CEST.
Each drop is limited to 50 items.
RSVP Process:
Prada Mode, 9th – 10th November, Dubai, UAE; Register before 7th November
Prada Extends, 1st December, Miami, USA; Register before 27th November
To be eligible, you must:
Hold a Prada Timecapsule NFT in your wallet (purchased from Prada directly or secondary market)
Be part of the Prada Crypted discord
Be verified as a holder via and have the green tick to prove verification in the Prada Crypted Discord
About Prada
Since 1913, Prada has been synonymous with cutting-edge style. Its intellectual universe combines concept, structure and image through codes that go beyond trends. Its fashion transcends products, translating conceptuality into a universe that has become a benchmark to those who dare to challenge conventions focusing on experimentation. The Prada brand is part of Prada Group, a global leader in the luxury goods industry, which owns the Miu Miu, Church's and Car Shoe brands as well, and produces and distributes luxury leather goods, footwear and apparel. It also operates in the food sector with Marchesi 1824, and in the eyewear and fragrance industries under licensing agreements.
https://www.prada.com
https://www.prada.com/prada-crypted/
https://www.discord.gg/prada