The next decade will be shaped by a few key technologies – Blockchain, virtual reality* (VR), artificial intelligence (AI), and voice-based interfaces (Voice). By 2020, the combined penetration and market of these technologies is estimated to reach over one billion households and over a trillion U.S. dollars; that's only four years away. It is our belief that the future of technology and innovation will come down to Blockchain and Voice. Blockchain will simplify and empower all other technologies through a decentralized, secure, and trust-less framework by which all other technologies will be built on top of. Blockchain will be Internet 3.0. This is what True Reply is building towards.
Today, True Reply focuses on the very real problem of bridging understanding through a voice-based platform. Right now, True Reply empowers anyone to deploy voice-based engagements – surveys, interviews, feedback – accessible via any telephone or Amazon Alexa-powered device to gain better insight and understanding. Tomorrow, True Reply will be the platform for intelligent, automated voice-based engagement between any organization and its followers or audience. True Reply will be the distribution platform for reaching out into a world interfacing via Voice.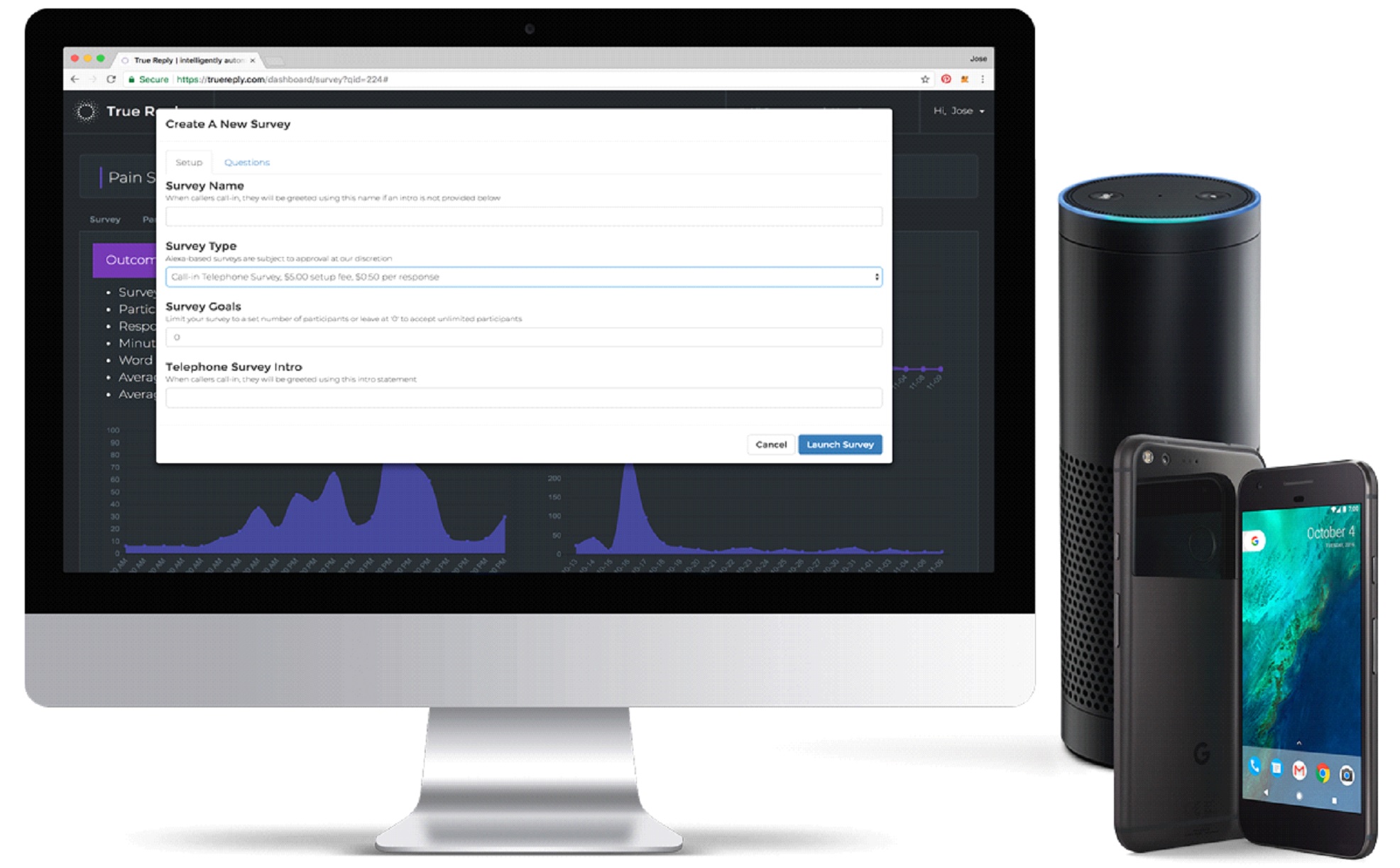 Market Opportunity – True Reply and…
Market Research
Spending on market research for 2017 was estimated to reach $16 billion in the US with an expectation to see those numbers double by 2022. The future of market research lies in AI, machine learning, and voice-powered interfaces like those found today in the Amazon Echo and Google Home smart speakers, ref. Fuel Cycle. In September 2017, True Reply became the first and only platform approved by Amazon to collect consumer feedback via any Amazon Alexa-powered device. This alone exposes True Reply to well over 36 million households.
Clinical Trials and Patient Registries
The global clinical trial market will grow to $65.2 Billion by 2025. True Reply aims to become a significant service provider in this lucrative market by allowing data administrators to quickly and easily setup participant surveys to combat attrition, data biases, and provide deeper insights into the collected data.
True Reply Today
True Reply is live for brands and participants alike. Anyone can go to their Amazon Alexa-powered device today and engage with True Reply and start earning. Any brand or agency can start using True Reply today to create incentivized surveys and start building their consumer data across the Amazon Alexa community or by deploying a toll-free phone survey in literature, across social networks, or via their website.
True Reply surveys are stored in a centralized database that provides real-time access to audio recordings, transcribed and indexed text, dynamic keyword rankings, filters and more. The platform provides context based analysis as well as data visualizations and reporting features. Data is securely stored in the cloud, eliminating the need for server hardware. The platform uses Amazon Web Services for things like scalable, server-less computing, asset hosting, secure data hosting, and text-to-speech. Twilio is used for all telephony services, while IBM Watson and Google are used to transcribe & translate audio.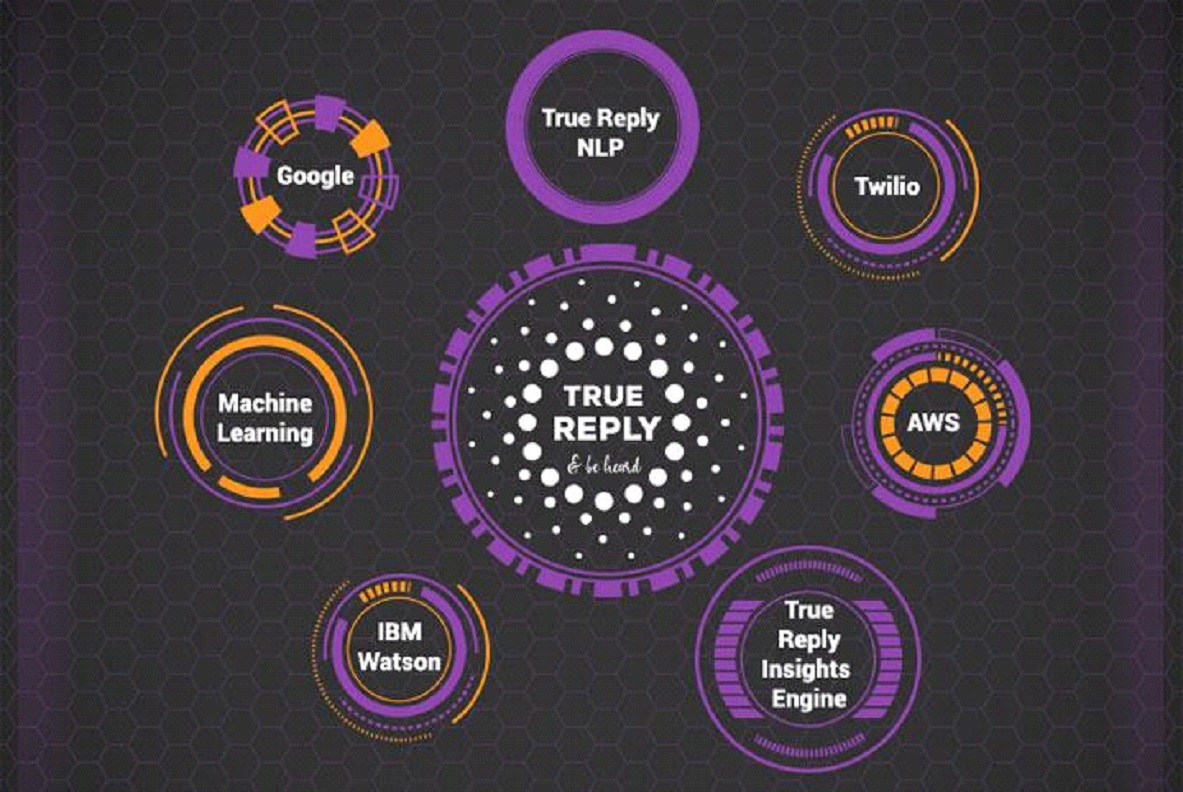 True Reply Tomorrow
The next few years will see greater integration with audio interfaces, as well as an expansion on the underlying platform to enhance data analysis. The future for the platform includes integration with Google Home and Apple HomeKit, an enhanced Audio analysis engine, multi-language support, enhanced survey features and more.
True Coin – The True Reply Currency
TrueCoin has been integrated into the True Reply platform making it the first ever platform for earning cryptocurrency using any Amazon Alexa-powered device. Soon TrueCoin will be deployed for brands to facilitate incentivized consumer research surveys. The cost of conducting a survey and rewarding participants will be reflected in U.S. dollars, and payments made with TrueCoin is done using the current dollar conversion rate for TrueCoin.
The goal for our Utility Token Offer (UTO) is to collect funds via a discounted sale of TrueCoin to build our community and advance our technology. We have structured our UTO with these goals in mind while also ensuring the greatest level of availability for those who wish to save on their research via voice-based technologies and the IoT community.
The UTO launches on March 1 at a token price of 1 Ethereum per 10,000 tokens. Pre-registration is open now and registration is required to participate in the sale.
There will be three caps:
– a "lite cap" of $500,000, to be equally split between bounties, marketing and founders' salaries
– a "soft cap" of $5 million (35% for bounties/marketing, 35% for development, 20% for facilities, 10% for founders' salaries
– a "hard cap" of $20 million (50% for bounties/marketing, 40% for development, 5% for facilities and 5% for founders salaries)
Every UTO participant will receive a True Reply platform account and will be able to create or participate in available incentivized surveys after the UTO is completed.
The True Reply Community
Website: www.truereply.com
Telegram: https://goo.gl/NpUDqT
Facebook: https://www.facebook.com/truereply/
Twitter: https://twitter.com/truereply
---
Crypo-Reporter.com does not endorse nor support product/service described in press release. Crypto-Reporter.com is not responsible for or liable for any content, accuracy or quality within the press release. Readers should do their own due diligence before taking any actions related to the promoted company or any of its affiliates or services.