The cryptocurrency market has been on a downturn, and investors are looking for safer and less-volatile assets to get into.
Golteum, a cutting-edge DeFi platform, pioneers this revolution by merging the worlds of precious metals and cryptocurrencies into a seamless, user-friendly interface, thereby creating a sustainable marketplace for users to diversify their investments.
This article will talk about two tokens currently ranked top 50 among the assets in the crypto market and how Golteum aims to not only reach their current status in the industry but surpass it.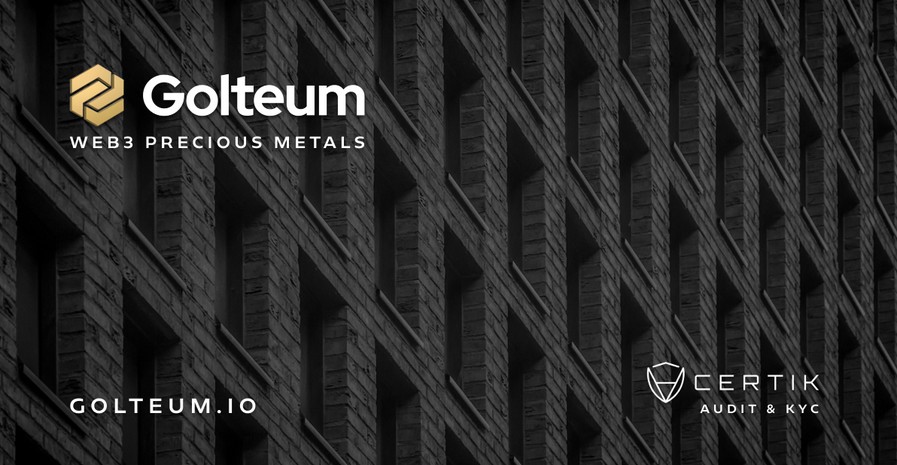 Stacks
Stacks is an open-source blockchain network that brings decentralized apps (dApps) and smart contracts to Bitcoin.
The STX token is known to be the first token offering to be approved by the U.S. Securities and Exchange Commission.
Stacks solves one of Bitcoin's significant flaws, scalability, by breaking blocks into micro blocks, resulting in high transaction throughput with significantly low gas fees compared to the native Bitcoin blockchain.
No crypto asset is without flaws, and Stacks is one of them. The Stack ecosystem is young; as a result, the range of applications it can accommodate can not be compared to other long-established giants in the market.
Fantom
Fantom is a decentralized open-source smart contract network that employs the proof-of-stake algorithm enabling cheaper and faster transaction execution for users.
Fantom employs the Lachesis protocol, which uses aBFT (Asynchronous Byzantine Fault Tolerant) engine, enabling it to be a highly scalable, decentralized, and permissionless platform.
Fantom's token, FTM, powers the Fantom blockchain ecosystem and serves the purpose of utility and governance, allowing holders to actively participate in the future of the network through voting and proposals.
Like every other cryptocurrency, volatility is one of the significant issues batting the token, as its price is prone to rapid and unpredictable fluctuation, making it a volatile investment for investors.
Golteum
In the rapidly evolving landscape of digital assets, Golteum emerges as a ground-breaking DeFi platform that ingeniously merges the worlds of precious metals and cryptocurrency trading.
Unlike other platforms operating within traditional models' constraints, Golteum is revolutionizing the space with a unique, user-friendly, and transparent interface that blurs the line between the physical and the digital.
Why Invest In Golteum?
Certik Smart Contract Audit
The Golteum token has been fully assessed and audited by Certik, a leading blockchain security technology company. In addition, six Golteum team members have been KYC'd by Certik.
Golteum's collaboration with the Certik team proves that the team prioritizes the safety of users' funds, guaranteeing premium security and transparency and, in the long run, the project's overall success.
Teaming up with Fireblocks
By collaborating with Fireblocks, Golteum offers next-generation digital asset security to its users.
Fireblocks' multi-layer technology combines MPC cryptography and hardware isolation to protect against cyber-attacks, internal collusion, and human error.
The alliance also enables instantaneous settlement of funds, thereby reducing counterparty risk and unlocking new revenue opportunities.
Moreover, the system provides a secure and compliant way to issue, transfer, and manage digital assets on the blockchain, bolstering Golteum's security credentials.
Decentralized Supplier Network
Taking decentralization a step further, Golteum champions ownership of the underlying precious metals instead of fostering a network where buyers and sellers can interact directly. This approach ensures transparency, security, and value for all parties involved.


A Hedge Against Inflation and Cryptocurrency Volatility
Golteum's innovative combination of precious metals with the power of blockchain provides a hedge against inflation and a bulwark against the volatility often associated with cryptocurrencies.
With security at its core, Golteum overcomes the shortcomings of traditional precious metals platforms that rely on overpriced fee structures or bear centralized institutional risks.
GLTM Presale: A Lucrative Opportunity For Early Adopters
According to Boston Consulting Group, the tokenizing of global illiquid assets could become a $16 trillion industry in 2030. Golteum's presale offer grants early adopters the opportunity to acquire tokens at a low price.
Early investors in the GLTM token have made profits since the initial presale round when the token sold at $0.0074.
For investors who missed the first round, another opportunity is open in the second round of the presale, where the GLTM token sells at $0.012, a significant increase from the initial presale round price.
Prices will keep increasing in the next few weeks, hitting over 700% before the end of the presale. Investors will also receive a 15% bonus for participating in this round. Experts say the GLTM token could trade as high as $5.00 once listed.
So, why wait? Seize the opportunity and buy the GLTM token today.
For more information about the GLTM presale:
BUY GLTM PRESALE TOKENS NOW
WEBSITE
TELEGRAM
TWITTER
Disclaimer: The statements, views and opinions expressed in this article are solely those of the content provider and do not necessarily represent those of Crypto Reporter. Crypto Reporter is not responsible for the trustworthiness, quality, accuracy of any materials in this article. This article is provided for educational purposes only. Crypto Reporter is not responsible, directly or indirectly, for any damage or loss caused or alleged to be caused by or in connection with the use of or reliance on any content, goods or services mentioned in this article. Do your research and invest at your own risk.